05.07.08
home | metro silicon valley index | music & nightlife | band review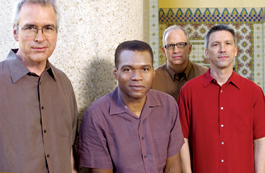 IS THAT A GRAMMY IN YOUR POCKET?: The Robert Cray Band keep five Grammys tucked under their belts at all times.
Smooth Blues
The Robert Cray Band headlines this year's Metro Fountain Blues Festival
By Jessica Fromm
BLUESMAN ROBERT CRAY was mentored by master of the telecaster Albert Collins, has traded licks with John Lee Hooker, played the Royal Albert Hall with Clapton and even strummed bass in the fictional Animal House frat party band Otis Day and the Knights.
This year, Cray and his band bring their übersmooth soul-soaked brand of blues to San Jose at the 28th annual Metro Fountain Blues Festival on May 10. Produced annually by the Associated Students of San Jose State University, the MFBF is a family-friendly celebration of live music held at San Carlos Plaza on the SJSU campus.
The Robert Cray Band has earned a reputation over the last 30 years as one of the most accessible and steadfast acts on the blues festival scene. Known for his velvety mix of traditional R&B fire and modern blues, Cray helped jump-start the '80s blues revival, receiving crossover recognition for his 1986 Grammy Award–winning album Strong Persuader.
Though often dogged by hard-core blues fans for his glossy contemporary style, even purists can't deny that Cray is an exceptional singer/songwriter and formidable blues guitarist who brings warm spontaneity and soulful polish to his live performances.
With more than 1,000 worldwide gigs and five Grammys under their belts, the Robert Cray Band still make a stated effort to keep things fresh onstage.
"We let it be spontaneous. If you follow a setlist, you get complacent about it," said Cray. "I've seen some people play their solos note for note off the album. What's that? There's no love coming from that, no emotion. You're not feeling the same as when you recorded the song. You've got to play what you feel. We change up the tempo ... use different rhythm patterns. You've got to change it up to see where you're going to go with it," he said.
In the mid-2000s, Cray gained attention on the blues circuit for integrating politically charged themes and social commentary into his albums. But even with potent antiwar ballads on his 2005 album Twenty, Cray insists he and his band are just doing their jobs as songwriters by telling it like they see it.
"A lot of people think it's a protest song, and it is being defiant, but at the same time, it's what we do," said Cray. "Blues encompasses people's personal lives, and with that [the Iraq war] everybody talks about it. The economy is suffering from it. It plays a big part in everybody's lives. That's what we know, that's what we write about."
If Cray is the crooning smoothie of the blues genre, then Koko Taylor and her Blues Machine bring some down-home grit to the festival. Now in her 70s, the reigning "Queen of the Blues" brings her powerful throaty vocals and hard-hitting Chicago blues sound in her second Fountain Blues Festival appearance (the first being way back in 1983). Rene Solis, the celebrated Bay Area blues guitarist and last year's official San Jose Blues Week honoree, said he's excited to hear the Grammy Award–winning blues diva sing at this years festival.
Opening the free festival is Maxx Cabello Jr., the young Bay Area guitar wizard who draws Santana- and Hendrix-like guitar wails into his eclectic performances. He's followed by the brass-knuckled soul and country-tinged vocals of the Shane Dwight Band, in their third charismatic festival gig.
Hailing from southwest Louisiana, prolific slide guitar aficionado Sonny Landreth also plays a set. A favorite recording-session musician and collaborator for Eric Clapton and Jimmy Buffett, Landreth is a precision master of the fret board.
The Smokin' Joe Kubek Band featuring Bnois King burns up the festival stage for their third time, melding frantic urban blues solos from Kubek with taunt, melodic jazz-guitar riffs from King. The result is a fiery blues act that only Texas could produce.
"The festival, it's this great jewel the AS [Associated Students] has created," said San Jose Blues Week founder Ramon Johnson. "It's the type of music several generations enjoy. In today's specialized world you don't see that often."
THE ROBERT CRAY BAND plays the Metro Fountain Blues Festival Saturday, May 10, at San Carlos Plaza at San Jose State University. Koko Taylor and her Blues Machine, Sonny Landreth, the Smokin' Joe Kubek Band featuring Bnois King, the Shane Dwight Band and Maxx Cabello Jr. also perform. Free, $5 donation requested. For more information, visit www.fountainbluesfestival.com.
Send a letter to the editor about this story.