05.07.08
home | metro silicon valley index | the arts | stage | review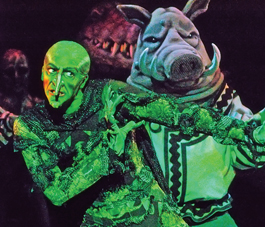 Photograph by John Gerbetz
IT'S NOT EASY BEING GREEN: Maximo Califano's Kastchei has to work with warthogs in 'The Firebird.'
Wings
Stravinsky's 'Firebird' fluffs its feathers at Ballet San Jose
By Marianne Messina
AS Ballet San Jose revisits Dennis Nahat's The Firebird, nothing diminishes. In fact, the bare, snow-covered trees of winter seem thicker and closer; the den of Immortal Kastchei (Maximo Califano) seems more vivid and brooding. And it's just as hard to keep Igor Stravinsky's showy orchestration down: fat French horn rallies and stabbing strings as Prince Vladimir (Rudy Candia, alternating with Hao Bo) hunts with his crossbow, warring tonalities between the human (more melodic) and the immortal (more dissonant)—and it all ends in woofer-popping tympani. Music drives the nicely nuanced encounter between the magical Firebird (Alexsandra Meijer, alternating with Maria Jacobs) and the prince. At first, piccolos say the Firebird is free and happy—Fair Princess Irina (Karen Gabay) has released the bird-woman from vampiric Kastchei.
More woman, less bird, Meijer's Firebird is graceful, erect, uncompromising. The prince captures her in a lift, but as she resists, his movements become more permissive, holding her by only an arm. Likewise, her resistance grows less forceful. Nahat's choreography makes this an intoxicating dance of almosts—not a classic struggle, but an exchange, in which the possible outcomes are continually in flux. In her final push for freedom, the Firebird applies wide, flowing arms to a big surge of strings, and the prince seems to accept rather than concede her freedom. This sense could be partly because Meijer's centered and controlled trunk—from which snappy movements, hand flutters, head-cocks seem peripheral—make her Firebird about self-possession.
In the scenario, Kastchei tries to turn the prince into stone (which he does to all his male rivals for the women he's captured), but the Firebird rescues him; her weapon is dance. She magically leads the warthogs and other demons (giraffe-necked bird men and humpbacked trolls looking a lot like caricatures of Richard Nixon) in a dance that exhausts them. Califano's taloned and proboscised Kastchei utterly simmers. Over the past two years, he seems to have internalized the beast, his slow turnout walk down the dungeon steps less demonstrative and more menacing than ever.
The vision of Gabay's Irina and the "captured maidens," moving in their soft tulle, arms poised across their hearts, crowns with diadem spears emanating like light rays from their hair, makes for the most stark visual contrast to Kastchei's gray, stony environment and grotesque minions. Sometimes, the least-active poses are most captivating, like Gabay stretched over backward, locked in Candia's embrace and kiss.
The Firebird is paired, in this two-part program, with Mendelssohn Symphony, a dance focused on movement. The striking "Saltarello," the last musical movement in a quick triple meter, features the springy, jointy Le Mai Linh who is tailor-made to lead the dance's arresting horsey leaps and strange leg angles. Mendelssohn Symphony is a study in shifting formations—rows, columns, circle—in the essence of groups measured against that of beings alone. The dance also presents many kinds of flowering, as arms open like petals to the sun (the girls wear petal-edged necklines). In the final kneeling image of the dance, dancers appear fully open to the world, arms thrown back, faces gazing upward.
Send a letter to the editor about this story.