May 9-15, 2007
home | metro silicon valley index | silicon valley restaurants | review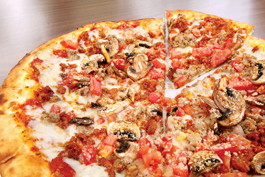 Photograph by Felipe Buitrago
This is how you slice it: Smart pies and wry humor are the order of the day at Slice.
Slice of Life
Campbell's Slice serves up serious pizza with a sprinkling of wit
By Cheryl Sternman Rule
SAMMY RAMIREZ JR. is clearly having fun with Slice, his new venture on Campbell's now-bustling main drag. With sandwiches like the "Hot Italian (The Joe Cirone)" named after the chef, a dessert pizza with Nutella and marshmallows, a garage door in lieu of a front wall and a playful star twinkling over the "i," Slice serves up a sense of humor alongside its darn good thin-crust 'za.
But the eatery has a serious side, too. Caramel-colored walls and highbrow ingredients like white balsamic vinegar and cucumber rounds afloat in water glasses let you know this isn't a just another pizza joint. In fact, Slice seems to hover in that nether region between upscale mod and neighborhood casual. It may be a bit unsure of its identity, but no matter: the food's tasty, the digs are breezy and comfortable (with ample patio seating), and families, couples and late-night partiers all feel welcome.
Ramirez, who also owns the adjacent Cardiff Lounge, didn't intend to become a restaurateur. "I was going to sign the space to another restaurant," he says. "We got close to a deal, but the guy said it was too loud next to the Cardiff." Knowing that whoever took over would have a built-in, hungry clientele, Ramirez forged ahead solo. He took a month-long trip to Italy with his wife and ultimately decided that a wood-burning pizzeria was the way to go. Doors opened in January, and business has been brisk.
"I had this vision of doing a pizzeria that did a little more than pizza," he explains. "Something a little neater than most, with an interior that's modern and chic." And it is, with a contemporary palette and artsy, large-scale photos lining the walls. But there's also a slick flat-screen TV tuned to ESPN and a lollipop-filled glass jar on the counter. Quirky contradictions? Perhaps, but the place successfully appeals to a wide-ranging clientele.
Ramirez and his chef, Joe Cirone, both grew up in Willow Glen. Cirone designed Slice's menu, developed the recipes and trained the cooks. And he sure knows his pies.
Twelve-inch-round "Concept Pizzas" ($11) shine with premium ingredients like buffalo mozzarella, fresh herbs and locally made sausage from Badalamente, a Willow Glen mainstay. The pies are uniformly greaseless, with toppings that complement one another nicely. The mozzarella di buffala, fresh basil and tomato-sauce pizza showcases fat rounds of fresh, mild cheese to great effect, not overloading the crisp crust in any way.
A spring-green pie with pesto, goat cheese, mozzarella and tomatoes is filling but still somehow light. Meat fans will enjoy the pizza with spicy and mild ground sausage, mozzarella, tomatoes and mushrooms. The sausage is flavorful and plays nicely with the other toppings. The secret to Slice's thin, clean-tasting crust? According to Ramirez, it's the seasoned almond wood used in the oven, which burns especially pure without giving off a lot of smoke.
Salad offerings ($4—$7) have potential, but on a lunchtime visit, the salad of baby spinach, pear, mint and honey—white balsamic vinaigrette ($6) was coated so thickly with congealed vinaigrette it resembled Vaseline. (The mint had also gone missing.) Fortunately, this problem has an easy fix. And while fixing things, Slice should consider replacing some of the outdoor tables. Mine was deeply gouged in several spots.
Two sandwiches and one stromboli round out the otherwise winning menu. The aforementioned Hot Italian ($7) was terrific and does the eponymous chef proud. Slices of oven-toasted, buttered bread are filled with two kinds of salami, pepperoni, melted mozzarella, bell peppers, onions and greens.The stromboli ($9) sported spiced ham, spinach, red onion and whole grain mustard. I'd order both again in a heartbeat and would love to see Cirone expand this part of his menu.
Desserts are jaunty and fun. Ramirez says that his wife, Carrie, begged him to put a dessert pizza ($8) on the menu for so long that he finally gave in. The result is a kid-pleasing combination of Nutella and toasted marshmallows served with strawberries, bananas and vanilla gelato on a crisp crust. The dish serves two, as does the dessert stromboli, which offers the same toppings but in stromboli form, a folded-over, stuffed pizza.
I like that Ramirez doesn't take himself too seriously—his food is good enough that he could if he wanted to, but half the fun of eating pizza is being able to relax and kick back. With so many good dishes and a number of playful touches, Slice allows you to do just that.
---
Slice
Address: 266 E. Campbell Ave., Campbell.
Phone: 408.376.3800.
Hours: 11:30am-11pm Sun-Wed, 11:30am-2am Thu-Sat.
Cuisine: Pizza, sandwiches, salads.
Price Range: $6-$11.
Send a letter to the editor about this story.