May 10-16, 2006
home | metro silicon valley index | columns | silicon alleys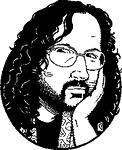 Silicon Alleys
A Day Without Burritos
By Gary Singh
IT WAS LUNCHTIME on Monday, May 1, and I was cringing for a burrito. You know how it is. You just get the itch for a certain type of food. So I fled my office to a local taqueria, but, strangely, they were completely shut down. I thought to myself, "Why the hell are they closed? It's high noon on a Monday, one of their busiest times—the lunch hour rush." I shook my head in despair and continued around the corner to another Mexican eatery instead. No dice. They were also closed. Was there some Mexican holiday I had forgotten about? It all made me ache for a burrito even more, so I then tried La Victoria near San Jose State and, yeah, they weren't open either. Since pizza was next on my want list, I went next door to Grande Pizzeria, owned by the same folks, and nothing but a big "Closed" sign greeted me.
This was starting to get disturbing, and on my way back to the office, I segued over to a delightful restaurant called La Peñita, which is kitty-corner across the street. Yup, the place was sealed up. I threw my hands into the air and felt like screaming, "All I want is a damn burrito. What the hell's wrong with this town??"
Only then did I realize that it was all part of the notorious "Un dia sin immigrante (A Day Without an Immigrant)." As far as I was concerned, it should have been called "A Day Without a Burrito" instead. A paroxysm of rage came over me and I felt tempted to jump up and down on the sidewalk and throw a temper tantrum like a 5-year-old. I scrambled two doors down from my office to the home of Movimiento de Arte y Cultura Latino Americana (MACLA) in order to misdirect my anger and blame them for this nonsense, and—you guessed it—they were closed. I pounded on the glass door and aggressively yanked on the handle, but nobody answered. So I went back to work and threw some leftover pizza into the microwave. So much for burritos on May 1, 2006.
But that was only the beginning of this adventure. I later went out on the town and told a few owners and managers of non-Mexican restaurants that they should have had a one-off burrito special just for May 1. They could have cashed in on the whole scenario and advertised something like, "Can't get a burrito today because the Mexican restaurants are all closed? Well, come on down. We got 'em right here." They all agreed that it would have been a spectacular marketing strategy—capitalist rape in its purest form.
Later that evening, 100,000 folks peacefully marched from east San Jose all down Santa Clara Street in support of undocumented immigrants' rights. I witnessed the protest parade as it came through downtown. Honestly, it was the hugest thing I've ever seen in San Jose, Calif. The entire procession could not have been any less than two miles long and whatever your stance on immigration is, I can tell you this: A hell of a lot more American flags flew during this event than you will ever see at the San Jose America Festival on July 4.
All the hysteria was a part of a nationwide protest to show us what life would be like without the contribution of illegal immigrants, or undocumented workers—however you want to refer to them. Now, I supported the protest all the way, as only an extremist madman would vote for a bill that suddenly makes felons out of 12 million people and deports them, but politicians need to sit down and have some rational bipartisan discussion about all this—if that's even possible anymore.
In the end, the whole shebang did indeed ruin my lunch that day. The one afternoon when I really, truly, genuinely, in all honesty, yearned for a burrito, I couldn't get one. So maybe illegal immigrants do affect my life. At the end of the day I thought: Just let me get a goddamned burrito when I freakin' want one. That's it. I don't care if an "illegal" person is the one concocting the hot sauce.
Contact Gary Singh or send a letter to the editor about this story.