May 10-16, 2006
home | metro silicon valley index | music & nightlife | interview/preview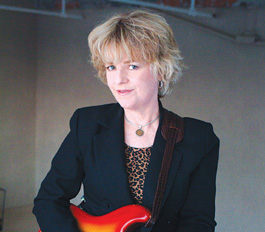 Photograph by Shonna Valska
She is Trying to Break Your Heart: Debbie Davies played with Albert Collins for three years before starting her own band.
Found Sound
Debbie Davies broke with tradition to pursue the blues
By Yoshi Kato
WITH THE Berklee College of Music and the Guitar Institute of Technologies of the world, the prospect of pursuing the life of a blues artist isn't as daunting as it once was. Just ask guitarist Debbie Davies, who will be playing at the 26th Annual Metro Fountain Blues Festival.
Both of Davies' parents were musicians in the Los Angeles area, so the possibility of a career in music wasn't as alien to them as it might have been to others. But they started her out on piano and her father's point of reference was the arranging and singing work he had done with the likes of Ray Charles, Frank Sinatra and Pearl Bailey.
"I didn't really feel like that was my instrument, and I wasn't as attracted to the pop thing as I was to the grittier stuff," Davies says. "So it was pretty impossible for them to be supportive" of her career in blues. "Even though they were musicians and in that scene and partied and all that, they were still basically pretty conservative people.
"Back in those times, conservative parents didn't even want their sons to be playing electric guitar and joining rock bands. In all the movies back then, they was portrayed as delinquents," she continues. "The fact that I was a daughter and wanting to do it made it seem even more rebellious."
A move to the Bay Area, where she lived, studied and gigged from 1974 to 1984, allowed her to find her voice as a singer, instrumentalist and even her own person. "I went through that whole process from the ground up, learning to play and being in different kinds of bands and trying to survive," she recalls.
During Davies' time up here, she focused on blues and R&B and some rock & roll and even ventured into Top 40 as the club scene shifted that direction just to keep working. Her initial decision to take up the guitar was met with some skepticism but general support, given the almost complete absence of female guitarists at the time.
"I had been singing in a band when I decided to get serious about playing, and that was in, I guess, 1977," she says. "There was a group of guys that were making fun of me.
"But soon I met other people that were more enlightened. And then most of my biggest supporters ended up being other male guitar players, which was very cool," she adds. "I think it was also good that I was in the Bay Area, because it's a progressive, supportive part of the country."
Though she studied at college in Sonoma County, she also received her working education on the bandstand, sharing bills with and catching performances by the likes of John Lee Hooker, Elvin Bishop, Charlie Musselwhite, Michael Bloomfield, Bonnie Hayes, Tower of Power and fellow rising star Robert Cray. She returned to Los Angeles in 1984 and the next year joined an all-female band lead by Maggie Mayall, the wife of British blues giant John. Three years later, she joined Albert Collins' Icebreakers for a three-year run. The legendary blues figure proved to be the perfect boss, bandleader and mentor.
"Albert just let all the players in the band totally be themselves. He wanted everybody to just play as much and as hard as they could put on a good show," she remembers. "It was never like 'Oh, turn down or don't play so much, 'cause I'm the front guy.' His personality and his sound and presence was so strong that there really was no competition with Albert, and he knew that. So he was just very generous to everybody."
As her own artist, Davies solos with a crisp and distinct attack and plays within the context of a well-balanced band, which she seems to lead effortlessly. Her songwriting, as heard along with Don Castagno's on her strictly originals latest album, All I Found, keeps the blues tradition alive while sounding topically contemporary.
"We're really looking forward to being there," she says, of this weekend's MFBF. "We will be playing music from All I Found plus, as always, other stuff from earlier records and maybe just some chestnut blues covers.
"It's very inspirational to work on a bill with other artists, and maybe there's jamming that happens or sitting in," she continues. "Also, it's really fun to play outside and to be able to play to different [non-hard-core blues fan] folks and kids, too. It's great to see and know that younger people are going to be exposed to live music."
Davies gave her thoughts on her fellow Fountain Blues Festival participants
Magic Slim & the Teardrops: "I do know Magic Slim. We've played together off and for years. He moved to Lincoln, Neb., and there's a club there that we play. Often, he would come out and hang with us and come onstage. I have a pink Stratocaster, and I made him play that. And if you know what he looks like and know how big he is, you can know how funny that was! He's a great guy with a great sense of humor and is so talented. It'll just be a blast for me to get to see and hear him."
Roy Rogers & the Delta Rhythm Kings: "We've known each other for a long time, so it'll be really fun. I remember one of the last shows I did with Roy was in Paris. Roy is one of the artists that when I was just learning to play, he was already a totally happening guy playing all around the Bay Area. So he was an early source of inspiration."
Johnny A: "I do know who he is. He's been touring around and playing the circuit. I haven't met him yet, so I look forward to doing that in San Jose."
Daniel Castro: "Daniel I know, absolutely, but just from the Bay Area and going out when I'm in town and hearing him at clubs. And he's great."
The 26th Annual Metro Fountain Blues Festival happens Saturday, May 13, 12:30-8pm at Paseo de San Carlos on the San Jose State University campus. Also on the bill is the Craig Horton Band with special guest Rusty Zinn. A $5 donation is requested. For more information, visit www.fountainbluesfestival.com.
Send a letter to the editor about this story.