May 10-16, 2006
home | metro silicon valley index | silicon valley restaurants | review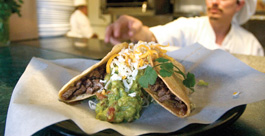 Photograph by Felipe Buitrago
Rico's Law: The food is simple and extraordinarily fresh at Arturo Hernandez's new place.
Rico's Suave
New Campbell Mexican spot does everything right
By Stett Holbrook
I THINK IT was L.A. Weekly food critic Jonathan Gold who declared that there are two kinds of Mexican restaurants: Those with good chips and those with good salsa. It's always one or the other.
I have a Mexican food dictum of my own. The smaller the taco, the better the restaurant. The more you pile onto a tortilla, the further it gets away from what a taco is supposed to be—a few choice bites of meat, a little salsa, maybe a sprinkling of cilantro and a squeeze of lime or lemon.
The circumference of the tortilla should be no bigger than a beer coaster and the toppings an expression of restraint. If you want more, order another one. A soggy, unwieldy taco loaded with cheddar cheese, sour cream and a wad of iceberg lettuce that falls apart before it reaches your mouth is a gringo bastardization of one of Mexico's gifts to the world. Best not to mess with it.
I visited Rico's Mexican Cafe two times before I ordered a taco, but by then I knew the restaurant was the real thing. The tacos only sealed the deal.
The 6-week-old restaurant in downtown Campbell is owned by Arturo Hernandez, the former general manager of Andale in Los Gatos, one of Silicon Valley's best midpriced Mexican restaurants. To ensure his success, Hernandez hired veteran Andale chef Norberto Aguirre.
Using what he and Aguirre learned at Andale and recipes from his mother, Hernandez has created a comfortable, good-looking restaurant that serves Mexican food classics made with a fine, even light, touch. The food is simple and exceptionally fresh, a refreshing change from the goopy, canned sauces and steam-table meats that often pass for Mexican food north of the border.
The cafe has high ceilings and big windows that look out onto Campbell Avenue. The restaurant was formerly a coffee shop, and the place has the feel of a Midwest diner except that there are no waitresses with beehive hairdos calling you honey and refilling your mug with scalding hot but bad coffee.
I usually steer clear of chiles rellenos because they're so often disappointing, greasy, eggy sponges encapsulating a limp chile pepper oozing too much cheese. That wasn't the case here. The egg batter was thin and not oil-sodden. The pasilla pepper still had some snap to it and the cheese filling wasn't loaded in with a shovel. But what made the dish ($7.25) for me was the excellent, brightly flavored tomato sauce.
Enchiladas are another bellwether of a Mexican restaurant's quality. Rather than buried under a thick mat of sauce, here the single enchilada ($7.25) is made with a sautéed corn tortilla that has been lightly but amply brushed with a tangy chile sauce. Just as good was the tomato-spiked filling of tender, slow-cooked beef.
Carnitas ($7.95) is another winner. The plate arrives mounded with big, succulent chunks of pork fried golden and crisp outside but still moist and flavorful inside. Roll up a few chunks with the accompanying tangy avocado sauce and you'll see what I mean.
One of the biggest surprises was the tamale ($7.25). For me tamales are usually rather boring, a speck of meat buried in a hunk of bland masa. But here the tamales are not only loaded with flavorful pork or chicken, the masa is rich and delicious, no doubt the work of my friend lard, a sorely misunderstood fat that has less cholesterol than butter. The red mole ladled on top made it even better.
As for the chips/salsa dichotomy, the salsa edges out the chips. The chips are crisp and fresh but not particularly noteworthy. The two salsas available at the salsa bar, especially the mild special-roasted chile salsa, are excellent.
Be sure to order one of Rico's agua frescas ($1.75), delicious fruit juice made from nothing but fruit, water and a little sugar. The kitchen knows there's no need to load them up with sugar, so what you get is just the essence of the fruit. The watermelon, pineapple and mango are particularly good.
Now about those tacos. I've had smaller tacos, but Rico's is right in there with these three- to four-bite gems. The al pastor (marinated pork; $2.25) taco competes with the best of Silicon Valley taco trucks, and I mean that as high praise. The orange-tinted pork is wonderfully spicy and slightly sweet and just this side of too rich. The fish taco ($2.75) lacked the light, tempuralike batter and sour cream-mayo mystery sauce of a true Baja-style fish taco, but the plump and fresh red snapper and excellent tomato salsa meant nothing went to waste. Rico's gets just about everything right.
---
Rico's Mexican Cafe
Address: 360 E. Campbell Ave., Campbell.
Phone: 408.866.5293.
Hours: Mon-Fri 9am-9pm and Sat-Sun 8am-9pm.
Price Range: $2.25-$7.95.
Send a letter to the editor about this story.