May 10-16, 2006
home | metro silicon valley index | music & nightlife | band review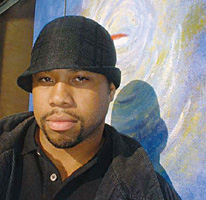 Awesome Blossom: Jonah says anything less than a 10 percent tip is murder.
Turning the Tables
Chili's waiter and aspiring rapper Jonah lays down the gratuity rules
By Todd Inoue
LIKE many in the service industry, Jonah hustles for tips to make a living. He's served up Awesome Blossoms at the Chili's in Milpitas for the past year, and on his off days he works on his rapping career. Recently, he had a divine convergence, spinning off a humorous and clever song about minimum wage and gratuities called "Tip Yo Waiter." The hook goes, "Tip your waiter, tip your waitress, minimum wage is what we get paid for this/ Tip your server, we don't deserve less than 10 percent, that's murder."
He put the song up on his website and MySpace page (myspace.com/tipyowaiter), informed some friends, and soon the song spread like avian flu to fellow waiters and waitresses around the country. He printed up some "Tip Yo Waiter" T-shirts and a bona fide movement erupted. "I want our society to become aware of what servers get," says Jonah. "Our hourly wage is pretty low, so we need people to be educated. We thrive off of tips. If we don't get tips, we suffer."
"Tip Yo Waiter" tells its story in three parables. The first verse talks about his financial situation. The second puts the narrative in the eyes of a server waiting on cheap, rude customers. The third addresses what would happen if other industries relied on gratuities to make money. Jonah hopes the song will be his entry into the music business, and to that end, he's making a video for "Tip Yo Waiter." Chili's corporate office agreed to allow Jonah to use the restaurant as the setting. To fund the project, he's performing a benefit show at the Palms in Milpitas on Saturday.
"Tip Yo Waiter" is part of Jonah's forthcoming album, Motion Sickness, a reference to the roller coaster of life. Songs like "Straight Broke" and "Slow Car" address the effects of living lean. Along with keeping the lights on and gas in the tank, Jonah says that waiting tables has sharpened his rap game. "The menu at Chili's changes all the time. We literally have to remember the new promotional items, but we have to know what's in them. It's helped especially as far as memorization is concerned. And you get ideas. That's how I came up with the song. This job doesn't get enough recognition. I would never want to be a waiter for life. It's a very emotional job in the sense that it has its ups and downs. It mostly balances out, but you're not getting a consistent $40-$50 a night. Some nights I walk with $17 in my pocket."
The ultimate irony is that before Jonah started waiting tables, he was the one that would leave a buck or two, no matter how much the check. He quickly recognized the errors of his ways when he donned the Chili's uniform. And in one case, he was served a steaming plate of karmic retribution, getting stiffed on a $200 check. "Before I was a server, I did not know what servers got. I was not educated," he says. "I was the talked-about person as I left a place. I'd ask for a lot of stuff, and I'd tip $1 or $2 no matter if the bill was $10 or $50.
"Me getting this job was not a coincidence; it was for me to understand that if you don't walk in other people's shoes, you'd never would know. Now I have much respect for anybody in customer service—hairdressers, bartenders, bussers."
Jonah performs a benefit for the 'Tip Yo Waiter video on Saturday (May 13) at the Palms, 1380 S. Main St., Milpitas. Tickets are $10, and the show begins at 5pm. For more information, call 408.509.7099 or visit Jonah at www.j-jonah.com.
Send a letter to the editor about this story.