May 10-16, 2006
home | metro silicon valley index | movies | current reviews | film review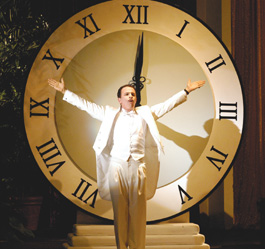 Like Clockwork: Tony Plana's nightclub emcee welcomes a new year and a new revolution in 'The Lost City.'
Waiting for Fidel
'The Lost City,' Andy Garcia's stodgy ode to pre-Castro Havana, fails to convince
By Richard von Busack
THE SAN FRANCISCO band X-tal had a song called "The Old Colonial's Hard Luck Story" about a down-in-the-mouth patron mourning happier days. The bleated chorus went "We had servants, we had servants." The tune came to mind when watching Andy Garcia's dream movie The Lost City. He has been incubating the film for 16 years. As actor and director, he brought it in for $9 million—a real feat of producing. And Garcia's scriptwriter is the renowned G. Cabrera Infante. I've never read Infante's Tres Tristes Tigres, but I'm well aware of how Infante is to Cuba what Flann O'Brien is to Ireland.
Despite a wealth of good intentions, the results are a modern version of a bad late-show film. As Fico Fellove, Garcia is trying to be Casablanca's Rick Blaine, a man holding on to civilized neutrality. War and memory are interspersed with the troubles of the outside world. Eventually, Fico becomes an exile with only a plastic cocktail stirrer to recall the nightclub he once ran: El Tropico, a place of music and happiness extinguished by the puritanical communists. Fico's lack of comprehension of the popular anger seems a little hard to believe. Fico's brother becomes a guerrilla, joining Che and Fidel in the hills, and driving one member of his family to an early grave. Batista's goons martyr another brother, meanwhile Fico tries to seize happiness by watching the dancers and the musicians at his club.
It's tough in The Lost City even to zone out on the music, the gowns and the white gowns and dinner jackets. There's not much of a lead performance amid the field of flaccid supporting actors. Once a fiery anti-hero, Garcia is becoming as varnished as a matinee idol—as in The Man From Elysian Fields, where he played a gigolo so corroded by distaste that the Catholic church might as well have financed that film.
In Fico's shaded office, special guest stars materialize and vanish. Meyer Lansky—mafia boss of Havana's casinos—comes in the form of a codgerly Dustin Hoffman, enigmatically asking to be served an egg cream. There's also a figure representing Infante. It's Bill Murray, pacing around in a suit, tie and short pants like Angus in AC/DC. (On second thought, maybe he's supposed to be Groucho Marx baring his shins in A Day at the Races.) Murray is thwarted by pithless epigrams that might defy even George Sanders. ("When a man is truly lonely, even a light bulb is good company.") Then again, Fico's father, a philosophy professor, doesn't have anything more enlightening to say than "Character is destiny."
What can be said about a film that treats the organized criminal Meyer Lansky with more affection than the altruistic criminal Che Guevara? The Lost City is a movie in which the poor of Cuba are nothing but backdrops or musicians. The underlying arrogance here is just as bad as the bullying of the Castroites, these swaggerers with their fake beards. During a time of revolution, are the most interesting characters the introverted neutrals? When Garcia breaks to vintage newsreels, we see a very, very unhappy Cuban public, whose little problems don't amount to a hill of beans in Fico's world.

The Lost City (R; 143 min.), directed by Andy Garcia, written by G. Cabrera Infante, photographed by Emmanuel Kadosh and starring Andy Garcia and Dustin Hoffman, opens May 12 at selected theaters.
Send a letter to the editor about this story.