05.13.09
home | metro silicon valley index | silicon valley restaurants | review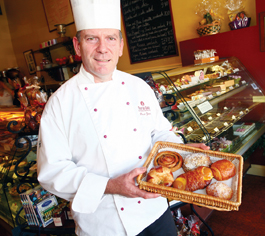 Photograph by Felipe Buitrago
PASTRY POWER: Chef Pascal Janvier shows off some of his sweet treats.
Sweet Heaven
The pastries, chocolate treats and croissants beckon at Los Gatos' Fleur de Cocoa
By Stett Holbrook
ALMOND croissant. Almond croissant. Almond croissant. Los Gatos' Fleur de Cocoa is rightly known for its chocolate confections and pastries, but I can't stop thinking about the little pastry shop's spectacular almond croissants. They are simply the best I've ever had.
Unlike most versions of the sweet pastry, which are made with marzipan, pastry chef and owner Pascal Janvier makes his with a light cream filling and then bakes them until they are brittle crisp at the edges and yet still light and flaky inside. They are sweet but not overly so. The abundance of butter makes them supernaturally crisp and rich.
The croissants come in large ($3.75) and small ($2.75) sizes, but I can't imagine why anyone would opt for a smaller serving of pure deliciousness.  After inhaling one in the shop, I took a croissant home in hopes of extending my little pastry party until the next day. It was good but had lost a bit of the magic by the next morning. Like ripe peaches and meteor showers, the croissants are fleeting wonders best enjoyed at the peak of deliciousness soon after they're pulled from Janvier's ovens. 
I discovered the superior croissants on my mission to explore Fleur de Cocoa's savory side as well as its sweets. As I mentioned, Janvier's mastery of the chocolate arts is well known (he holds an advanced degree in chocolate and was twice named one of the 10 best pastry chefs in America by Chocolatier and Pastry Art and Design magazines), but he and his wife and business partner, Nicola, have succeeded in creating a classic French patisserie with the added appeal of a menu of cafe standards.
The croque monsieur ($8.75 full, $5.25 half) is probably the best of the savory offerings. You don't see croque monsieurs much these days, and that's' too bad. When they are done as well as they are at Fleur de Cocoa, you will appreciate the simple genius of the open-face sandwich: sliced ham and creamy béchamel sauce on crusty bread topped with Gruyère cheese. The concoction is then broiled until it's beautifully browned and bubbly.  
The perfect accompaniment to the sandwich is a bowl of French onion soup ($6.55), and the cafe's version is an exemplar of this bistro classic: a deep, savory broth loaded with well-caramelized onions and crisp slices of bread gooey with tangy Gruyère cheese. My only complaint was the soup was less than hot.
There's a small menu of specials on top of the display case that can be easy to miss. I only noticed it on a second visit and zeroed in on the open-face artichoke and Brie sandwich ($7.20). It was good but not great. Less good is the ham and Brie sandwich ($7.20). It's patterned after the minimalist Parisian sandwich, but I found it too barebones: unremarkable slices of pressed ham, Brie and a bit of mustard. The chewy baguette was good, though.
More people have probably heard the B-52's' song "Quiche Lorraine" than have actually enjoyed a proper wedge of the cafe standard. Fleur de Cocoa will fix that. The ham and Gruyère (OK, I love Gruyère; so what) egg pie is as thick as a metropolitan phone book and incredibly rich and custardy. The buttery crust, however, was a bit hard and dense.
After my dutiful stroll through the savory side of the menu, I felt that I had earned something sweet. Janvier grew up in Normandy, the birthplace of the all-American apple pie. His tarte normande ($5.40) is an ode to northern France —oven-caramelized Braeburn apples and vanilla bean custard baked in a light, puffed pastry crust. American apple pie just can't compare.
As expected, Janvier's chocolate arsenal is formidable. The chocolate éclair ($4.40) is essential. Janvier created his own chocolate blend called "salango," made from Ecuadorian cacao. He deploys the stridently bittersweet, extra-dark chocolate to great effect in the eponymous "salango" minicake ($5.65), a chocolate bomb made from salango chocolate mousse and a light almond sponge cake.
Janvier's signature chocolate dessert is the "fleur de cocoa" minicake ($5.65), a chocolate explosion of bittersweet chocolate mousse and a dark-chocolate sponge cake that's been given a light dunking in Grand Marnier. This one will satisfy your chocolate fix for days.
As good as the chocolate pastries are, my favorite chocolate creation is the hot chocolate ($3.50). It has a satiny, ridiculously creamy consistency; it's pretty much like drinking melted chocolate, only somehow better.
With only six small tables, Fleur de Cocoa is mainly a takeout place. It's also a hangout for a well-coiffed gang of Los Gatos women who generally dominate the half-dozen tables. They can be hard to uproot, but don't let these bejeweled idlers intimate you. It's time for the community to rise up and break their grip on this Los Gatos gem. The good stuff extends well beyond the chocolate and should be enjoyed by all. Did I mention the almond croissants?
---
Fleur de Cocoa
Address: 39 N. Santa Cruz Ave., Los Gatos.
Phone: 408.354.3574.
Hours: 7:30am–6pm Tue–Sat and 8am–4pm Sun.
Cuisine: Bakery and cafe.
Price Range: Most pastries about $4; sandwiches about $7.
Web: www.fleur decocoa.com
Send a letter to the editor about this story.