05.13.09
home | metro silicon valley index | columns | live feed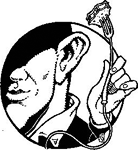 Live Feed
Porky's Revenge
By Stett Holbrook
THE FIRST THING I did when I heard about the possibility of a swine flu pandemic sweeping the globe was to start washing my hands a lot more. As much as I eat out and put weird food in my mouth, it's something I should have been doing already, and the flu scare was a good reminder that basic hygiene is an effective precaution. The second thing I did was to think about how the outbreak of the disease might at last usher in an uprising against factory hog farms as incubators of pig-to-human illness and antibody resistance. Instead of blaming Mexicans for spreading the flu bug, I thought, perhaps we should clamor for widespread reforms in the way we raise pigs and all livestock.
In a column that's buzzing around the blogosphere, U.S. Humane Society director of public health and animal agriculture Dr. Michael Greger reports that research shows the genetic makeup of the swine flu virus is linked to strains of swine flu that emerged from U.S. hog factories in 1998. He says the ancestor to the current virus was facilitated  by intensive confinement at hog farms and long-distance pig transport.
Here's an except from Greger's column on the Humane Society's website (humanesociety.org): "The public health community has been warning about the risks posed by factory farms for years. More than five years ago, in 2003, the American Public Health Association, the largest and oldest association of public health professionals in the world, called for a moratorium on factory farming. In 2005, the United Nations urged that '[g]overnments, local authorities and international agencies need to take a greatly increased role in combating the role of factory-farming,' which, they said, combined with live animal markets, 'provide ideal conditions for the [influenza] virus to spread and mutate into a more dangerous form.'
Last April, the Pew Commission on Industrial Farm Animal Production released its final report. The prestigious, independent panel chaired by a former Kansas governor and including a former U.S. secretary of agriculture, former assistant surgeon general and the dean of the University of Iowa College of Public Health, concluded that industrialized animal agriculture posed "unacceptable" public health risks: "Due to the large numbers of animals housed in close quarters in typical [industrial farm animal production] facilities there are many opportunities for animals to be infected by several strains of pathogens, leading to increased chance for a strain to emerge that can infect and spread in humans."
Swine flu isn't the only threat posed by crowded hog farms. According to an article last year in the peer-reviewed journal Medical Clinics of North America, antibiotics in livestock feed were "a major component" in the rise in antibiotic resistance. One the nastiest manifestations of antibiotic resistance is a drug-resistant staph infection called methicillin-resistant Staphylococcus aureus, MRSA for short. The infection kills more than 18,000 Americans annually.
As detailed by Nicholas Kristof in his March 14 column in The New York Times, a new MRSA strain called ST398 is emerging and seems to find root in large hog farms. He cites research that suggests 25 percent to 39 percent of American hogs carry MRSA. "Public health experts," Kristof wrote, "worry that pigs could pass on the infection by direct contact with their handlers, through their wastes leaking into ground water (one study has already found antibiotic-resistant bacteria entering ground water from hog farms), or through their meat, though there has been no proven case of someone getting it from eating pork."
But what if, instead of contemplating closing the Mexican border in a flawed effort to keep swine flu out, we attacked the vile practices of factory farms instead? Instead of stocking up on surgical masks, what if we outlawed the overuse of antibiotics in pigs and other livestock? The world may have dodged a bullet with this latest round of swine flu, but if left unchecked, crowded hog farms will continue to threaten animal and human health and we may not be so lucky next time.
As a restaurant critic, I have to eat pork, but I'd probably give it up if eating pork chops and al pastor tacos weren't part of my job description. That said, there are sources for responsibly raised pork. The World Society for the Protection of Animals has published a survey of 200 grocery stores in the United States to assess the availability of humanely raised pork and other animal products. The report also decodes the substance of food labels. According to the report, "certified humane," "American humane certified" and "animal welfare approved" offer the best, third-party assurance of humanely and responsibly raised meat. Of the national supermarket chains, Whole Foods scored the highest, and Wal-Mart was at the bottom.
You can download the report at eathumane.org and find out how local stores stack up.
Send a letter to the editor about this story.