05.13.09
home | metro silicon valley index | movies | current reviews | film review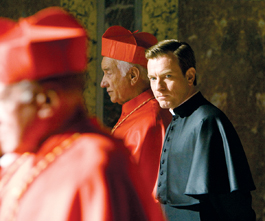 Photograph by Zade Rosenthal
TANGLED UP IN RED: Ewan McGregor plays a mysterious camerlengo in 'Angels & Demons.'
Cardinal Sins
Only Tom Hanks can save the Vatican from the revenge of the Illuminatiin 'Angels & Demons'
By Richard von Busack
WHY WOULD anybody want to be anything but Catholic? If you put Martin Luther in a time machine and brought him to a screening of Angels & Demons, even he would want to kiss and make up with the pope. Who can resist the theater, the panoply, the amazing headgear—the tulip-shaped bonnets and the hot-pink satin skullcaps; the marble and porphyry halls; the leather-bound volumes of arcana?
The money is up on the screen in Angels & Demons, I'll grant it that; one hopes Steve Wynn is watching so he can plan his next casino accordingly. And no one can ever get enough Vatican trivia. Two separate characters in Angels & Demons have on their résumés "Great Elector" and "Camerlengo." Who wouldn't want to be a camerlengo, just as a summer job anyway? Director Ron Howard makes it look so exciting. Even the extras sitting around St. Peter's watching the JumboTrons waiting for the pope to be elected have a great time; it's like Popestock.
Howard's rib-tickling yet inutterably solemn follow-up to The Da Vinci Code is faster than its predecessor. And the film airs a bit of dirty laundry by reminding the Vatican's management that they used to burn heretics. "Jeez, you guys don't even read your own history, do you?" snaps our agnostic hero, Robert Langdon (Tom Hanks), to a Vatican official.
This is one of the few ringing lines in a script of Ed Wood–worthy fraughtness. The shiniest writing is a speech that Ewan McGregor, who rejoices in the title of camerlengo, delivers to a room full of harrumphing cardinals. Its topic is science vs. faith. And, oh, it is a pippin. In What's New Pussycat? , just such a speech about the sanctity of marriage was accompanied by a flashing subtitle: "Author's Message."
If I hadn't been snorting like a beached walrus, I could have written down the particulars. The gist is that the faithless person who doesn't understand the sacred power behind lightning is just as bereft as the person who doesn't understand the science of it. And you're scratching your head until you draw blood, thinking, "Wait, did co-screenwriter Akiva Goldsman just suggest that God hurls the thunderbolts out of the heavens?" and then we move right along.
So. Langdon, renegade Harvard symbologist, is called in by the Vatican to help on a case of extreme urgency. (This urgency is something else that was missing from the last film, a chain of murders, a glorified drama of Catholic Clue: Bishop Mustard in the Nave with a Candlestick.) 
The pope is newly dead, and everyone is getting busy picking a new one. Meanwhile, a small battery-powered vial of antimatter has been filched from a Swiss lab, where physicists were creating a "God particle." This tiny vial contains the potential of 5 kilotons worth of bang. The fabled Illuminati (thanks, Robert Anton Wilson, wherever you are) possess the stuff and propose to give Vatican City a taste of urban renewal at midnight. Meanwhile, they'll be icing one cardinal an hour, in revenge for the auto-de-fé-ing of four of their illuminated brethren a few centuries ago.
Helped by the good offices of McGregor's Camerlengo Fr. Patrick McKenna (it means a kind of temporary vice pope), Langdon gains access to the secret Vatican library. There he exhumes from a rare Galileo pamphlet a guide/riddle in English ("the language of Shakespeare and Chaucer," Langdon explains to the English-speaking audience for this film). Following clues like "Let Angels guide thee on thy lofty path," he drives around Rome fast, scuttles through old churches and deals with difficult Italian coppers. It's the long-awaited movie of Rick Steves, International Man of Mystery.
This sequel scrupulously avoids sex while going full Dr. Phibes with red-hot branding irons, death by alchemical elements and a couple of grisly demises by flames. Ayelet Zurer plays a European physicist on the trail of the antimatter. In one moment of unbridled sensuality, she lets Langdon serve her a cup of coffee and bring her a blanket. Zurer dresses so far down she might as well be teaching Sunday school in Ogden, Utah. I could name a dozen actresses who have played nuns, and they still expressed more femininity than Zurer does here.
Hanks hits his marks, keeps a straight face and glances at his Mickey Mouse watch, an object no doubt rich with significance to a professional symbologist. Hanks' loyal presence diffuses the possible blasphemy. Do you know where Hanks really earns his salary? It's in the scene where he says to McGregor, shamefacedly, "The gift of faith is a gift I haven't received." You look into Hanks' face, that face of canine trustworthiness, and think, "Oh yes, you do believe in God, yes you do."
Angels & Demons' punchline has more dash than The Da Vinci Code—a handy helicopter brings up a burst of bad-movie audacity. This, sadly, proceeds a twist ending so weakly integrated into the rest of the show that it looks as if the cast sat down together and watched the alternate finale on the DVD extras. Speaking of Utah, if they revive Langdon for another adventure, can they send him to Salt Lake City? I think it's the Mormons' turn in the barrel.

 ANGELS & DEMONS  (PG-13; 138 min.), directed by Ron Howard, written by David Koepp and Akiva Goldsman, based on the novel by Dan Brown, photographed by Salvatore Totino and starring Tom Hanks and Ewan McGregor, opens May 15.
Click Here to Talk About Movies at Metro's New Blog
Send a letter to the editor about this story.