05.13.09
home | metro silicon valley index | movies | current reviews | film review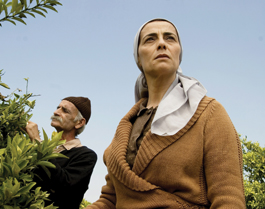 Photograph by Eitan Riklis
HARVEST TIME: Tarik Kopty and Hiam Abbass tend their orchard in 'Lemon Tree.'
Bitter Fruit
The Israeli feature 'Lemon Tree' looks at both sides of a hot-button issue
By Richard von Busack
A NEW Israeli movie feels out the situation in Israel, hoping that a mainstream audience on both sides of the divide can understand the problem. Lemon Tree does what it aims to do very well. It's an all-things-to-all-people sort of film. It caters to the Arab audience's preference for a suffering-woman's melodrama, and yet it's also a sly Israeli fable. The setting is the West Bank, where new Defense Minister Israel Navon (the burly Doron Tavory) has just moved into an exclusive new home right on the line between Israel and Palestine. The back yard of the minister's house faces an old lemon orchard of some 10 acres, tended by a lonely but handsome Palestinian widow, Salma (Hiam Abbass). Right in the middle of the line is a Jewish soldier, Itamar (Danny Leshman), in an elevated sentry box. The soldier passes the time working on a logic test as part of his promotion; on tape, he hears brain-teasing questions such as the "Socrates is dead, therefore Socrates is a cat ..." fallacy. Below him, a similar fallacy is acted out: some terrorists are Palestinian, ergo they all are. Eyeing the grove, the Israeli Secret Service decides the trees are large enough to conceal terrorists. Under the Intifada Act, the Israeli government orders Salma to uproot the lemon orchard, offering some settlement money as "a token of the state's good faith and generosity." Salma asks a lawyer, Ziad Daud (Ali Suliman), to take her case to court, pro bono. It draws national attention. Meanwhile, Mira (Rona Lipaz-Michael), the neglected wife of the defense minister, begins to understand the unfairness of the situation.Director Eran Riklis (The Syrian Bride) manages to give the troubles of both sides their due weight, without being wishy-washy. His sympathy overweighs some of the script's heavier symbolism. The film has its homely, obvious side—the creaky handling of Salma and lawyer Ziad's romance, for instance, and also the court testimony of an old family retainer who lives only to raise those lemons. In what might be a borrowing from Fritz Lang's Scarlet Street, Salma is under watch by a portrait of her late husband—a glowering, homely oaf. She must submit to tradition, though she has a tender thing for her lawyer. And the local men in the town are keeping a watch on Salma to make sure she doesn't dishonor her dead husband, even after he's in the grave. Lemon Tree contrasts—without comment—two different kinds of lives for women. We see the mobility enjoyed by Israeli women, since they're the ones who make a case out of Salma's plight. By contrast, silence comes down like a curtain when Salma walks into a roomful of the male Palestinian elders. Salma gets no help, other than the threatening reminder that she is forbidden to take any compensation money from the Israelis. News footage serves as a reminder that this kind of story is all too true, with scenes of the Israelis uprooting ancient olive trees to make room for would-be gentry. "It appears that only American movies have a happy ending," Ziad says, after one defeat. Lemon Tree's catalyzes on double-edged sorrow; it depicts a West Bank colonization process as a plague on both houses. The lemon-colored sunlight of the early scenes wanes by the end of the movie, through more enclosures, more security grates and ever more ominous and ugly blast walls.

 LEMON TREE (Unrated; 106 min.), directed by Eran Riklis, written by Riklis and Suha Arraf, photographed by Rainer Klausmann and starring Hiam Abbass and Doron Tavory, opens May 15 at Camera 3 in San Jose.
Click Here to Talk About Movies at Metro's New Blog
Send a letter to the editor about this story.