05.13.09
home | metro silicon valley index | movies | current reviews | film review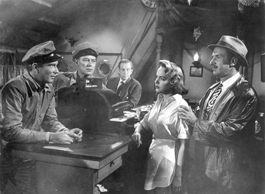 CABIN FEVER: Keenan Wynn (right) and Terry Moore star in 1955's wacko-noir comedy 'Shack Out on 101.'
Noir Notions
'I Wake Up Dreaming' resurrects rare film noirs and crime dramas for two weeks
By Michael S. Gant
THIS MAY NOT be the best of years economically, but 2009 does boast not just one but two festivals devoted to film noir. In January, Eddie Muller's Noir City Festival seemed like a surfeit of riches. Now comes I Wake Up Dreaming: The Haunted World of the B Film Noir, running May 15–28 at San Francisco's Roxie Theater. This tribute to dark and rainy mean streets down which lonely disaffected men and disabused women must walk presents almost 30 features, many of them unavailable on DVD. The festival has been curated by Elliot Lavine, author of TV Noir: I Wake Up Dreaming, which claims to descend into the "doom, depravity and overwhelming futility of life itself" by gathering together collage-style TV Guide minidescriptions of noir, crime and Poverty Row features.
Out of many riches at the festival, 1947's Framed (shows May 17 with Canon City) stands out. In a classic noir setup, a drifter (Glenn Ford, one of the genre's icons) named Mike rolls into a podunk town and immediately meets a blonde siren named Paula (Janis Craig). Mike is the kind of clueless but eager sucker ready-made to be a fall guy. Janis and her married boyfriend, Steve (Barry Sullivan), want to run off together, but first they have to arrange a convenient fake suicide, and they're measuring Mike to be the unidentifiable corpse in a staged car wreck. The plot moves with great efficiency to a bleak, sadder-but-wiser ending.
Quintessential tough guy Lawrence Tierney stars in two films. In 1947's The Devil Thumbs a Ride (May 15, with The Guilty), Tierney plays Steve Morgan, a bank robber/killer on the lam. A good-natured but very dim traveling salesman named Jimmy (Ted North) picks up Steve on a long nighttime drive back from San Diego to L.A. Steve talks Jimmy into offering a lift to a couple of stranded women, and they all end up at a Laguna beach house, where Steve reveals his inner sociopath. Tierney's smiling but menacing villain overwhelms everyone around him; with his sleek head of hair and bland good looks he is like a feral Gene Kelly. Tierney also stars in The Hoodlum (1951; May 22, with New York Confidential) as a con on parole, trying (but not very hard) to go straight. Instead, he seduces and abandons his brother's weak-willed girlfriend and masterminds a bank robbery. The Hoodlum harks back to the Cagney/Robinson crime dramas of the early 1930s. Character actress Lisa Golm, as Tierney's long-suffering mom, delivers two vintage scenes—one at the parole board hearing and one on her extended death bed—that are classics of maternal histrionics. Other features to watch for: No Man's Woman (1955; May 21 with Private Hell 36), in which brassy Marie Windsor plays an art-gallery owner who manipulates every man in town, from her estranged husband to the local art critic. Shack Out on 101 (1955; May 28 with City of Fear) pretty much defies any attempt to shoehorn it into a genre. A product of nuclear paranoid, it gathers together in a beachside cafe some misfits and sinister spies in a farrago of mayhem and low, low humor. It stars Lee Marvin, Keenan Wynn, Terry Moore and a stuffed swordfish.

I WAKE UP DREAMING: THE HAUNTED WORLD OF THE B FILM NOIR plays May 15–May 28 at the Roxie Theater, 3117 16th St., San Francisco. (See www.roxie.com for complete schedule.)
Click Here to Talk About Movies at Metro's New Blog
Send a letter to the editor about this story.