05.13.09
home | metro silicon valley index | movies | current reviews | film review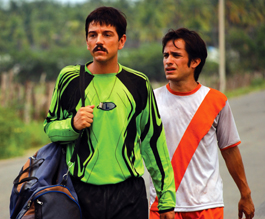 Ivonne Venegas, 2008 ©, Courtesy of Sony Pictures Classics.
KEEPING SCORE: Diego Luna (left) and Gael García Bernal play soccer stars in 'Rudo y Cursi.'
Brother Act
Two siblings in Mexico get all that money can buy in 'Rudo y Cursi'
By Richard von Busack
EVEN WITH the severely glutted film market, I wish we got three times as many films from Mexico as actually arrive here. Rudo y Cursi will certainly do. It is produced by some of the most revered names in new Mexican cinema (Guillermo del Toro, Alfonso Cuarón and Alejandro González Iñárritu) and directed by Cuarón's brother, Carlos. The film reunites Diego Luna and the criminally handsome Gael García Bernal of Alfonso Cuarón's Y tu Mamá También. Like Y tu Mamá También, the action is narrated, but the difference is in the approach. The narrator in the former was the detached Godardian. In Rudo y Cursi, the narrator is Batuta, "Baton" (Guillermo Francella), who is full of charming fatalistic proverbs about the relation between soccer and life. Baton is an essentially a trickster figure, with dyed whiskers and a sports car. Like the devil, Baton looks for mischief where he can find it. He finds it on a rural soccer field. Baton discovers Tato (Bernal) and Beto (Luna), who are apparently half-brothers, though some of the reviewers are calling them brothers. The two are classic hijos de chingada, and their parentage is a little uncertain, though each boasts of the superior virtues of his long-gone father. It hardly matters, because their mutual mother's latest boyfriend is a repulsive cop. The guys work a banana plantation and are about to run away to the United States. The talent scout Baton sees their talent on the field but figures he can only take one of the pair. That one is Tato, who figures that futbol is just his day job until he can make a fortune being a cowboy-suited accordion player. In Mexico City, Tato rises to the top of the game, and he pressures Baton to sign Beto as a goalie. Beto is a success, ruling the goal posts and shutting out team after team. Unfortunately, his rude behavior gets him the nickname "Rudo."
For a time the two do well. Tato, now with his own nickname, "Cursi," meaning "snotty," gets involved with the TV starlet Maya (Jessica Mas). Tato also lands a fine house and even a few gigs, where he repeatedly massacres Cheap Trick's "I Want You to Want Me." But Beto's gambling and Tato's hopeless love for the no-good Maya change both their luck for the worse. I'm not sure why the subtitles translate Baton's words into Cockney slang; this may have been to please the British market, due to the widely held belief that Americans don't care about soccer. To be fair, this is an extremely idiom-heavy movie. Rudo y Cursi takes a merry tone to a story in which all roads lead to failure. Ultimately, the one true success is a local narco-thug with an army of bodyguards; he helps himself to the only peaceful spot in the film, a beautiful local beach, and he's a diabolus ex machina who brings in a sort of unhappy-happy ending. Yet it's troubling to suspect that Rudo y Cursi is really at heart a cautionary tale of two rural bumpkins who rise above their station. Because of that slight patronization, Rudo y Cursi is only almost really funny and only almost really tragic, though always thoroughly and elegantly moraled: "Pity, nowadays, wars are mistaken for games and games are mistaken for wars."

RUDO Y CURSI (R; 110 min.), directed and written by Carlos Cuarón, photographed by Adam Kimmel and starring Gael García Bernal and Diego Luna, opens May 15.
Click Here to Talk About Movies at Metro's New Blog
Send a letter to the editor about this story.