05.13.09
home | metro silicon valley index | movies | current reviews | film review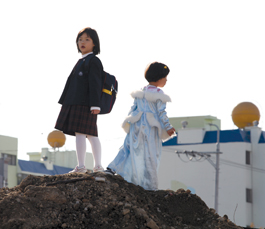 ON THEIR OWN: Hee Yeon Kim and Song Hee Kim have to make a new life for themselves when their mother takes off.
Innerspace
Two young sisters learn to cope in Korean 'Treeless Mountain'
By Richard von Busack
THE KOREAN import Treeless Mountain deserves to be classified in the category with the most superior films about childhood, such as Ponette, Nobody Home, I Was Born, But ... and Forbidden Games. Director Kim So Yong concentrates on the close-up shot, presenting children as spies behind the lines in the forbidding world of adults. Young Jin (Hee Yeon Kim) lives in a Seoul apartment building. She is a bright girl-child who loves school and is socializing well; we see her cleaning up in a game of Pog in the schoolyard. On her way home from school, Jin goes to pick up her little sister, Bin (Song Hee Kim). The younger girl had a fancy to wear a costume to the baby-sitter's, a blue satinized polyester version of a Velasquez princess dress. What Bin doesn't know is that she'll be wearing that princess dress for several months. The mother returns home, with a look of such frayed weariness it's no surprise to see her daughters starting to inherit that look a little. An adult knocks on the door and asks for a word with Mom. It is most likely news of eviction; the girl's father, a wife-batterer, has already fled the family. The mother drops the two girls off with her husband's sister, who lives in a far, small town. On her way out of the movie, Mom says something that she probably shouldn't have said. She says that the Aunt (referred to as "Big Aunt" and played by Mi Hiyang Kim) will reward Bin and Jin. For every incident of good behavior, they will receive a coin from her, and by the time their pink plastic piggybank is full, Mom will be back. Big Aunt doesn't even have rage about her nieces' arrival. She's indifferent to them, neither loving them nor laying a finger on them. Big Aunt is a very focused and purposeful alcoholic. There are no mood swings, no tirades; there is instead a continuous bad mood broken by a soundless, eventless passing out.
Bin and Jin are on their own, so they interact a little with the neighbor kids. The children eat grasshoppers like they do in Oaxaca, spitting them and roasting them on a grill. We see the first act of rebellion by young Bin; when the older sister tells the younger that eating grasshoppers is gross, Bin flashes a buggy grin at her elder sister. Soon the two are trying to add to their piggy bank by selling roast grasshoppers to the schoolkids.
Kim's direction keeps the subjective focus on a kid's life throughout this short but affecting movie; the music-free landscapes, creekscapes and skyscapes are watched for information, just as the sisters study the people around them. It's possible that the title comes from a typically elegant Asian botanical symbol, one of possibly two, in fact: either a barren cone in the distance looming over the small town where they're staying or maybe the large dirt heap near the town's bus stop where Bin and Jin wait in the afternoons, hoping for their mother to return. Treeless Mountain is a strangely fast-paced film, considering the lack of argument or violence (except against grasshoppers). There is a rescue from an unexpected quarter and the emergence of dawning compassion in two children, who had previously been so busy raising themselves that they couldn't spare a lot of feelings for others.

 TREELESS MOUNTAIN (Unrated; 89 min.), directed and written by So Young Kim, photographed by Anne Misawa and starring Hee Yeon Kim and Song Hee Kim, opens May 15 at Camera 12 in San Jose.
Click Here to Talk About Movies at Metro's New Blog
Send a letter to the editor about this story.