05.13.09
home | metro silicon valley index | music & nightlife | band review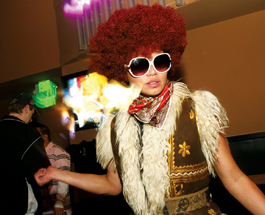 DISCO LIVES: The period finery shines at Hunters.
Gay Bars
By Colleen Watson
THERE IS something about gay bars that just brings in the straight girls. You can dance with your friends, and if some guy is rubbing up against you it's usually because he is trying to get past you. So this week, I decided to head out to a couple of gay bars. But since I bring nothing to the table at these spots, I came with a cute guy friend so that I wasn't completely empty-handed.
Hunters on First Street in San Jose was packed with very attractive men. Two go-go dancers, dressed in all white, shook their asses on the bar, and the patio had it all, high fashion to grunge. Everyone else was sweating it up on the dance floor.
But I have to admit, Splash was my favorite stop of the night. It was less crowded and has a larger dance floor. The DJ spun hip-hop and dance music while videos played on a TV throughout the bar. The bartender never stopped smiling, and everyone sitting at the bar seemed to be superfriendly. A grizzled old man handed me a bright blue drink when we first walked in. We then moved onto the dance floor and stayed there for the rest of the night. I love the gay bars in San Jose.
Hunters
349 S. First St., San Jose; 408.947.1975.
Mac's
39 Post St., San Jose; 408.288.8221.
Renegades
501 W. Taylor St., San Jose; 408.275.9902.
Splash
65 Post St., San Jose; 408.993.0861.
Send a letter to the editor about this story.