05.13.09
home | metro silicon valley index | music & nightlife | band review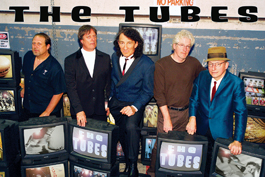 TELEGENIC: The sordid story of the Tubes and why NorCal is sarcasm central
The Gang's All Sneer
The sordid story of the Tubes and why NorCal is sarcasm central
By Steve Palopoli
IS THERE some reason that the most sarcastic bands in the history of rock music have come from the Bay Area? Most of them arose from the original punk era in the mid-to-late-'70s, less than 10 years after San Francisco's Summer of Love. But this particularly virulent strain of vicious irony spread not just through hardcore bands like the Dead Kennedys ("Kill the Poor"), Flipper ("Ha Ha Ha") and the Offs ("Everyone's a Bigot"), but across the board to the gold-record-selling new wave of the Tubes.
And it wasn't just the songs, but the attitudes, live shows and even names of these bands that someone or other was endlessly finding offensive. For years, this area had a lock on screw-you music. The question is: what was it about living here that made them all so cranky?
The Tubes' vocalist Fee Waybill thinks he has a pretty good idea, and it has to do with how the band got its name. "In San Francisco in the early '70s, we were just kind of guinea pigs for marketing," says Waybill from his home in Los Angeles. "We were test-tube babies."
What's so bad about that? Well, besides a lot of fast-food experiments, Waybill remembers failed endeavors like the "Super Slide," which involved attaining high velocity while sitting on a burlap sack. "Naturally, you would just friction-burn your ass all the way to the bottom," he says.
And then there was the trampoline park. "You'd fly out and break your arm 'cause you didn't know what the fuck you were doing," remembers Waybill. "That didn't go too well."
And the end result of growing up lab rat? "Needless to say, it made us a little sarcastic."
Perhaps that's how Waybill and his longtime friends who made up the original incarnation of the band ended up dressed up as the "Radar Men From Uranus," singing "Our Lord is a hot dog," as part of a 30-minute performance piece called "Ascension of the Mother Lode," a Spinal Tap–like take on 2001: A Space Odyssey.
From there, it just got nuts. Waybill, a theater major whose background was in musical comedy, would dress up as an endless slew of characters, from the famous rock-star parody Quay Lewd to a game-show host, a carny, a desperate businessman—anything. And as the group's popularity grew, the shows got exponentially more elaborate.
"It used to be ridiculous," he says. "It used to be every song was this huge production."
Indeed, the band would literally act out every song, from "Young and Rich" to "Sushi Girl." Of course, when your oeuvre includes songs like "Pimp," "Don't Touch Me There" and especially "Mondo Bondage," things were bound to get controversial. Waybill still has the bondage gear that got famous fast. But what made their reputation was the sheer scope of the shows—these were concerts with casts. And acrobats.
Punks went to see the Tubes, even when the Tubes were making fun of them in their most famous song, "White Punks on Dope." The first time the band went to England, Waybill was even doing a Sex Pistols parody, sticking safety pins in his face and calling himself "Johnny Bugger." Did those punks even get lines like "Hang myself when I get enough rope"? "I guess they did," says Waybill. "They played along. They thought it was funny."
Hell, everyone was having fun back then—except the Tubes. From the outside, it looked they were living the ultimate rock & roll dream. They had Top 40 hits like "Don't Want to Wait Anymore" and the No. 1 "She's a Beauty. "But like too many bands, they had little or no control over their finances and their publishing rights, which were sold away by their manager. The more they spent on their shows, the more often they'd come back from their tours in debt. They owed their label money.
"Our problem was we'd have to top ourselves every time," says Waybill. "We never made any money. Then we made a bad decision on the musical side, and it pretty much fell apart."
That was 1985's Love Bomb, which really was a bomb. The band ended up hundreds of thousands of dollars in debt and with no musical direction. Waybill quit and moved to L.A., where he returned to acting and made a fortune as a songwriter. But after years of not performing, the promise of a big tour in Europe brought him back, and after a moratorium on stage shows for a few years, the Tubes have even returned to a more manageable version of their famous live act. And they control every aspect of band business. And they're finally having fun again.
"We've kind of been a little bit smarter this time," says Waybill. "We're holding our own reins. We do as much show as we can afford to do. And we just go play."
  i>THE TUBES perform Friday (May 15) at 8pm at the Fox Theatre, 2215 Broadway, Redwood City. Tickets are $25. (650.369.4119)
Send a letter to the editor about this story.