05.13.09
home | metro silicon valley index | the arts | stage | review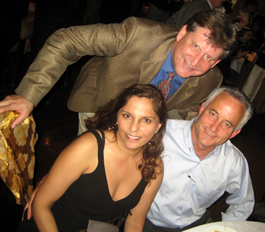 Michael E. Fox Jr., CEO of Goodwill (above) and friends.
Ballet Boosters at Play
By By Jessica Fromm
STEPHANIE ZIESEL made her debut as the new executive director of Ballet San Jose last Friday (May 8) evening at the Chamber Night of the Arts held in downtown San Jose.
More than 100 members of the Silicon Valley arts and business community gathered for dinner and mingling at Arcadia restaurant at the Marriott. The wine and fun ran freely at the party sponsored by John Fry, with attendees dining on fresh shrimp, crab and elaborate desserts. "It's a dream come true, and I'm so excited to see what this company can do," Ziesel said at the party. "We're really poised to go to this next level. I just feel so lucky to be a part of it, and to be a head of it, because I have tons of ideas. I feel I have a real freedom to explore that, to be creative in an administrative way, which you don't see very often in the arts because you don't often have that freedom to be really entrepreneurial. So, I'm really looking forward to it."
Ziesel will officially take on the position of Ballet San Jose's executive director on May 25, where her top objective will be to make San Jose the home of a world-class ballet by raising funds and securing donors. Previously employed as the associate director of development at San Francisco Ballet, Ziesel was the primary force behind their successful $45 million endowment campaign and major gifts program. "We are thrilled to announce Stephanie Ziesel's appointment as our new executive director," said John Fry, chairman of the ballet's board of governors and CEO of Fry's Electronics, in a ballet press release. "Her combined expertise in the arena of development operations and fundraising is unparalleled. Ballet San Jose, as well as the Silicon Valley community at large, will reap the benefits of her unique skill set, and we are delighted to welcome her as our new executive director of Ballet San Jose."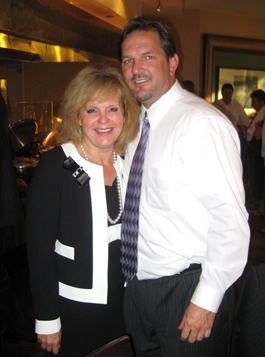 Kathy Kolder, co-founder and executive vice president of Fry's Electronics (left) and friend.
Ziesel arrived fashionably late to the Friday night event. Considering the swarm of well wishers that followed her around the entire evening, Ziesel's tenure as leader of the business side of Ballet San Jose has had a warm welcome.
"It's really become a company passion to share the arts," said Kathy Kolder, co-founder and executive vice president of Fry's Electronics, at the dinner. "Ballet San Jose is such an amazing group of performers, and Dennis Nahat is so incredible in the way he can bring people in and present that. We really feel we have one of the best ballets in the world. We'd like to encourage all the other companies to really consider giving to the arts as one of their charities."
Those counted in the crowd that evening were major Silicon Valley community, arts and business leaders, including Pat Dando, president and CEO of the San Jose Silicon Valley Chamber of Commerce; Michael E. Fox Jr., CEO of Goodwill Industries of Silicon Valley; Mac Tully, publisher of the San Jose Mercury News; Elizabeth Lewis, a Atherton Town Council member and Mark Crowley, president and CEO for SolFocus Inc., David Neale and Pat Saucedo.
Noted ballet staff and longtime supporters that attended the dinner included Ballet San Jose founding patrons Karen and Walter Loewenstern, Sharon and Reid Gustafson, San Jose Ballet School director Lise la Cour and lighting director Kenneth Keith. "The common thread through the whole thing, the whole 25 years, is really Dennis Nahat, and his style," said Karen Loewenstern. "We've had changes as far as the leadership, and we're bringing in newer, next generation leaders. Those of us who have been involved this for 25 years are mentoring these new people."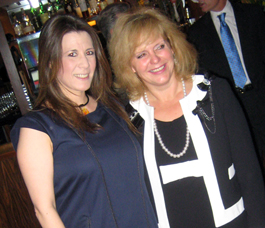 New Ballet San Jose executive director Stephanie Ziesel (left) and Kathy Kolder, co-founder and executive vice president of Fry's Electronics.
Once show time came around, the crowd migrated across the street to the Center of the Performing Arts where "Song and Dance," the last production of Ballet San Jose's 2008–2009 season, was playing.
"I am so excited to be part of an art forum that is so dynamic and that is growing," said Ziesel. "In this environment that we're in today, it's great to be involved in something that is not shrinking, but expanding, and improving and reaching higher instead of stagnating or contracting."
Ballet Announces 2009–10 Season
Hard on the heels of the chamber event, Ballet San Jose unveiled its ambitious 2009–10 season. The emphasis is on more: more programs and longer runs for the story ballets. The main programs will be bumped up from four to five, in addition to The Nutcracker. Two of the ballet's shows—Coppélia and Romeo and Juliet—will last for two weekends instead of one. The Nutcracker will take up most of the month of December. In another expansive gesture, the ballet announced that all of its performances will be accompanied live by Symphony Silicon Valley.
The most exciting program of the year looks to be the last. The May Repertory evening tackles Léonide Massine's Gaité Parisienne, Antony Tudor's Jardin aux Lilas and George Balanchine's Agon, set to a Stravinsky score.
Michael S. Gant
2009–2010 Season
Coppélia: Choreography by Dennis Nahat, Oct. 3–11
Pirates of Penzance: Choreography by Daryl Gray, based on the Gilbert & Sullivan operetta, complete with vocalists. Nov. 19–22.
The Nutcracker: Choreography by Nahat. Dec. 10–27.
Romeo and Juliet: Choreography by Dennis Nahat. Feb. 26–March 7 (2010).
Spring Repertory Program: Moments by Nahat, Salut D'Amour by Donald Mahler, Square Dance by Balanchine. April 9–11 (2010).
May Repertory Program: Agon, Jardin aux Lilas, Gaité Parisienne. May 6–9 (2010).
The Ugly Ducking: Presented by the Ballet San Jose School. May 29–30 (2010) at the California Theater (2010).
All performances, unless otherwise noted, take place at the San Jose Center for the Performing Arts, 255 Almaden Blvd., San Jose. For ticket information, call 408.288.2800.
Send a letter to the editor about this story.