05.13.09
home | metro silicon valley index | columns | style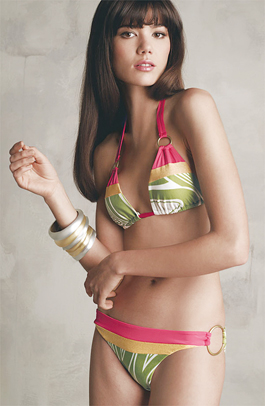 SMALL IS BEAUTIFUL: Gold tone adornments brighten up a bikini by Vix.
Style
Bikini Weather
By Alexis Mendoza
SUMMER weather sends sun lovers to the beach as surely as it drives swimsuit models down the runway. Following the rest of the season's trends, this year's swimwear emphasizes the bright, the bold and the ruffled. Veteran designers like Vitamin A and Vix have shown bandeau tops with gold embellishments. A ruffle running down the neckline adds an element of beach flirt. Anna and Boy offers ruffled suits, such as their Woodstock Frill Bandeau Bikini, available at shopbop.com
Beyond ruffles, metallic strokes and hanging baubles from the ends of a bikini make for eye-catching adornments. One example is Juicy Couture's Beach Butterfly Bandeau One-Piece Swimsuit, with its all-over print of fluttering gold butterflies.
Stripes, a classic nautical-tinged look, have made their way back to swimwear collections this summer for designers like Red Carter, Trina Turk and Roxy. Whether it's stripes, paisley, tie-dye or a floral design, prints are a great way to make a suit stand out. Shoshanna's Tulum Floral Bow Bikini offers some vivid florals that look good in and out of the pool.
Swimsuits that have superbold colors are made to stand out, so look for splatterings of tropical yellows, grass greens, hot pinks, neon oranges and electric blues. It doesn't matter whether the suit is just one bold color, or a whole bunch of hues put to use in a zany pattern—either way, the suit should have some pop.
Send a letter to the editor about this story.