05.13.09
home | metro silicon valley index | the arts | visual arts | summer guide 2009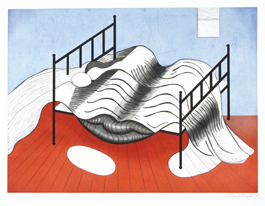 Collection of Jordan D. Schnitzer
Louise Bourgeois' 1997 aquatint 'Bed No. 2' shows in the 'Women's Work' exhibit at the San Jose Museum of Art
Summer Guide 2009
Art Shows
Museums
Cantor Arts Center
Stanford University; Wed–Sun 11am–5pm, till 8pm Thu; free. 650.723.4177.
Pop to Present —Recent acquisitions of modern art from the 1960s to the present, with pieces by David Park, Robert Arneson and Roy Lichtenstein. Runs through Aug 16.
Rodin! —The museum displays its entire extensive collection of sculptures and related works in other media by the French artist. Ongoing.
Splendid Grief—Darren Waterston creates a mourning parlor for the young Stanford son who died at 15. Runs through July 5.
From the Bronze Age of China to Japan's Floating World—New acquisitions of Asian art, from early antiquity to the 20th century. July 29–Oct 18.
De Saisset Museum
Santa Clara University, 500 El Camino Real; Tue–Sun, 11am–4pm; free. 408.554.4528.
Tech Tools of the Trade—An intriguing group show of artists working in digital, web-based, video and other new media. Runs through June 28.
Euphrat Museum of Art
New location next to Visual and Performing Arts Center, De Anza College, 21250 Stevens Creek Blvd, Cupertino; Mon–Thu, 10am–4pm; free. 408.864.8836.
Student Art Show—Runs through June 17.
History San José
1650 Senter Rd, San Jose; Tue–Sun, noon–5pm. 408.287.2290.
Home Front—Historical artifacts and photographs about Santa Clara Valley's life during World War II. Runs through Sept 13 at the Pacific Hotel Gallery.
She Made It! —Quilts and other domestic arts by valley women over the years. Runs through Aug 16.
San Jose Museum of Art
110 S. First St, San Jose; Tue–Sun, 11am–5pm; $5/$8. 408.294.6840.
Women's Work—A show of contemporary women printmakers from around the world, ranging from the 1970s to the present, with pieces by Barbara Kruger, Hung Liu, Louise Bourgeois and more. Runs through Aug. 16.
The Prints of Andy Warhol—Examples of the Pop artist at his most iconic. Runs through May 31.
Process as Paradigm—Selections in a wide variety of media from the museum's permanent holdings. Runs through July 5.
Culture of Spontaneity—A small but concentrated show of works by San Francisco abstract artists from the 1940s to the 1960s. Runs through July 5.
Variations on a Theme—A group show of modern Western artists addressing environmental questions, urbanity and spirituality; includes works from the permanent collection as well as some new commissions. May 23–Feb 7.
Todd Schorr: American Surreal—A retrospective of the L.A. artist who works in a pop-cartoony style. June 20–Sept 16.
The Discerning Eye—A display of mobiles by Alexander Calder. Aug 1–Dec 13.
Ansel Adams—A collection of early landscape shots by the famed photographer. Aug 29–Feb 28.
San Jose Museum of Quilts & Textiles
520 S. First St, San Jose; Tue–Sun, 10am–5pm; $6.50/$8. 408.971.0323.
Reservoir—Modern art quilts collected by John M. Walsh III. Runs through July 26.
Connections: Small Tapestry International—A juried show of woven art, with pieces no larger than 100 square inches. Runs through July 26.
The World According to Joyce Gross—Examples of historical quilts. Aug 4–Oct 25.
Triton Museum of Art
1505 Warburton Ave, Santa Clara; Mon–Sun, 11am–5pm, till 9pm Thu. 408.247.3754.
Kelly Detweiler: Marking Time—A look at mixed-media creations by the chair of the art department at SCU. May 16–July 12.
5 From Korea—A selection of contemporary pieces by a quintet of artists from Yeongcheon City, Korea. May 23–July 12.
Journeys: A Celebration of the Artistic Excellence of Silicon Valley—Artists who have received fellowship awards from the Arts Council Silicon Valley are featured. May 16–July 19.
Tsukioka Yoshitoshi's 1892 print 'Minamoto no Yorimitsu Striking at the Ground Spider' will be part of the Cantor Arts Center summer show
Galleries
Anno Domini
366 S. First St, San Jose; Tue–Fri, noon–7pm, Sat, noon–5pm. Closed in July. 408.271.5155.
Kunst and Wunderkammer—Multimedia "cabinets of curiosities" by East Bay artist Peter St. Lawrence. Runs through May 30.
South First Fridays—The gallery is a good starting point for the monthly art walks and receptions that take place the first Friday of each month along South First Street.
MACLA
510 S. First St, San Jose; Wed–Thu, noon–7pm, Fri–Sat, noon–5pm. 408.998.ARTE.
The Chicana/o Biennial—A juried exhibition featuring work by Jose Arenas, Joe Bravo, Margarita Cabrera, Cristina Cantu Diaz, Jaime Guerrero, Consuelo Jiménez Underwood and others. June 5–Aug. 8.
Latino Art Auction—The gala auction after the annual show takes place May 16.
Mohr Gallery
Community School of Music and Arts at Finn Center, 230 San Antonio Circle, Mountain View; Mon–Fri, 9am–7pm, Sat, 9am–3pm. 650.917.6800.
'he disappeared in the dead of winter'—Works by Inga Dorosz. Runs through May 31
Our Valley's Emotional Landscape—Works on paper by Robert C. Schick. June 8–July 26.
Lucas Felzman—Photographs. Aug. 10–Sept 27.
Palo Alto Art Center
1313 Newell Road, Palo Alto; Tue–Sat, 10am–5pm, Thu, 7–9pm, Sun, 1–5pm. 650.329.2366.
Youth Art 2009 and Cultural Kaleidoscope Exhibits—A showcase for works by young Palo Alto artists. Ends May 31.
Radius—Juried local-art show. June 18–Sept 6.
San Jose Institute of Contemporary Art
560 S. First St, San Jose; Tue–Fri, 10am–5pm, Thu till 8pm, Sat, noon–5pm; free. 408.283.8155
Lift Off: SJSU MFA Graduate Exhbition—Ends June 20.
It's Not Us, It's You—A witty exhibit by Bay Area artists exploring the pain and possibilities of rejection. Runs through June 20.
Montoype Marathon—An annual event devoted to printmaking. July 1–18, with a silent auction on July 18.
Christel Dillbohner: Ice Floe—An installation by German artist designed to evoke an Arctic landscape. Aug 8–Sept 30.
Silicon Valley Open Studios
Various artists' studios; see www.svos.org for details.
Open Studios—The third weekend features artists in Atherton, Menlo Park, Redwood City, San Mateo and Woodside.
Space 47
47 E. William St, San Jose; Thu–Fri, noon–4pm and by appointment. www.space47.org.
Stay Gold—New pieces by Shizu Saldamando. Runs through May 29.
WORKS/San Jose
451 S. First St, San Jose; Tue–Fri, noon–4pm, Thu, noon–7pm; free; 408.295.8378.
Remote\Control—Six Bay Area Artists who use electronic transmission of images for their art works. June 5–July 10.
Zeroing In
SINCE the 01SJ Global Biennial of Art on the Edge event only explodes every two years, something had to be done to fill in the gaps. During last year's Biennial, the SubZERO Street festival took place all along South First Street, coinciding with South First Fridays and attracting a barrage of independent creative types.
The organizers conjured up a perfect plan: During the years staggered in-between the Biennial, why not repeat the street festival element, so that the Biennial at least stays on everyone's radar? Since the Biennial is called 01SJ, what better name for the street festival than SubZERO?
The South First Fridays events are already rip-roaring times, especially during the summer months when an outdoor artists' market livens up the parking lot outside Anno Domini. But with the next iteration of SubZERO set to go down on June 5, 6pm–midnight, everything will be taken to the next level. This time around, visitors will be able to test-drive a custom low-rider bike, try their hands at stop-motion, bear witness to urban yarn-bombing, travel back to the future for a '90s look at cyberfashion, watch a little subversive TV, listen up for spontaneous acts of percussion and much more. Think of it as a mini Burning Man meets a cyber–Tapestry Arts Festival meets an underground hacker summit meets a subterranean high-tech kids playground meets a geeky peep show—all in the form of a one-night free street festival. Downtown San Jose is never this much fun, so come on down. The price is right.
Gary Singh
Send a letter to the editor about this story.