05.13.09
home | metro silicon valley index | movies | current reviews | film review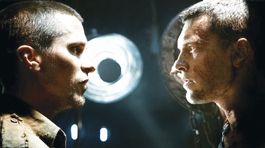 Courtesy Warner Bros Pictures
Christian Bale squares off against Sam Worthington in 'Terminator Salvation'
Summer Guide 2009
Several teams of movies split one good idea between them this summer
By Richard von Busack
THE SUMMER movie market includes about 10 sequels. It would be hard labor to do the exact math, but two of them represent the battle of the die-offs: Final Destination: Death Trip vs. H2, or Halloween 2 (Aug. 28). The conjunction is all part of 2009's peculiar doppelgänger effect.
First, we had Liev Schreiber re-creating his part as the bloodthirsty brother from Defiance in X-Men Origins: Wolverine. Then we were served a double order of Spocks in Star Trek (both of which are summer movies, even if they opened weeks in advance of June 21 or even the traditional Memorial Day weekend—all part of summer-season creep in the industry).
If we were applying one of those irritating Facebook polls to this summer's films, it would answer the question "What Shakespeare Play Are You?" with "One of those lesser mistaken-identity comedies with twins."
Two toy-related movies seem to be doubles. On Aug. 7, G.I. Joe: The Rise of Cobra tries to sell strangely Transformer-like supersoldiers in a market already anchored by the loftily titled Transformers: Revenge of the Fallen (June 24). This spot is as good a place as any to mention Terminator Salvation (May 21), directed by McG, who has never made a good film in his life. Consider Terminator Salvation mentioned.
Will Ferrell doubles up twice; he has a small part in The Goods: Live Hard, Sell Hard (Aug. 14) as a salesman's salesman; he also stars in Land of the Lost (June 5), the first of what threatens to become an inevitable chain of Sid and Marty Krofft cinematizations.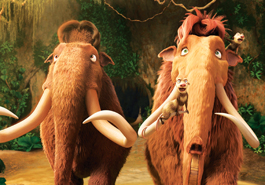 Ice Age
Even better than a double is a triple helping of wacky dinosaurs: the aforementioned Land of the Lost as well as July 1's Ice Age: Dawn of the Dinosaurs and the dino skeleton in Night at the Museum: Battle of the Smithsonian on May 22.
The Time Traveler's Wife has been steadily resisting adaptation, but now (Aug. 14) Audrey Niffenegger's story is ready to go. Eric Bana plays the beaming-out, unstuck-in-time husband; Rachel McAdams is the left-behind wife; and the entirety will, we hope, be more like Portrait of Jennie than a bad episode of Time Tunnel.
(500) Days of Summer (July 17) is also a story of random-access romance, with Zooey Deschanel teamed up with one of the best young actors around, Joseph Gordon-Levitt.
Under Judd Apatow's direction Adam Sandler and Seth Rogen play bosom buddies in Funny People (July 31) in what looks like a yuckster's version of Brian's Song, with Sandler dying offstage while he's killing onstage. On a more deliberately serious note, repeat offender Nick (who keeps proving that the apple falls very far from the tree) Cassavetes' My Sister's Keeper (June 26) has him topping his heart-transplant-on-my-sleeve movie John Q. Sofia Vassilieva, in bald leukemia wig, has a sister (Abigail Breslin) who gets literally and physically sick of being her sister's bone-marrow cow.
Even Nora Ephron's Julie & Julia (Aug. 7) doubles Meryl Streep's Julia Child with a reporter (Amy Adams) who has some sort of Persona-like obsession with the renowned chef.
My Life in Ruins (June 5), the comeback vehicle for Nia Vardalos (My Big Fat Greek Wedding), flaunts Greek scenery in a story of a professor turned tour guide; it's bound to be better than hanging out in Toronto, site of Vardalos' tragically influential hit. Unfortunately, the Hawaiian tour guides in A Perfect Getaway (Aug. 14) aren't self-deprecating women of a certain age but, rather, serial killers.
The one truly hard-to-resist double order this summer is a one-two punch of kraut-bashing. Brüno (July 10) has Sacha Baron Cohen as a faunlike and flamboyant Austrian fashion reporter, romping through the world in his sportswear. In a cinema in which the homo-tease kills the audience like nothing else, we'll get Brüno's retrieval of one of the better jokes from the film version of Terry Southern's The Magic Christian: a professional fighting match interrupted by male/male tongue wrestling, and an auditorium-size crowd sickened by the sight of no blood.
Inglourious Basterds (Aug. 21), designed to drive proofreaders mad, might just be funnier in coming-attraction form as a Grindhouse extra than it will be as a whole movie. But this long-promised piece of Quentin Tarantino Dirty Dozen pastiche looks good/ridiculous. As a Southern commanding officer in the Big War, Brad Pitt demands 100 Nazi scalps each from each and every one of his commandos. And the film includes that scene every World War II movie needs but usually doesn't have: Hitler flipping out and screaming, "Nein! Nein!" as he receives news of the Yank kill-squad's rampage. (Oddly, Bruno Ganz refused to reprise his role as Nazi madman/YouTube meme.)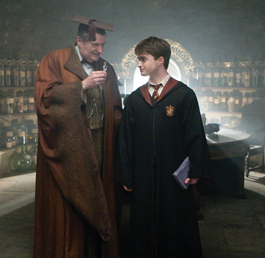 Harry Potter
Mischief
Harry Potter and the Half-Blood Prince (July 15) promises the usual magic, spells and private-school mischief, with Jim Broadbent as Horace Slughorn. The Taking of Pelham 1 2 3 (June 12) is Tony Scott's retake on a subway-heist movie of the grimy 1970s.
July 1's Public Enemies is Michael Mann's John Dillinger (Johnny Depp) vs. Melvin Purvis (Christian Bale) gangster movie. Shorts (Aug. 7) is a Robert Rodriguez fantasy about the transformation of a boring Black Falls, Texas, town by a kid's imagination. It is indebted maybe to Jerome Bixby Jr.'s short story "It's a Good Life," only this time it's supposed to be cute instead of horrifying.
Lesser-known movies, in a line: O'Horten (May 22) a dry Scandinavian comedy about the retirement of a long-time railroad engineer. Edith Scob of Les yeux sans visage stars in the new Olivier Assayas, Summer Hours (May 22). Opening May 29, at last: The Brothers Bloom, starring Rachel Weisz; this is the long-postponed feature by Rian Johnson, the director of Brick, the best film of 2006.
The new Woody Allen film, Whatever Works (June 19), has an indistinct title, just like his career-worst Anything Else. Still: Larry David shows up as Allen's surrogate curmudgeon. The Hurt Locker (July 10) is Kathryn Bigelow's study of the Iraq war bomb-disposal units. All Good Things (July 24) features Ryan Gosling and Kirsten Dunst in a detective story by Andrew Jarecki (Capturing the Friedmans). Chris Columbus' I Love You Beth Cooper (July 10) is a teen comedy about a class valedictorian's date with the hottest girl in school (Hayden Panetierre).
They Came From Upstairs (July 31) was once titled Aliens in the Attic, which says it all; so, unfortunately, does the presence of director John Schultz (Like Mike, The Honeymooners). District 9, an expansion of the short Alive in Joburg, is the South African–set smart version of Alien Nation (Aug. 14). Opening Aug. 21 is Post Grad, with Gilmore Girls' Alexis Bledel as an unemployed ex-student who has to move back in with her parents.
Among the summer's horror films, Drag Me to Hell (May 29) looks like a champion. It retrieves Alison Lohman, a lovely and promising actress, from the movie jail where she's been languishing since Where the Truth Lies. And the film positively reeks zeitgeist: it's an important commentary on the mortgage meltdown and the inadvisability of evicting one-eyed Gypsies. The director is Sam Raimi, recalling his Evil Dead legacy.
Among the animated features, the winner figures to be Up, a whimsical Pixar look at a senior explorer and his young stowaway on an epic balloon-powered journey. 
G-Force (July 24) presents a team of guinea-pig secret agents, but the previews look like an unsettling mix of early oughties slang ("Off the hook!") with reference to 1960s secret-agent movies. Expect your kid, if you have one, to ask, "Dad, what does 'the Free World' mean?'" Far more soulful is Ponyo (Aug. 14), Pixar's John Lasseter bringing in the English version of Hiyao Miyazaki's Ponyo on the Cliff with the story of a humanoid goldfish.
Ever since reading John Dougan's book The Who Sell Out, I have been amazed that no one has made a movie about England's mid-1960s bout with pirate radio. Until now: The Boat That Rocked (Aug. 28), with Philip Seymour Hoffman as a laid-back yank DJ. Richard Curtis (Four Weddings and a Funeral) directs. Like Radio London itself, it has a highly successful sound. 
Lorna's Silence (Aug. 7) is by the Dardennes brothers, the tremendous Belgian neorealists who made The Son and Rosetta; surrounded by a summer chock-full of robots blowing up, the Dardennes' moral seriousness and intelligence are only going to look better.
The Proposal (June 19) has a Meet the Parents–style outline, but in the previews Sandra Bullock's timing looks sharper than in her last few outings; also the steadily improving Ryan Reynolds seems to be picking up his cues well in the trailer of this screwball comedy about a green-card marriage.
Even unreleased, the worst films of summer already seem apparent. G.I. Joe is directed by Stephen Sommers of Van Helsing. Knowing that, no one gets to say, "I was hoping G.I. Joe would be good-bad," unless they want to get what Rick James gave Eddie Murphy's brother. Hint: What did the hand say to the face?
Imagine That (June 12) has Eddie Murphy rebranding himself as kid-friendly (ketchup on the pancakes—precious!). The Noel Coward–based farrago Easy Virtue (May 29) looks like that bad little theater comedy you suddenly find yourself in, with people too big and old to move, sitting between you and the exit.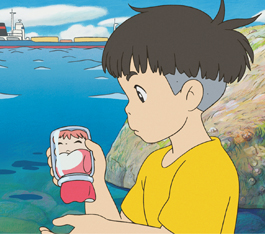 Ponyo
Alternatives
Still, if this summer's films make you've think of stuff you've seen before—twice—there are nine weeks of free alfresco film in various downtown San Jose locations. This year's Starlight Cinema program boasts favorites like Blazing Saddles, To Catch a Thief, Monty Python and the Holy Grail, A Streetcar Named Desire and Caddyshack.
The summer's film fests include the Silicon Valley Jewish Film Festival (May 16–20); a program of rare film noir at the Roxie Theater in San Francisco (May 14–28), among them 29 really unseen megrims from Monogram, Republic, Eagle-Lion and PRC. June 5–18, also at the Roxie, is the Another Hole in the Head Film Festival of independent and foreign horror. And the San Francisco Silent Film Festival (July 12–14) is an unmissable event.
John Wayne, arguably the most popular film star in history, still continues to be celebrated at the South Bay's most beautiful theater, the Stanford in Palo Alto. The retrospective includes the unmissable Rio Bravo (1959, shows May 22–24))—Wayne at his most well-rounded, under Howard Hawks' direction. Some of Wayne's war-time films are also offered up, including, just for the sake of argument, The Green Berets (May 29; guess the Hoover Institute will be empty that night). The minifest wraps with the elegiac double-bill of The Shootist and his late classic True Grit (June 5). The Coen brothers are proposing to remake True Grit; certainly the very good novel by Charles Portis is big enough to offer filmmakers a different angle. Which is a way of saying that there'll never be another John Wayne.
Catch and Release
(All dates are subject to change, especially art-house and indie features.)
May
May 15: Angels & Demons; Management
May 21: Terminator Salvation
May 22: Night at the Museum: Battle of the Smithsonian; O'Horten; Summer Hours
May 29: Drag Me to Hell; Easy Virtue; Up
June
June 5: The Hangover; Land of the Lost; My Life in Ruins
June 12: Imagine That; The Taking of Pelham 1 2 3
June 19: The Proposal; The Year One
June 24: Transformers: Revenge of the Fallen
June 26: My Sister's Keeper
July
July 1: Ice Age: Dawn of the Dinosaurs; Public Enemies
July 10: Brüno; I Love You, Beth Cooper
July 15: Harry Potter and the Half-Blood Prince
July 17: (500) Days of Summer
July 24: All Good Things; G-Force
July 31: Funny People; They Came From Upstairs
August
Aug. 7: G.I. Joe: The Rise of Cobra; Julie & Julia; Lorna's Silence; Shorts
Aug. 14: District 9; Final Destination: Death Trip; The Goods: Live Hard, Sell Hard; A Perfect Getaway; The Time Traveler's Wife
Aug. 21: Inglourious Basterds; Post Grad
Aug. 28:H2; The Boat That Rocked
September
Sept. 4: Citizen Game; Extract; Pandorum; Shanghai
Send a letter to the editor about this story.