05.13.09
home | metro silicon valley index | columns | Wine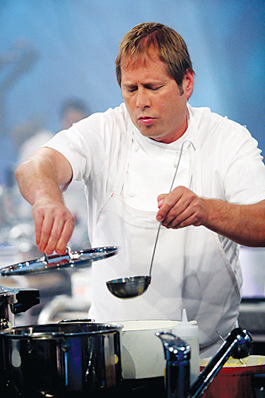 The Wine Column
Cafe Couple
By Stett Holbrook
TALK ABOUT about great food and wine pairing—Bonny Doon Vineyard and Manresa restaurant have teamed up to open a new cafe in the winery's new Santa Cruz tasting room.
When Bonny Doon moved down the highway from its original location in Bonny Doon and opened in an industrial space on Santa Cruz's West Side, it created one of the coolest wine-tasting rooms anywhere, with its sweeping, colored concrete bars, wine-barrel tasting "pods," fountain and eclectic artwork. In addition to the great lineup of wines, what made the tasting room unique  was the cafe within, which served small plates of savory and sweet food paired with select Bonny Doon wines.
The cafe was a partnership with Santa Cruz's excellent Gabriella Cafe, which gets my vote for the city's best restaurant. But when chef Sean Baker left to pursue other things, Bonny Doon chief Randall Grahm had to figure out what to do. In the end, he turned to his fellow West Side neighbor David Kinch, chef and owner of famed Manresa restaurant in Los Gatos. 
Kinch will serve as consulting chef for the cafe and tapped former Manresa sous-chef Charlie Parker as executive chef. Parker's most recent posts were the Michelin two-star restaurant Noma in Copenhagen, Denmark, and Ubuntu in Napa (which is headed by two Manresa alums Jeremy and Deanie Fox).
The Bonny Doon Vineyard Cellar Door Cafe, as the restaurant is rather windily known, will serve lunch and dinner Wednesday–Sunday from noon to 9pm starting May 16. The cafe will serve a menu of small-plate items as well as a three-course prix fixe menu served family-style for $28. Even without wine, that's a great deal.
To accommodate the new cafe, larger communal tables will be added as well as a stove and new ventilation system. The prix fixe menu will change nightly. The opening-night menu will feature an artichoke, fennel and orange salad, warm faro with a fried egg, asparagus and pecorino cheese and a slice of lemon tart. Check out what's coming up on future nights here. www.bonnydoonvineyard.com/visit_us/.
From the outside, the Grahm/Kinch partnership seems ideal. Both are iconoclasts in their own fields, and both have embraced biodynamic agriculture in their pursuit of great food and wine—Grahm with biodynamically grown grapes and Kinch with biodynamically grown produce from Ben Lomond farm.  Their partnership sounds like a great pairing to me.
Bonny Doon Vineyard Cellar Door Cafe 328 Ingalls St, Santa Cruz; 831.425.4518; noon-9pm Wed-Sun
Send a letter to the editor about this story.