05.14.08
home | metro silicon valley index | columns | silicon alleys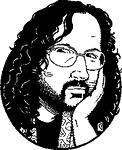 Silicon Alleys
ZeroOne Preview
By Gary Singh
BEGINNING this weekend at Discovery Meadow, San Jose gets its first primordial high-tech preview of what's to come during next month's second biennial ZeroOne (01SJ) Global Festival of Art on the Edge. In conjunction with Black Rock Arts Foundation, artist Peter Hudson and a squad of at least 50 dedicated pals have created Homouroboros, a 24-foot-tall, 30-foot-diameter spinning zoetrope that depicts 18 life-size monkeys swinging from branch to branch in a circle around the tree, eating an apple fed to them by a serpentlike hand. The interactive steel and aluminum sculpture debuts Saturday from 6 to 8pm and will close a month later.
Hudson first displayed Homouroboros at Burning Man last year, and now the expansive greenery near the Children's Discovery Museum should provide a perfect downtown San Jose setting for this project, which is simultaneously primeval and technological, full of twists and turns, and yet somehow simple enough to appeal to those from 1 to 92. Homouroboros was one of the most talked-about artworks at Burning Man last year and dozens of YouTube videos exist if you're craving an early look-see.
Now, to elaborate: A traditional zoetrope is a cylindrical device with vertical slits cut in the sides. It spins around and around while you look through the slits at the images on the opposite side of the interior. The successive images blur together as the cylinder spins, forming the illusion of a motion picture.
Homouroboros works in a similar fashion. A prefabricated metal trunk spins around and around while its branches protrude outward. Stationary life-size monkey figures hang at the ends of the branches in various states of motion, so when the whole thing whirls around in a circle lit up with stroboscopic effects, you get the impression that the monkeys are actually swinging from branch to branch. Users trigger the sculpture by playing electronic drums, which serve as an interactive switching system and motor control. After 30 seconds of continuous drumming, the tree ramps up to about 30 rpm and the zoetropic effect emerges.
The work is meant to be experienced at nighttime, but if you arrive while the sun shines, you can utilize liquid crystal shuttle goggles to experience the stroboscopic effects. The project evokes a mystical alchemy of high-tech electronics, fabricated metal, the sinful energy of the serpent and the rebellious monkey spirit of the ancient Chinese tale, The Journey to the West. The visual enormity of the project will blow you away and Homouroboros is a much more aesthetically pleasing use of the space in Discovery Meadow than that ridiculous giant Monopoly board.
The word homouroboros is a play on ouroboros—the serpent eating its own tail. It's an image that crops up everywhere, whether it's Norse legends, ancient Egyptian Gnosticism, the Two of Disks card in Aleister Crowley's Thoth Tarot Deck or Neil Peart's bass drum. Among a zillion other things, it symbolizes the cycle of life, the duality of nature, feedback loops or just plain immortality. Homouroboros simply refers to a human that eats its own tail instead and Hudson says he'd rather let the participants develop their own interpretation since they're the ones driving the whole shebang by playing the drums.
"It's not about what I think it means," he said, "it's about how they interpret it. Because the piece came to me in a vision, not as a concept. It just has a visceral, emotional feel to it." When you see this thing in person, you will agree.
Since Homouroboros is massive in scope, it requires a huge team of folks to set it up and keep it working. A $25,000 grant from the James Irvine Foundation barely covered half of what's needed for the San Jose version, so Black Rock Arts Foundation recently launched its own fundraising operation to raise the remaining funds. Interested set designers, metal fabricators, those born in the year of the monkey or anyone who wants to help out in any way, shape or form can go to www.blackrockarts.com for info.
Contact Gary Singh or send a letter to the editor about this story.