05.14.08
home | metro silicon valley index | the arts | visual arts | review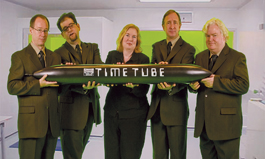 Ship Ahoy: The crew of Cinematic Titanic prepares for another launch.
As the Skull Ooozes
'MST3K' alert"Joel Hodgson and Cinematic Titanic dock for Super-Con show in San Jose
By Richard von Busack
SAN JOSE, valley of the geek's delight, merits a big comic convention. This year's Super-Con takes place May 17–18 at the San Jose Convention Center and imports talents as tall as Bond villain Richard Kiel and as wide as Jorge Garcia of Lost, as young as child fans and as seasoned as Warren Comics artist Sanjulian.
Most enticing of all, perhaps, is the news that Joel Hodgson, Trace Beaulieu, Frank Conniff and Josh "J. Elvis" Weinstein are docking into the convention. This is the troupe that brought Mystery Science Theater 3000 to TV 20 years ago this November. They are together again in support of a new project, called Cinematic Titanic, designed to savage the world's worst movies. (It should be noted Mike "Curly Joel" Nelson, who took over the show from Hodgson after three seasons, is also back at it. He is working on "RiffTrax," an audio download to augment deserving feature-length movies such as 300 and Beowulf.)
When I talked to Hodgson, he and the others were busy writing at Frank "TV's Frank" Conniff's L.A. house. Cinematic Titanic's DVD premiere features the robot-free group in silhouette (including Mary Jo Pehl) barbecuing 1972's The Oozing Skull (a.k.a. Brain of Blood, a.k.a. The Undying Brain). Al Adamson's movie proves that if you put a sane brain into an insane person, he will still have the original bad flashbacks"thus a bad body is scientifically proven to turn a good brain bad. A second title will be announced at the convention.
Hearing that the new project is called Cinematic Titanic, I kind of hoped that the former helmsman of the Satellite of Love would take on James Cameron's Titanic. Hodgson said that the name was chosen "because of the rhyme and the suggestion of design flaw." He would prefer to work with bad films, anyway: "Crummy movies have a particular ambience that lends them to the process of film riffing."
Cinematic Titanic is hoping for a once-every-six-weeks release schedule shortly. No hint from Hodgson about which titles are coming, but he does note that two are from the 1970s. Good news. All other things being equal, a 1970s bad movie will be worse than a movie from any other decade.
Finding bad movies to quip about is a challenge. During MST3K's day, the films were either licensed or public domain. "We're trying to save money with public-domain films," Hodgson said, "but we have the problem of having gone through so many on MST3K."
From Wisconsin originally, Hodgson went to Minneapolis' Bethel College, where his career as a film commentator began. "We'd watch TV in the college public room, and I ended up sitting through a lot of things I didn't want to watch. Seeing Woody Allen's What's Up Tiger Lily? was another thing that started me off. And the first Golden Turkey collections [by the Medved Brothers] also got me thinking about the categorization of bad movies."
After success as a prop comedian, Hodgson had first intended a modest kind of show at a UHF station in Minneapolis, with perhaps a bit about a robot bringing popcorn. "I didn't really see what movie-riffing was going to be when I started off, or realize it was going to be to wall-to-wall jokes. Josh and Trace filled in the vague idea I had."
I wondered if, like the Edmonton-based SCTV, MST3K got so good due to being far away from the coasts. Could be, Hodgson said: "People in Minnesota are great, and they're willing to suspend disbelief. We just did a show up there in February. I couldn't be happier to be back."
Hodgson left MST3K in 1993, claiming he "didn't want to be a showbiz person." This was, he admits now, a way to leave without publicly complaining about what he perceived as the decay in the quality of the show.
Over the subsequent years, Hodgson worked on various projects. He appeared in three episodes of TV's Freaks and Geeks. Will he be the next beneficiary of a Judd Apatow spin-off? Hodgson notes, "Josh was on Freaks and Geeks, too, and Trace was a regular. I was supposed to be in Drillbit Taylor, but I was going on vacation. So Judd's thrown me a bone."
Getting back into the public eye, even in black silhouette form, is due to chance and time and embracing showbiz: "I got to be just the right amount of famous. I liked the nice people I was meeting. And I'd always had a vague idea of getting back with my old companions."
Joel is working with puppets again, too; he turned up for five separate nights at Los Angeles' Cartoon Dump!, a cabaret featuring comedians ad-libbing about smelly old cartoons held once a month at the Steve Allen Theater near Hollywood and Vermont. I didn't see him there on a recent visit, though I did see Frank Conniff suiting up as "Moodsy the Manic-Depressive Owl."
Onstage, Frank joined hostess Erica Doering as the lisping, trash pixie Compost Brite. The cartoons disinterred from the landfill included a real brain-roaster: a Paddy the Pelican adventure from the deep dark 1950s, complete with oozing-skull-syndrome stream-of-consciousness dialogue. The cartoon, like The Oozing Skull, demonstrates why there is always room for a Cinematic Titanic. The pursuit of the worst movie ever made still continues apace. One digs and digs, and never really gets to the core. A movie like Plan 9 From Outer Space, a poignant piece of folk art, is not the finishing point, but the starting one.
In related news: On May 15, at 7 and 10pm, the documentary Watch Horror Films: Keep America Strong will be screened at Oakland's Grand Lake Theater as a benefit for the ailing Bob Wilkins, host of the local horror-film show Creature Features. At Super-Con, there will be a panel discussion on the art of horror-hosting with TV's John Stanley, Doktor Goulfinger, Mr. Lobo and the irreplaceable Ernie "Ford" Fosselius of Porklips Now. And as always, the convention brings the usual mess of ephemera, tight-T-shirted fan-boy bulk, glamour-snarling booth bunnies and boxes of flaking paper pulp.
SUPER-CON takes place Saturday (May 17), 10am–6pm, and Sunday (May 18), 10am–5pm at the South Hall, San Jose Convention Center, 425 S. Market St., San Jose. Tickets are $20 per day, or $30 for a two-day pass. For details and ticket info, see www.super-con.com.
Send a letter to the editor about this story.