05.14.08
home | metro silicon valley index | movies | current reviews | dvd review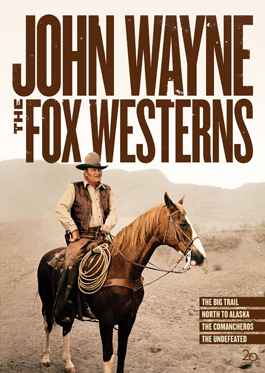 Wayne's World
New DVDs follow the Western trails of John Wayne
By Richard von Busack
WHY THIS peculiarly catlike actor had a dog's nickname is a puzzle. Even at age 23, John "Duke" Wayne was a figure of poise and courtly understatement. He was practicing a kind of acting that was decades ahead if its time—and practicing it in buckskin clothes that fit him like a $500 suit. How could an actor this good have languished for almost a decade at Republic, Mascot and even lesser studios, until rescued in 1939 by Stagecoach? The majestic Raoul Walsh film The Big Trail (1930) is the main reason to get John Wayne: The Fox Westerns box set; the set includes the 70 mm and an Academy-ratio version. (The Big Trail can also be bought separately in a two-disc set.) It's a story of the Oregon Trail. Wayne's Breck Coleman takes on the job of scout for two reasons. The first is to settle a score with a murderer named Red Flack, played as a combo of Falstaff and Bluto by Tyrone Power Sr. His other motive is to personally escort a lady he loves through the dangers ahead. Breck leads an armada of prairie schooners, which, in one incredible sequence, are lowered down a vertical cliff face. The river crossings, violent storms and Indian attack sequences here spawned imitations for years to come.The early sound recording creaks, as does the Swedish dialect comedy of El Brendel, and the pioneers have those magic rifles that can kill three Indians with one shot. And yet Walsh's spectacle rivals and often surpasses the masters of the Western like John Ford and Sergio Leone. Here, in an improvised-looking joke about the right way to eat pancakes, we see the offhand humor of Howard Hawks. Still ahead of its time is a duel in a dreamlike grove of sequoias, frosted with snow. Walsh's wide screen is shockingly deep and vast; every landscape looks 500 miles wide. Of the minidocumentaries included, the best is The Big Vision: The Grandeur Process describing the rise and fall of "Grandeur," a predecessor of CinemaScope. The film did poorly; thus local film historian Scott Simmon calls The Big Trail "both milestone and tombstone." Out of studio patriotism, the short doesn't mention rival widescreen processes that popped up and withered in winter 1930.
Also included in John Wayne: The Fox Westerns box set is the silly North to Alaska (1960), seemingly based on a Hungarian farce. Here we must endure yet more Swedish dialect humor, and Pt. Mugu plays Nome. The Undefeated (1969), pairing Wayne with a sleepwalking Rock Hudson, has a wonderful herd of horses on display, and that's about it. The Comancheros (1961) is much more like it: Michael Curtiz's last film tells of a Texas Ranger rehabbing a condemned Louisiana slouch called Paul Regret (Stuart Whitman) as both try to survive the deathtraps of a Wild Wild West-worthy crime syndicate. Elmer Bernstein does the rousing fanfares; the lush Ina Balin plays Regret's Mexican girlfriend. The appeal of Wayne needs little explanation. He was beautiful, until he hit his 50s, when he was beautifully homely. He was well-spoken until he tried to keep up with a grittier era onscreen. Watching Wayne at his best gives one the same soul-satisfaction as watching a sword slice through a Gordian knot.
JOHN WAYNE: THE FOX WESTERNS COLLECTION; five discs; 20th Century Fox; $39.98.
THE BIG TRAIL: FOX GRANDEUR SPECIAL EDITION; two discs; 20th Century Fox; $19.98.
Send a letter to the editor about this story.