05.14.08
home | metro silicon valley index | movies | current reviews | film review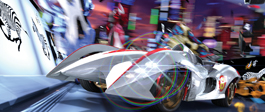 Photo courtesy Warner Bros.
COLOR COORDINATED: The word of 'Speed Racer' channels the art of Takashi Murakami.
Temple of Zoom
'Speed Racer' goes
round and round
By Richard von Busack
BEING CORNERED by a grizzly-sized Gummi Bear might be a less uncanny experience than seeing Speed Racer, the Wachowski brothers' tribute to post-Murakami art. If you hit the galleries or check out the vinyl designer toys at the priciest boutiques, you will see that the essence of cool today can be distilled to images of big-eyed hydrocephalic kids in jellybean colors, frolicking on wallpaper-flat compositions. Big-eyed kids hit it big once again; Walter Keane laughs in Art Valhalla. In his recent New Yorker pan of Takashi Murakami's show at the Brooklyn Museum, Peter Schjeldahl cited the different varieties of Japanese graphics: "Otaku [roughly, geek] spawned artistic tendencies: Neo-Pop, Sado-Cute, Superflat." I'm not sure how different these tendencies really are, but Speed Racer is certainly neo-pop, sado-cute and superflat all at the same time.
If anything, the plot is even simpler than the one in the late-'60s Japanese TV show Mach GoGoGo. Speed Racer, as it was renamed in the United States, was popular for its rapid-fire talk, a dashing trumpet-laden theme (covered by Spot 1019) and a story line more complex than anything Hanna-Barbera would have dared to touch. Here in live action is the story of doughty Speed (Emile Hirsch) and his girl, the sugary dimbulb Trixie (Christina Ricci). Gruff Pop (John Goodman) and warm-hearted Mom (Susan Sarandon) either warn or advise Speed; both these older actors sport digital facelifts. Here also are road races in mysterious climates, mostly the Casa Christo desert race with Ozymandias heads sticking out of the sand and a plummet through a Matterhorn of ice-caves. As always, there are last-minute rescues by the masked Racer X (Matthew Fox), perhaps a figure from Speed's past. As on TV, the most reliable moments are the low comedy of perennial stowaways Spritle (Paulie Litt) and Chim-Chim, played by a live chimp.
What might have been dazzling in short bursts has elephantiasis in this version. The op-art or kaleidoscope patterns, the nods to Paul Frank's T-shirts and our own local Eichler houses, the tricky shots of vast artificial amphitheaters in which shiny cars Tokyo-drift around perforated metal roadways, which look like a five-mile-wide vegetable steamer—all loses its deftness at two hours plus. Meant as kid-fodder, Speed Racer ignores the rule that kids have short attention spans. The show's villains are corrupt gamblers who fix the races; it's hard to imagine how these races can be fixed when you can't tell who is where, anyway, despite so many explanations by the wordy villain Royalton (Roger Allam), dressed in Willie Wonka lavenders. There isn't an implicit bit of the script that the Wachowskis won't make explicit.
Once, movie stars were warned, "Don't believe your own press." That warning should have been passed down to the Wachowskis, who, after reading about the profound spiritual depth of their Matrix trilogy, posit Speed Racer as a new blow against the empire. In this remake, Speed is not just a brave sportsman but an anti-corporate messiah. The grand prix becomes a race against "power and the unassailable might of money." If so, why did the straight-forward letter M on Speed's 1960s bubble helmet (M for "[powerful] Mach 5") evolve here into a red-gold version of the Golden Arches, except to point kids to McDonald's, which bought the sponsorship and sells the Speed Racer toys?

SPEED RACER (PG; 129 min.), directed and written by Andy and Larry Wachowski, photographed by David Tattersall and starring Emile Hirsch and Christina Ricci, opens May 9.
Send a letter to the editor about this story.