05.20.08
home | metro silicon valley index | music & nightlife | band review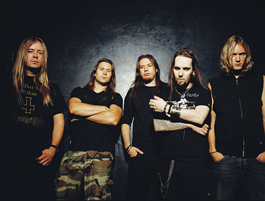 Photograph by A. Boatwright
Bloodlust: The Children of Bodom are named after a triple homicide from the 1960s. EVIL!
Evil Reign
Finnish death metalheads Children of Bodom join Megadeth's Gigantour
By John Gentile
GOOD PEOPLE of San Jose, grab your children, run home and crawl under your bed. Soon the sky shall be as black as obsidian, the San Francisco Bay shall run red with blood and Highway 101 shall be covered with all manner of serpents, for on May 19, Gigantour 2008, heavy metal's heaviest and darkest festival, descends upon our fair city to wreak havoc. But where is all this evil coming from?"We just pull all the evil out from ourselves and put it into our music," declares Henkka Seppälä, bass player for Children of Bodom. He says playing music in his band is a cathartic experience. "Just all the evil from us goes somewhere else. I think everybody has their own way to do it and this is just our way."The Gigantour, now in its third year, is organized by Megadeth's Dave Mustaine, and currently features disciples of spiky leather including Children of Bodom, In Flames, High on Fire, Job for a Cowboy and, of course, Megadeth.
Children of Bodom is a melodic death metal group hailing from Finland. Their instrumentation is a soaring mass of high-pitched guitars and thundering drums, while their lyrics deal in the macabre, detailing murders, suicides and nameless beasts of the underworld. They take their name from a triple homicide that occurred at a lake near their hometown in 1960, resembling the movie Friday the 13th.
Although their lyrics often describe denizens of the netherworld, Sapälä asserts that their lyrics are more reality-based than fantasy.
"The song 'Hellhound on my Trail' is a metaphor," says Seppälä. "Of course, there are probably no hellhounds running after you, but still, to know what it feels like. When your past follows you, it can feel like a hellhound. It's right there!"
Children of Bodom is now in its 15th year and just released its most commercially successful album, Blooddrunk. Although the album has been described as their most technically complex release to date, Seppälä says that they didn't specifically intend to make such a tricky album, but an unseen force took control of the recording."It just came along from somewhere," says Seppälä. "Whether it is the melody or solos, we never intend to do anything technical, just somehow, it becomes technically advanced."
While their playing has become tighter and more viscous, Children of Bodom's lyrics have become even more focused on death.
"Nobody knows how death is," says Seppälä. "It's something people care about, but some people are scared of it. Some people aren't. It's a mystery that no one knows about, so it's a very interesting topic."But death isn't the only topic that Children of Bodom cover. They delve into the essence of human nature itself, and study aggression. With all the pain in the world, Seppälä suggests that perhaps it is not the group who is evil, but the world itself.
"Everyone has a little bit of evil in them," says Seppälä. "I am sure that everyone has at least one evil moment or wants to do evil things. ... Most people manage to get it out of them. But some people don't, and that is why, and things happen."Children of Bodom have an interesting selection of covers which are found on their B-sides, giving the Finnish death metal treatment to the likes of Britney Spears, Creedence Clearwater Revival and even Kenny Rogers. Although the covers are sonic crushers, Seppälä explains that they are loving tributes rather than parodies (usually).
"We have seen The Big Lebowski 50 times, and Kenny Rogers is featured in it," says Seppälä. "It's a great song and we just had to do it."
Just as Seppälä suggests that everyone must have a little bit of evil in them, even the most seemingly innocent songs have at least one dark vibe buried within their chords.
But do people want their darkness brought to light? Can San Jose prevent the bringers of darkness from taking over the city next weekend? Seppälä lets a wry smile cross his lips.
"No," he warns, "they can not."
CHILDREN OF BODOM perform at GIGANTOUR on Monday (May 19) at the SJSU Event Center, 290 S. Seventh St., San Jose. Tickets are $37.50. (408.998.TIXS)
Send a letter to the editor about this story.