05.20.08
home | metro silicon valley index | the arts | stage | review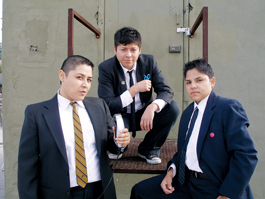 BUTCH IN THE HOOD: The members of Butchlalis de Panochtitlan break down the gender barriers.
Close Shave
MACLA hosted SoCal Butchlalis in staged reading of 'The Barber of East L.A.'
By Marianne Messina
BUTCHLALIS de Panochtitlan—L.A. butch performance artists Raquel Gutierrez, Mari Garcia and Claudia Rodriguez—explored a new dimension in their full-length piece, The Barber of East L.A., which played over the weekend at MACLA following a week's residency by the troupe. Directed by Luis Alfaro, this tight patchwork of sketches starts out like performance poetry, with the three women reciting from music stands, sometimes in unison, a prologue-type narrative: "There's a butch in every hood, but they don't treat her good." Though the group calls this a "work-in-progress," it coheres nicely as the funny, touching story of Chonch Fonseca (played by Gutierrez). Based on a real-life local heroine, now 75, the story of Chonch's rough ride through love, a broken heart, jail time and life as a butch barber in a tough hood starts out in prison. Chonch tells her cell mate (Garcia) how she got there: driven wild by her sexy girlfriend, Isabel Velasquez (also Garcia in ruby lips and swaying hips).
Filled in with just the right music, changes between sketches (which feel quite like scenes) are humorous and central to the show. When dance music plays, Gutierrez transforms into the graduate of the Molar Barber College by dancing into her white barber coat like a reverse stripper, swaying her shoulders and giving her scissors a lounge lizard slick lick. Everything comes out with a fun sense of language. "We got so much middle finger" and "Hollyweird" and "You still busting girlies for wearing dickies?" which is Chonch mouthing off at her nemesis, the dirty cop Martinez (Garcia in big, dark shades and black combed-to-one-side wig).
The next generation emerges in young Betty (Rodriguez), connected to Chonch through Isabel, a.k.a. "Izzy." When Betty, who is just as gay but less butch, says to Julian: "You're my best friend, you stupid faggot," she signals the times changing and an environment that is less harsh on gender benders. Betty and Julian (wonderfully played by Gutierrez) have different opportunities and dream of leaving the barrio to make it with their punk band.
The bouncing acoustics of MACLA's performance space blurred the speakers' articulation, and it took some concentration to capture all the words. But the space helped create the exciting atmosphere of a club, with its dark walls, loud music and large, luminous projection screen. The neon glow of lighted mirrors peering from the rear of the stage added to the clubby ambience. The mirrors along with white wig forms sat on three black boxes suggesting dressing rooms. Though this was technically a "reading," the women's dynamism made it easy to lose sight of scripts and stands. Gutierrez smoothly turned her script into a prop, flipping pages with attitude.
A vivid sense of community starts to coalesce around these characters, and the group's use of caricature ensures that even characters like Martinez come out funny. Gutierrez's easy-going Chonch treats everything matter-of-factly, providing a light, humorous landing for the hardships—rape, extortion, the death of loved one. The generational dance begins when Betty tries to negotiate a Mohawk haircut from Chonch, not the simple trim and shave Chonch is used to: "The Mohawk, that was my fired assistant's idea." In the halting relationship (and grudging Mohawk) between Chonch and Betty, the story celebrates a chain of strong women leading out of a brutal barrio.
Send a letter to the editor about this story.