05.14.08
home | metro silicon valley index | the arts | stage | review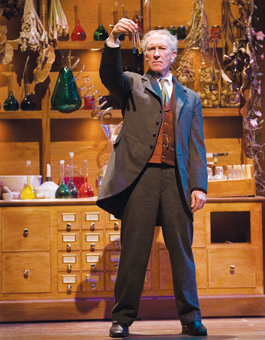 Photograph by Tim Fuller
MEDICAL MALPRIACTICE: R. Hamilton Wright's Dr. Jekyll dabbles in the wrong kind of science.
Hyde in Plain Sight
A new version of the Jekyll and Hyde story features literal split personalities at San Jose Rep
By Marianne Messina
SAN JOSE Repertory Theatre Company's Dr. Jekyll and Mr. Hyde takes advantage of the bigger-better-more era by morphing the famous duo into an ensemble under playwright Jeffrey Hatcher's (Tuesdays With Morrie, Ella) conception of a Hyde splintered into many personalities. "It did strike me that if Jekyll was taking a potion that transformed him, the chances of it affecting him the same way every time are pretty slim, not unlike the way if you or I were to drink a martini at different times of the day ..." In the classic Robert Louis Stevenson novella, Dr. Jekyll's elixir opened a forbidden doorway separating man's dual nature—his reasoned, civilized self and his impulsive, bestial one. For modern audiences, according to Hatcher, "It's also a way of discussing the way we can behave in different ways to attract different people or we behave different ways to achieve different goals."
As director David Ira Goldstein sees it, "Sometimes the evil side comes out one way, some times it comes out another way." Goldstein reports that even before finishing its run, this world premiere co-production (S.J. Rep with Arizona Theatre Company) has been picked up for publication and several productions of it have been scheduled around the country for next year. The way Hatcher's martini-model conceives of it, "There would be a Hyde who was more brutal and a Hyde who was silkier; a Hyde who was funny and a Hyde who was sexy." So he has written—and Goldstein, who helped shape the script, has cast—four Hydes. The same actors also play ancillary friends, colleagues, servants and victims, while only Dr. Jekyll (R. Hamilton Wright) and Elizabeth (Anna Bullard) remain constant throughout.
If this is starting to sound like Todd Haynes' film portrait of Bob Dylan in I'm Not There, the similarities continue right down to casting a woman (Carrie Paff) as the "silkier" Hyde. Hatcher had always questioned "this idea of why Elizabeth would stay or fall in love with a man who was a fairly brutal sort." So giving Hyde a "feline side" made sense. It also meant, as Paff announces, "I get to seduce the girl" (fascinating how modern theater gets girl-on-girl seduction from a book with no leading women in it at all). "I feel that I'm the sensual but also the manipulative Hyde," says Paff.
Having played the Shakespearean roles of Rodrigo and Othello, Paff notes that she instinctively carries herself differently as a man: "I feel that I really want to let myself, when playing male roles, be more still and more grounded." She points out that male roles don't have a lot of propwear—makeup, long curls, hoops—to "wrestle with." For this reason, in part, she believes that playing a man is freeing. "Just standing up onstage and with your legs wide apart and hardly any makeup and your hair slicked back, you're not so worried anymore about how people are seeing you." In addition to Hyde, Paff performs three other male roles in the play.
Hatcher's play turns the Victorian black-and-white morality gray, not just by giving the bad guy many sides, including a seductive one, but by casting doubts about the good guy, the upstanding Dr. Jekyll. "He obviously is getting something out of it," Wright observes, sensing that Jekyll finds his Hyde transformations a kind of high. "He's allowed to experience things that he won't allow himself to do, and of course that's the most alluring part of it all for him." For Goldstein, the play pushes back on dualistic thinking of the sort that distinguished the Victorian era for record-breaking hypocrisy. "We live in a society that's so polarized, it's either black or white. ... When in point of fact, I think what Jeff is trying to say is, 'There are none of us that are totally good; none of us that are totally bad.'"
DR. JEKYLL AND MR. HYDE, a San Jose Rep production, previews May 14–15, opens May 16 and runs through June 8 at the Rep, 101 Paseo de San Antonio. Tickets are $15–$59. (408.367.7255).
Send a letter to the editor about this story.