05.14.08
home | metro silicon valley index | the arts | visual arts | preview

Bruno 9Li shows at Anno Domini in August and September.
Summer 2008 Art Shows
Cool museum and gallery sights for the hot-weather months
San Jose Museum of Art
110 S. First St, San Jose; Tue–Sun, 11am–5pm; $5/$8. 408.294.6840.
Robots: Evolution of a Cultural Icon—A group exhibit takes a look at how humans have imagined robots past and future. Ends Oct 19.
Fred Spratt: Color and Space—Experiments in minimalism by local painter. Ends Jul 6.
Superlight—Steve Dietz of O1SJ curates a show featuring artists working in various technological modes. Ends Aug 30.
Reggie Amos—A sculpture and some photographs by local artist in Skybridge Gallery. May 24–Sep 28.
Computers—Photographs of old-school computers by Mark Richards. May 24–Sep 28.
San Jose Museum of Quilts & Textiles
520 S. First St, San Jose; Tue–Sun, 10am–5pm; $5/$6.50. 408.971.0323.
Core Memory/Peripheral Vision—In connection with O1, an exhibit of eight fiber artists who use digital tools and techniques. Ends Jun 8.
Pixels & Pieces—One-patch patterns in quilting, from the permanent collection. Ends Jun 8.
Advanced Geometry: Gloria Hansen—Computer-generated quilts. Ends Jun 8.
Awareables: Conscious Clothing—New-style wearable fiber art. Ends Jun 8.
Beyond Knitting: Uncharted Stitches—An exhibit about sculptural knitting. Jun 17–Aug 24.
Pun Intended: The Appliquéd Wit of Dorothy Vance—Jun 17–Aug 24.
History San José
1650 Senter Rd, San Jose; Tue–Sun, noon–5pm. 408.287.2290.
Becoming American in San Jose—Ends Jun 29.
A Breath of Plein Air—Paintings of the Santa Clara Valley by local artists. Ends Sep 21.
Home Front: Santa Clara Valley's World War II Experience—A look at how local people dealt with the war effort. Begins Aug 8.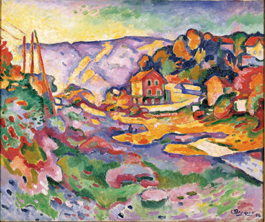 George Braque's 'Landscape at L'Estaque' shows as part of the 'Spared From the Storm' show at the Cantor Arts Center at Stanford, starting June 4.
Cantor Arts Center
Stanford University; Wed–Sun 11am–5pm, till 8pm Thu; free. 650.723.4177.
Makishi: Mask Characters of Zambia—Ends Jun 29.
Experiments in Navigation: The Art of Charles Hobson—A display of artist's books. Ends Jul 6 at Cantor; ends Aug 17 at Green Library.
Spared From the Storm: Masterworks From the New Orleans Museum of Art—Jun 4–Oct 5.
Richard Diebenkorn, Artist, and Carey Stanton, Collector: Their Stanford Connection—A show of about 50 works by Diebenkorn from the Stanton collection. Jul 23–Nov 9.
Splendid Grief: Darren Waterston and the Afterlife of Leland Stanford Jr.—Waterston creates a mourning parlor for the young Stanford son who died at 15. Ends Jun 21.
De Saisset Museum
Santa Clara University, 500 El Camino Real; Tue–Sun, 11am–4pm; free. 408.554.4528.
Eye on the Sixties: Vision, Body, and Soul—Works from the Harry W. and Mary Margaret Collection of modern Art. Ends Jun 15.
Breaking Through—Works by young artists from the ArtsConnect Program. Ends Jun 15.
Euphrat Museum of Art
De Anza College, 21250 Stevens Creek Blvd, Cupertino; Mon–Thu, 10am–4pm; free. 408.864.8836.
De Anza College Student Art Show—Ends Jun 12.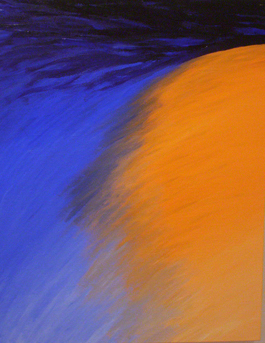 Betty Nobue Kano shows her abstract paintings at the Triton Museum of Art in Santa Clara, July 5-Aug. 31.
Triton Museum of Art
1505 Warburton Ave, Santa Clara; Mon–Sun, 11am–5pm, till 9pm Thu. 408.247.3754.
Mission to the Triton—Works by faculty members at Mission College. Ends Jun 22.
Narrative Realities—A group show of artists working in the figurative tradition, including Warren Chang, Stanley Goldstein, Katherine Levin-Lau and Ming Jing Wang. Ends Jun 29.
Betty Nobue Kano—Abstract paintings with a social consciousness. Jul 5–Aug 31.
Contemporary Still Lives—A survey of examples by 20 artists. Jul 12–Sep 7.
Vicki Walsh: Portraits—Large-scale naturalistic paintings. Jul 12–Aug 31.
Midsummer Art Celebration—Scores of artists participate in a free open-air festival, with food and music. Jun 21, 10am–6pm.
Galleries
Anno Domini
366 S. First St, San Jose; Tue–Fri, noon–7pm, Sat, noon–5pm. Closed in July. 408.271.5155.
Until Now—Daniel Jesse Lewis. Ends May 17.
Fim do Mundo—A solo show by Stephan Doitschinoff, a.k.a. CALMA. Ends Jun 21.
Graffiti Research Lab—The New York City crew is the gallery's contribution to 01. Jun 6–28.
South First Friday—subZERO is a street festival sponsored by 01. Jun 6, 6pm–midnight.
Bruno 9Li—A new show called META of works by the visionary Brazilian artist. Aug 1–Sep 20.
First Fridays Street Mrkt—A monthly DIY street fair. First Fridays in Jun, Aug and Sep.
KALEID Gallery
88 S. Fourth St, San Jose; Tue–Fri, noon–7pm, Sat, noon–5pm. 408.271.5151.
The Market 2.0—A show of photographs about street vendors by Josh Hires. Ends May 30.
Rampart—Found-art assemblages by Philo Northrup. Ends May 30.
MACLA
510 S. First St, San Jose; Wed–Thu, noon–7pm, Fri–Sat, noon–5pm. 408.998.ARTE.
American Dream—Art about the immigrant experience by young East Bay artist Faviana Rodriguez. Part of 01. Jun 4–Aug 9.
High 'n' Low Rider—A "low-rider" scissors lift created by Ruben Ortiz Torres. Jun 4–Aug 9.
Mexican Heritage Plaza
La Galeria, 1700 Alum Rock Rd, San Jose; Mon–Fri, 1–4pm; free; 408.928.5563.
Mi Coche—My Culture: Livin' the Lowrider Lifestyle—Ends Jun 30.
Mohr Gallery
Community School of Music and Arts at Finn Center, 230 San Antonio Circle, Mountain View; Mon–Fri, 9am–7pm, Sat, 9am–3pm. 650.917.6800.
Conceptually Bound 3—A show of artists' books, curated by Nanette Wylde. Ends May 25.
Inge Infante and Students—Jun–Jul.
Ala Ebtekar, Installation & Drawings—Aug–Sep.
Natalie and James Thompson Gallery
Art Building, San Jose State University; Mon–Fri, 11am–4pm, also Tue 6–7:30pm. 408.924.4328.
BULBO: DIY Media Strategies From the Border—Part of 01SJ; gallery and FUSE display projects by Bulbo collective exploring issues of new media. Shows through May 16, then Jun 4–8.
Timmothy Berry's More Missing Magic show opens June 22 at the Palo Alto Art Center.
Palo Alto Art Center
1313 Newell Road, Palo Alto; Tue–Sat, 10am–5pm, Thu, 7–9pm, Sun, 1–5pm. 650.329.2366.
Youth Art 2008 and Annual Cultural Kaleidoscope Exhibits—A showcase for works by young Palo Alto artists. Ends Jun 1.
Nathan Oliveira—A retrospective of the sculptor's work in bronze. Jun 22–Sep 7.
Timothy Berry: More Missing Magic—Drawings and paintings of masks. Jun 22–Sep 7.
Palo Alto Clay & Glass Festival—With nearly 200 area artists; free. Jul 12–13, 10am–5pm.
San Jose Institute of Contemporary Art
560 S. First St, San Jose; Tue–Fri, 10am–5pm, Thu till 8pm, Sat, noon–5pm; free. 408.283.8155 .
Lift Off: SJSU MFA Graduate Exhibition—Ends Jun 14.
The Word on the Streets—A Night Moves installation in neon by Ray Beldner. Ends Jun 14.
Crater Bay Area—Nora Ligorano and Marshall Resse's interactive piece allows gallery-goers to sketch their own interpretations of the surface of the moon. May 30–Aug 2.
Memories I'll Never Have—Brendan Lott picks images from the Internet and sends them to China to be reproduced as paintings. May 23–Aug 2.
Monotype Marathon—Annual event featuring 100 artists working in the medium. Jul 1–19.
Eureka!—Works by winners of the Eureka fellowship for Bay Area artists. Aug 1–Sep 20.
Medusa—Timothy Horn pays tribute to the illustrations of Ernst Haeckel. Aug 15–Sep 27.
Silicon Valley Open Studios
Various artists' stuidos; see www.svos.org for details.
Open Studios—Featuring artists in Campbell, Cupertino, Los Gatos, Milpitas, Monte Sereno, Morgan Hill, San Jose and Saratoga. May 17–18.
Space 47
47 E. William St, San Jose; Thu–Fri, noon–4pm and by appointment. www.space47.org.
Stardust—Arnoldo Vargas shows photographs and video works. Ends May 23.
Bay Area Asian Art Museum
200 Larkin St, San Francisco; Tue–Sun, 10am–5pm, Thu till 9pm; $5–$12. 415.581.3500.
On Gold Mountain: Sculptures From the Sierra by Zhan Wang—The Chinese artist shows his stainless-steel interpretations of traditional scholars' rocks. Ends May 25.
Power and Glory: Court Arts of China's Ming Dynasty—Rare pieces, including jades and jewelry from the Ming period (14th to 17th centuries). Jun 27–Sep 21.
De Young Museum
Golden Gate Park; Tue–Sun, 9:30am–5:15pm, Fri, 9:30am–8:45pm; $6–$10 (extra for traveling shows); 415.863.3330.
Jane Hammond: Paper Work—Large-scale collage paintings and works on paper. Ends Aug 31.
Chihuly—The exhibit include two site-specific pieces by the glass artist. Jun 14–Sep 28.
Legion of Honor
100 34th Ave, Lincoln Park, San Francisco; Tue–Sun, 9:30am–5:15pm; $6–$10. 415.863.3330
Kahnweiler, Editeur—A show of illustrated books from the French art dealer. Ends May 25.
The Dead Sea Scrolls and 5,000 Years of Treasures—Ends Aug 10.
Women Impressionists—A selection of works by Mary Cassatt, Eva Gonzalès and Marie Beracquemond. Jun 21–Sep 21.
SFMOMA
151 Third St, San Francisco; Mon–Tue, 10am–5:45pm, Thu, 10am–8:45pm, Fri–Sun, 10am–5:45pm; $7–$12.50. 415.357.4000.
Frida Kahlo—The centenary of the Mexican artist's birth is celebrated with a show of nearly 50 paintings plus a selection of pictures and portraits from the Vincent Wolf Photography Collection. Jun 14–Sep 28.
The Art of Lee Miller—The show claims to be the first comprehensive retrospective of the works and life of the surrealist photographer, model and muse. Jul 1–Sep 14.
Half-Life of a Dream: Contemporary Chinese Art From the Logan Collection—Works from the Communist era showing how artists have coped with the changing dreams of a new society. Jul 10–Oct 5.
Oakland Museum of California
Tenth and Oak streets, Oakland; Wed–Sat, 10am–5pm, Sun, noon–5pm; $5–$8; 510.238.2200.
Birth of the Cool—A look at art, design and culture in the Golden State in the 1950s and early 1960s. May 17–Aug 17.
Cool Remixed—Modern urban artists working in graffiti and DJ mixing respond to the "Birth of the Cool" exhibit. May 17–Aug 17.
UC–Berkeley Art Museum
2626 Bancroft Way, Berkeley; Wed–Sun, 11am–5pm; $5/$8; 510.642.0808.
Protest in Paris 1968—Serge Hambourg's on-the-spot photographs of the turmoil of the time prove that students once knew how to protest. Ends Jun 1.
James Lee Byars: The Perfect Audience—Books, mail art, performance art and more. Ends Aug 3.
Joan Jonas: The Shape, the Scent, the Feel of Things—A video installation about the American Southwest. Ends Jul 20.
Jim Campbell: Home Movies—Digital, LED-based installations by the innovativee new-media artist. May 31–Aug 3.
Zeroing In
01 SJ brings art and tech together in biggest happening of the summer
MORE THAN 100 artworks, performances, screenings and multidisciplinary collaborations will highlight the Second Biennial 01SJ Global Festival of Art on the Edge, which erupts all over downtown San Jose June 4–8. This is the biggest festival of digital and new media arts in all of North America, putting it right on a par with pioneering European festivals like Ars Electronica, which have already been taking place for years. The festival debuted here in 2006 and will continue every other year from now on.
Here are just a few of the goings-on this time around:
• Three U.K.-based artists have built a huge sculpture out of analog telephone switches, serving as a memorial for thousands of African Congolese who have died in the wars over the mining of tantulum, a valuable metal used to make cell phones. (At the San Jose Museum of Art)
• Adobe Systems Inc. is kicking down loads of capital for a microgrant program, which will fund 19 different international artists, arts collectives and established nonprofit arts organizations and institutions to support the creation of new work by young digital artists (ages 11 to 21), culminating in an exhibition at the Tech Museum of Innovation.
• Australian artist Craig Walsh will build a large-scale video projection at City Hall sponsored by Applied Materials and the city itself.
• Legendary experimentalists the Rova Saxophone Quartet will collaborate with composer Jason Freeman in a performance where music notation, electronic sound and video animation are all generated in real time based on the locations of musicians, dancers and audience members as they move and interact with each other. (MACLA, June 5–6 at 8pm and June 7 at 4 and 6pm)
• Toni Dove and Luke Dubois will collaborate on Spectropia, a interactive cinema event where live performers orchestrate onscreen characters through an original mix of film, performance and motion sensing that serves as a cinematic instrument—creating a narrative form that is part video game, part feature film and part VJ mashing. (Camera 12, June 5 at 7pm and June 7 at 8pm)
• The San Jose Museum of Quilts and Textiles will host an exhibition of computer-designed quilts by Gloria Hansen titled Advanced Geometry.
Even though everyone is capable of appreciating modern art, some folks do tend to get intimidated while in the presence of something they've already been led to believe is beyond their understanding. 01SJ is no different. Especially with new technologies, artists are constantly working to transform the audience's entire notions of how art can be experienced and participated in. No one's instructing you to throw away your analog watercolor set forever; far from it. This festival is more about those interstitial crevices where art intersects with technology, humans merge with machines and cultural anthropologists partner with computer network engineers. The collaborative processes are just as important as the final products. Stay tuned for more details in the weeks to come or check out www.01SJ.org.
Send a letter to the editor about this story.