05.14.08
home | metro silicon valley index | music & nightlife | classical preview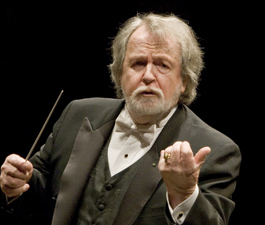 George Cleve presides over Midsummer Mozart starting July 17.
Summer 2008 Classical Concerts
Festivals
Carmel Bach Festival
Jul 19–Aug 9 at the Sunset Theater, Carmel Mission and other venues in Carmel and Pebble Beach; $25–$80. 831.624.2046, www.bachfestival.org.
Bach's Mass in B Minor, with festival director Bruno Weil conducting, holds down the place of honor in this year's opening concert. Brahms also gets his due in performances of his major choral work, A German Requiem. Concertmaster Elizabeth Walifisch spotlights both composers in a program featuring two Bach concertos and Brahms' Sextet in B-flat Major. All six Brandenburg Concertos will be conductor from the harpsichord by Andrew Arthur. The festival runs almost continuously, and most of the programs repeat three times. Check the website for complete schedule details.
Jul 18–Aug 8 at Menlo School in Atherton and St. Mark's Episcopal Church in Palo Alto; $15–$70. www.musicatmenlo.org.
The sixth season of the pedagogically programmed festival concentrates on chamber music. The individual concerts are arranged chronologically, proceeding from the predecessors of Bach to Haydn and Schubert to the Romantics to the Modernists. A final evening, called "Music Now: Voices of Our Time," includes works by contemporary composers Jennifer Higdon, Kenneth Frazelle (a world premiere commissioned work) and Tan Dun (whose Elegy: Snow in Jume for cello and percussion is a memorial to the Tiananmen Square upheavel of 1989). The festival, anchored by creators David Finckel and Wu Han, also hosts a wide variety of educational talks and subsidiary events.
Midsummer Mozart
Jul 17–Aug 3 at Mission Santa Clara, the California Theatre and Le Petit Trianon in San Jose, the Herbst Theatre in San Francisco, the First Congregational Church in Berkeley and the Gundlach Bundschu Winery in Sonoma; $30–$60. 415.627.9141.
The 34th season bills itself as the only all-Wolfgang fest in North America. Three programs will be performed at various Bay Area locations: (I) Divertimento in D, Piano Concerto in A, Oboe Concerto in C and Symphony no. 38 with Jon Nakamatsu and Laura Griffiths (July 17–20); (II) Gran Partita for Winds and Double Bass and Piano Concerto in C Minor with pianist Nikolai Demidenko (July 24–27); and (III) a staged performance of Abduction From the Seraglio plus excerpts from I & II and a piano recital by Demidenko (July 31–Aug 3). George Cleve conducts.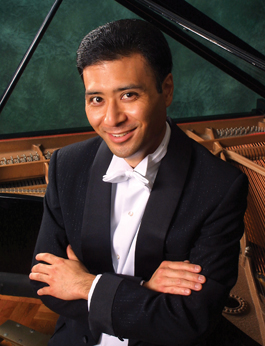 Jon Nakamatsu performs June 1 with the San José Youth Symphony.
Cabrillo Festival of Contemporary Music
Jul 27–Aug 10 at the Santa Cruz Civic Auditorium, Kuumbwa Jazz Center and Mission San Juan Bautista; $8–$44; advance mail orders begin in mid-May. 831.426.6966.
Five world premieres, three American premieres and five West Coast premieres reaffirm the festival's commitment to cutting-edge classical. Among the highlights: Young Santa Cruz–born composer Eric Lindsay's Darkness Made Visible; Dorothy Chang's Strange Air, commissioned by the Women's Philharmonic Commissioning Initiative; the regional premiere of John Adams' Doctor Atomic Symphony; and the world debut of Taiwanese composer Chiayu's Fong Nian Ji, written for Cabrillo. In a special crossover event, Michael Daughtery presents a jazz-inflected concert at Kuumbwa; also breaking boundaries is cellist Matt Haimovitz, who will explore some electronica notions with DJ Masonica (a.k.a. Mason Bates). Marin Alsop, who is the music director of the Baltimore Symphony Orchestra, conducts.
Concerts
California Youth Symphony
May 18 at 2:30pm; San Mateo Performing Arts Center, 650 N. Delaware St, San Mateo; and Jun 22 at 2:30pm; Spangenberg Theatre, 780 Arastradero Road, Palo Alto; $6/$12. 650.325.6666.
The San Mateo concert features Senior Soloist Competition winners—Jenna Chen, flute; Ian Harshman, clarinet; Timothy Kang, cello—performing selections by Ives, Prokofiev, Britten and more. The Palo Alto program is a preview of the group's Japan tour. Angela Hwang is the guest pianist.
Cantabile
Jun 6 at 8pm; Campbell United Methodist Church, 1675 Winchester Blvd, Campbell; also Jun 8 at 4pm; St. Mark's Episcopal Church, 600 Colorado Ave, Palo Alto; $6–$25. 650.424.1410.
American Treasures—The selections from the American choral playbook include Barber's Reincarnations and Copland's In the Beginning.
Cantabile Youth Singers—The junior choir performs "I Dream a World." May 17 at 4pm at St. Mark's and Jun 14 at Le Petit Trianon, 72 N. Fifth St, San Jose.
Chanticleer
May 18 at 5pm at Mission San Juan Bautista; May 27 at 8pm at Mission Santa Cruz; and May 28 at 8pm at Mission Santa Clara; $25–$44; 415.252.8589.
The male vocal chorus shows up at nine California missions (three in our area for a concert of period music.
The Choral Project
Jun 6–7 at 8pm and Jun 8 at 4pm; Center for Spiritual Living, 1195 Clark St, San Jose. $18/$25; 408.279.0161.
The program highlights spirituals and gospel songs from Africa, with soloist Michelle Jordan.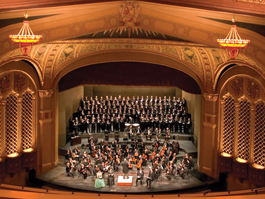 The Silicon Valley Symphony Chorale appears May 17–18 in Santa Cruz and Santa Clara.
El Camino Youth Symphony
Jun 1 at 2:30pm; Flint Center, 21250 Stevens Creek Blvd, Cupertino; $5/$10. 650.213.7111.
The symphony performs works by Wagner, Sibelius, Prokofiev and Gershwin's An American in Paris. The guest artists are violinists Joy Lin and Sunli Kim. The Sinfonietta Orchestra performs its Spring Dance program on May 17 at 8pm at Cubberley Theatre, Palo Alto.
Sinfonietta Spring Dance
The Sinfonietta Orchestra presents includes works by Beethoven, Bizet and Wieniawski's A Legend for Violin and Orchestra with Concerto Competition winner Tiffany Shen. May 17 at 8pm, Cubberley Theatre, Palo Alto; $10/$15.
International Russian Music Piano Competition
Jun 6–14; all day; California Theatre, 345 S. First St, San Jose.
See www.russianmusiccompetition.com for details.
Mission Chamber Orchestra
Jun 8 at 3pm; Five Wounds Church, 1375 E. Santa Clara St, San Jose; $5/$15. 408.236.3350
For the "Music of Portugal," Mission Chamber Orchestra performs selections by Bomtempo and Branco, as well as folk songs. The guest artist is Elizabeth Medeiros Hogue.
Montalvo Arts Center
15400 Montalvo Road, Saratoga; $30.$40; 408.961.5858.www.montalvoarts.org.
Montalvo presents pianist Vladimir Felstman performing pieces by Bach and Beethoven, plus Mussorgsky's Pictures at an Exhibition. This special show takes place at the McAfee Performing Arts Center at Saratoga High School. On May 18 at 2pm at Montalvo, the Greenberg Lecture Series looks at Shostakovbich's The Thaw with the Aflara String Quartet. On Aug 13, Montalvo presents the world premiere of Divide Light, an opera by performance artist Lesley Dill and composer Richard Marriott. This commissioned piece is based on the poetry of Emily Dickinson and features the Choral Project of San Jose and the Del Sol String Quartet.
New Century Chamber Orchestra
Jun 6 at 8pm; St. Mark's Episcopal Church, 600 Colorado Ave, Palo Alto; $32/$46. 415.357.1111. Guest concertmaster Rachel Barton Pine conducts the orchestra in a program of works by West Indian composer Saint-Georges, George Walker, Coleridge-Taylor Perkinson and Brahms.
Nova Vista Symphony
May 23 at 8pm; Center for the Performing Arts, 500 Castro St, Mountain View; call for ticket info. 408.624.1492.
For a program titled "Rhythm of Russia," Nova Vista performs Borodin's In the Steppes of Central Asia, Tchaikovsky's Piano Concerto no. 1 and Rachmaninoff's Symphonic Dances. The guest soloist is pianist Chih-Long Hu.
Ohlone Chamber Orchestra
May 18 at 2pm; Jackson Theater, Smith Center, Ohlone College, 43600 Mission Blvd, Fremont; $8–$15. 510.659.6031.
The orchestra, conducted by Larry Osborne, performs Brahms' Symphony no. 1.
Opera San José
May 31 at 7pm; California Theatre, 345 S. First St, San Jose; $50–$200. 408.427.4450
The second annual Irene Dalis Vocal Competition rewards the 10 best contestants with cash prizes.
Palo Alto Chamber Orchestra
Jun 1 at 3pm; Dinkelspiel Auditorium, Stanford; $6–$15. 650.856.3848.
Ladies' Night with pianist Sujeeva Hapugalle performing Beethoven's Piano Concerto no. 1, plus Evie Chen performing Ralph Vaughan Williams' Lark Ascending. Dinkelspiel, $6-$15.
Palo Alto Philharmonic
May 18 at 3pm; Cubberley Theatre, 4000 Middlefield Road, Palo Alto; $5–$10. www.paphil.org.
This family concert highlights the Celebration Overture by local composer Lee Actor. Also: selection from Beethoven, Wagner, Brahms and Tchaikowsky.
The Peninsula Symphony
May 16 at 8pm; San Mateo Performing Arts Center, 600 N. Delaware St, San Mateo; and May 17 at 8pm; Flint Center, 21250 Stevens Creek Blvd, Cupertino; $29/$34. 650.941.5292.
Jing Wang solos on Mendelssohn's Violin Concerto in E Minor. The symphony also performs Mahler's Fifth. There will be a Supper Pops Concert on Jun 29 at 3pm at the Oak Creek Apartments in Palo Alto; call for details.
Redwood Symphony
Jun 8 at 3pm; the Cañada College Main Theatre, 4200 Farm Hill Blvd, Redwood City; $10–$25. 650.366.6872.
In yet another Messiaen centenary concert, the symphony performs the French composer's Turangalîla Symphony, with pianist Dan Glover and synthesizer player Mark Goldstein. The rest of the program is devoted to Stravinsky's Fanfare for a New Theatre.
San Francisco Symphony
Flint Center, 21250 Stevens Creek Blvd, Cupertino; $38–$65. 415.864.6000.
Brahms—Michael Tilson Thomas conducts three works by Brahms; Yefim Fronfman is the soloist for the Piano Concerto no. 1. May 16 at 8pm.
Music for Families—Edwin Outwater conducts an accessible program for young audiences. $7.50–$54. Jun 15 at 2pm.
Dvorak's Cello Concerto—David Robertson conducts guest cellist Alisa Weilerstein. Jun 26 at 8pm. Fourth of July, 5pm at Shoreline.
Summer in the City—James Gaffigan conducts violinist Stefan Jackiw. Jul 9 at 8pm.
San Jose Chamber Orchestra
May 18 at 7pm; Le Petit Trianon, 72 N. Fifth St, San Jose; $30–$45. 408.295.4416.
Barbara Day Turner conducts a program called "And the Trumpet[s] Shall Sound," with guest trumpeters Eric Brewer and Steve Madancy. Selections include Bartok's Transylvanian Dances, Vivian Fung's String Sinfonietta, Jeff Smith's An Evening in Transylvania, Alan Hovhaness' Prayer of St. Gregory and Vivaldi's Concerto for Two Trumpets.
San Jose Wind Symphony
Jun 1 at 3pm; McAfee Center, 20300 Herriman Ave, Saratoga; $15–$17. 408.927.7597.
Edward C. Harris leads the symphony on an exploration of classical works derived from various folk-music traditions. Youth Competition winner Kenta Akaogi will solo on Weber's Second Concerto for Clarinet. The symphony also performs on the Fourth of July at 1:30pm on the lawn at Los Gatos High School.
San José Youth Symphony
Jun 1 at 6pm; California Theatre, 345 S. First St, San Jose; call for ticket prices. 408.885.9220.
The Youth Symphony teams up with the Steinway Society of the Bay Area for "A Warm Summer's Evening," This fundraiser features an appearance by Bay Area favorite Jon Nakamatsu playing Liszt's Piano Concerto no. 1. The program also includes Borodin's Polovtsian Dances from Prince Igor and Pictures at an Exhibition. A champagne and chocolate VIP reception follows the concert. Yair Samet conducts.
Schola Cantorum
Jun 7 at 8pm and Jun 8 at 4pm; Los Altos United Methodist Church, 655 Magdalena Ave, Los Altos; $20/$24. 650.254.1700.
Jazz, classic ballads and other favorite tunes.
Silicon Valley Symphony
Jun 7 at 8pm; Presbyterian Church of Los Gatos, 16575 Shannon Road, Los Gatos; call for ticket prices. 408.873.9000.
Gustav Holst's The Planets leads a program that also features Stravinsky's Firebird Suite and Tchaikowsky's March Slave. The Castillero Middle School Advanced Orchestra makes an appearance.
South Bay Guitar Society
May 31 at 8pm; Theatre on San Pedro Square, downtown San Jose; $15/$20. 408.292.0704.
The society's Showcase Concert spotlights the classical guitar playing of Arina Burceva, Ben Barron, Teja Gerken and Michael Bautista.
Stanford Symphony Orchestra
May 30–31 at 8pm; Dinkelspiel Auditorium, 471 Lagunita Dr, Stanford; $5–$10 at the door. Also Jul 26 at 8pm at Dinkelspiel. www.stanford.edu/group/sso/.
As a preview of its upcoming tour of China, the symphony, conducted by Jindong Cai, presents selections by Beethoven, Gershwin (Rhapsody in Blue with guest pianist Jon Nakamatsu) and Stravinsky, plus Zhou's Long Cosmic Flames. The Jul 26 concert features Weber's Oberon Overture and Mozart's Symphony no. 41.
Sunset Concerts
May 23 at 8pm; St Luke's Church, 20 University Ave, Los Gatos; $10–$20. 408.254.4560.
The series presents Musica Pacifica performing Baroque folk music.
Symphony Silicon Valley
Jun 7 at 8pm and Jun 8 at 2:30pm; California Theatre, 345 S. First St, San Jose; $37–$73. 408.286.2600.
Martin West conducts Stravinsky's The Rite of Spring. The first half version features an actor and narrator; in the second half, the orchestra will perform the work straight.
Symphony Silicon Valley Chorale
May 17 at 2:30pm; Holy Cross Church, Santa Cruz; also May 18 at 2:30pm; Santa Clara Mission; call for ticket information. 408.286.2600.
Elena Sharkova leads the chorale in Rachmaninoff's All-Night Vigil (a.k.a. Vespers).
West Bay Opera
May 23–25 and May 30–Jun 1; Lucie Stern Theatre, 1305 Middlefield Road, Palo Alto; $15–$50. 650.424.9999.
The company presents Wagner's The Flying Dutchman, conducted by José Luis Moscovich. The opera's gala fundraiser with food, entertainment and a silent auction takes place May 31 at the Sheraton Palo Alto; call for info.
The Winchester Orchestra
May 24 at 7:30pm; West Valley College Theater, 14000 Fruitvale Ave, Saratoga; and May 25 at 7pm; Trinity Episcopal Cathedral, 81 N. Second St, San Jose; $7–$18. 408.269.1905 or 408.866.5302.
The orchestra offers A Wintry Vale by young local composer Anica Galindo, plus Mozart's Concerto no. 3 with guest violinist Dale King, Nancy Bloomer Deussen's A Silver, Shining Strand and Elgar's Concerto for Cello, with soloist Kjell R. Stenberg. Anthony Quartuccio conducts.
Send a letter to the editor about this story.