05.14.08
home | metro silicon valley index | movies | current reviews | film preview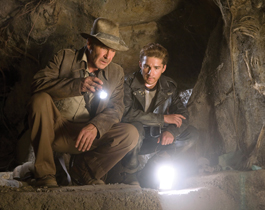 Indiana Jones
Summer Movies 2008
The long hot summer of looking backward at the movies
By Richard von Busack
THIS SUMMER, America's film directors say in chorus: We wish it was 1968. We miss the space program: three feature-length animated films, WALL-E (June 27), Space Chimps (July 18) and Fly Me to the Moon (Aug. 22). We miss Indian swamis: Mike Myers as the outrageously accented The Love Guru (June 20). We miss Playboy magazine: Anna Faris as The House Bunny (Aug. 22). We miss marijuana: the Judd Apatow/David Gordon Green pot-heist comedy Pineapple Express (Aug. 8).
We miss Vietnam: Tropic Thunder (Aug. 15) has a cast of buffoons trying to make a bigger Vietnam movie than Apocalypse Now; Ben Stiller and Jack Black team with Robert Downey Jr. as an Australian actor who undergoes a John Howard Griffin–style skin-darkening. So: We apparently miss blackface, too.
We miss the TV shows we used to watch, especially the shows about wacky spies: Adam Sandler's dialect comedy You Don't Mess With the Zohan on June 6 and Get Smart with Steve Carell channeling Don Adams on June 20.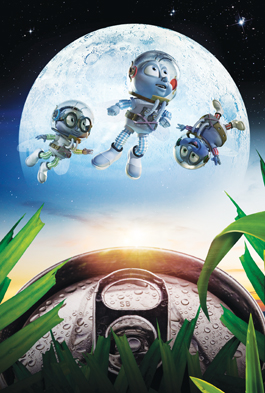 Fly Me to the Moon
But the most Zeitgeist-heavy summer release of them all is The Dark Knight (July 18), a revival of that caped hero of '68. "There must be some way out of here, said the joker to the thief." Here, the caped detective (Christian Bale) is hunted by the Gotham City PD and attacked by a famous scar-faced criminal (the late Heath Ledger). Onscreen, when things aren't blowing up, Batman will show off his usual moment of Hamletesque wrestling in the face of duty. These "I must fight, yet I cannot" arguments are as perfectly timed as the film's Two-Face/Harvey Dent arc (Aaron Eckhart). Lord knows we've got two-faced politicians running loose this summer.
The rest of the scad of superhero movies are slightly less metacritical, although the wartime metaphors abound. Indiana Jones and the Kingdom of the Crystal Skull (May 22) sees our hero setting a deluded U.S. military back on track. Just as Iron Man satirizes the weapons trade, so the Edward Nortonized The Incredible Hulk (June 13) has the green-eyed monster about to be pressed into khaki by Gen. Thunderbolt Ross (William Hurt).
Our secret weapon against demon terrorists is Hellboy, who turns up in Hellboy II: The Golden Army (July 11). Guillermo del Toro directs the tandoori-colored hero. On July 2, Hancock unveils Will Smith as an arrogant superhero who tries to reform, a little, with the help of Charlize Theron. Wanted (June 27), based on a graphic-novel series written by Mark Millar, deals with a sect of superassassins (including Morgan Freeman and Angelina Jolie) whose motives aren't as clear as they seem. June 6's Kung Fu Panda is full of computer-animated Hong Kongisms, so it counts as a kind of superhero movie. Hilariously, "This film has been rated PG for sequences of martial arts action"—a warning for parents who take their impressionable children to see a kung fu movie, only to be shocked by characters kicking one another.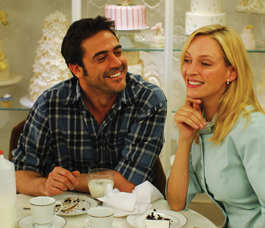 The Accidental Husband
Are there any unframed fairy tales this summer? The Chronicles of Narnia: Prince Caspian (May 16) wraps its Christian fairyland in a story about the Blitz of World War II. Let's also note the highly psychedelic Spike Jonez/David Fincher presentation of Tarsem's The Fall (May 30), which mixes up a cast of whirling dervishes and Charles Darwin, as related by an English (speaking) patient languishing in a Southern California hospital. Go around claiming that you've seen the Bulgarian original Yo Ho Ho (1981) and that the new one isn't as good. Even one of the summer's few romances, Elsa y Fred (July 11), concerns an Argentine lady's obsession with La Dolce Vita. Hou Hsiao-hsien's Flight of the Red Balloon (May 16) paraphrases a famous 1956 French children's film (which was parodied to the grave by Don Hertzfeldt's lethal cartoon Billy's Balloon). And as a kind of commentary on how a film becomes a legend: Aug. 15's Star Wars: The Clone Wars arrives. Dispensing at last with the troublesome humans, Lucas goes animated, apparently using a cast of zwinkys.
Bad, perhaps Borgesian, mirrors haunt a rent-a-cop (Kiefer Sutherland) in Mirrors (Aug. 15) by Alejandro Aja, based on the Korean horror film Into the Mirror. May 23 sees the release Mister Lonely by the one-and-only Harmony Korine. It sounds exactly like the TV commercial with Abe Lincoln and the beaver.
TV adaptations, remakes and sequels must not be forgotten: more adventures of that quartet of cougars in Sex and the City: The Movie (May 30); Bangkok Dangerous (Aug. 22) stars Nicolas Cage in an American remake of a bucket of Thai mayhem by the Pang Brothers. July 25 is the opening date for The X-Files: I Want to Believe (the producers want to believe that David Duchovny is not box-office poison); The Mummy: Tomb of the Dragon Emperor brings back Brendan Fraser to duel with the mummy of a Chinese emperor on Aug. 1.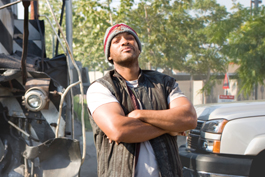 Hancock
Speaking of Asian warlords, Genghis Khan turns up himself in Sergei (Prisoner of the Mountains) Bodrov's epic biopic Mongol (June 20). You call it imperialism, but I say he brought roads and schools.
Back to sequels. Aug. 8 sees the pants recaptured in The Sisterhood of the Traveling Pants 2. June 20 is the day for Mother of Tears, Dario Argento's third film about the three dark mothers, featuring the uncanny Ms. Asia. Journey to the Center of the Earth 3D (July 11) has Brendan Fraser retracing the steps of Arne Saknussemm. In similarly crepuscular fare, The Strangers (May 30) stars Scott Speedman and Liv Tyler in a motiveless home-invasion shocker. As the ads say, based on a true story. The true story, that is, that there's a place called France, where they made a movie called Ils, remade as a film called The Strangers. And the summer's most prestigious sequel: Hamlet 2 (Aug. 22) gives us a new view of that trash-talking but lovable Danish college student, in the context of a Tucson tale told by an idiot (Steve Coogan). (Mentioning students means mentioning Aug. 29's comedy College, which should make Animal House look like Hamlet 1.)
A few films dare to engage with 2008. For example: there's a must-see study of some of the humans dispossessed by the Three Gorges Dam, Up the Yangtze (June 13).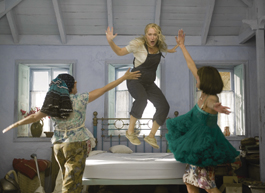 Mama Mia!
Fatih Akin's July 11 The Edge of Heaven concerns cross-cultural tensions between Turkey and Germany, in a feature film by the director of Head-On. Brick Lane (June 27) has similar cultural head-butting when a Bangladeshi girl moves to east London for an arranged marriage.
Alan Ball's Towelhead (Aug. 15) follows a young Lebanese girl caught between American racism and Arab tradition. It's not to be confused, but it will be anyway, with Baghead (Aug. 1), the Duplass brothers' no-budget romance featuring mumblecore sweetheart Greta Gerwig. In Alexandra (May 30), Alexander Sokurov (Russian Ark) views the Chechnyian conflict through the eyes of a Russian grandmother.
The Children of Huang Shi (May 30) is the true story of a Chinese orphan rescue of the 1930s, with Jonathan Rhys Meyers and Radha Mitchell. Crossing Over (Aug. 22) by Wayne Kramer brings Harrison Ford, Sean Penn and Ray Liotta together in a story of immigrants in Los Angeles.
In Frozen River (Aug. 8), Melissa Leo plays a single mom forced into the immigrant smuggling racket. And there's one nonescapist comedy: Swing Vote (also Aug. 1) concerns a New Mexican shlub (Kevin Costner) who gets to decide the presidential election. Tell me he'd be a worst decider than Scalia.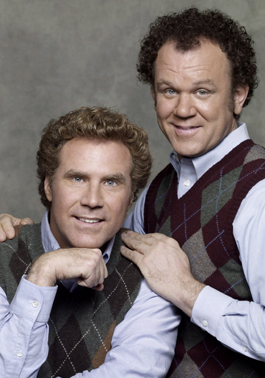 Step Brothers
The Happening (June 13), M. Night Shyamalan's latest apocalypse, leaves Mark Wahlberg one of the last men standing after some sort of event: Is it terrorist? Is it the Rapture? Is it possible that you can please, for the love of God, hire a screenwriter next time, Night? Meet Dave (July 11) stars Eddie Murphy as the humanoid vessel for a team of miniaturized aliens. Babylon A.D. (Aug. 29) is a Mathieu Kassovitz variation on Children of Men, with Vin Diesel escorting a woman across the hellspots of future Europe. Tell No One (June 27) is a French Hitchcockoid thriller about a doctor whose wife reappears years after she vanished. June 20's Savage Grace co-stars Julianne Moore and Stephen Dillane in the true account of the invigoratingly sordid Baekeland murder case in London 1972. Midnight Meat Train (Aug. 1) is based on a bon-bon by Clive Barker, about a serial killer (Vinnie Jones!) who has been using the subway as his personal abattoir.
Romance and comedy become a footnote in this season of spectacle. Mamma Mia! (July 18) is the monster hit ABBA musical with Meryl Streep revealing to her daughter (Amanda Seyfried) which of three men (Colin Firth, Pierce Brosnan and Stellan Skarsgard) sired her. The preceding sentence is an example of fair and balanced journalism, as it does not describe listening to ABBA as like having warm mayonnaise funneled into the ears. Brideshead Revisted (July 25) is the new feature-film version of Evelyn Waugh's account of the decline of the Marchmains. More British rigor can be seen in And When Did You Last See Your Father? (June 13) with Colin Firth and Jim Broadbent in the film version of Blake Morrison's memoir. The Accidental Husband (Aug. 22) features Uma Thurman as a Dr. Laura type who discovers she's been married for years. In other comedies, Steve Conrad's The Promotion (June 13) teams John C. Reilly and Seann William Scott as rivals at a Chicago supermarket. The Sundance hit The Wackness (July 3) concerns love and angst in Rudy Giuliani's New York.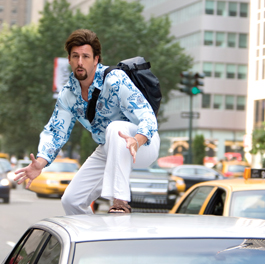 You Don't Mess With the Zohan.
The Rocker (Aug. 1) tries to promote Rainn Wilson to the front line, as an aging rock drummer who tries to glom onto his own nephew's band. Choke (Aug. 1) has Angelica Huston as a senile mom, kept by a desperate son who works days as a historical re-enacter. Step Brothers (July 25) teams John C. Reilly and Will Ferrell as a pair of lazy louts who are forcibly related by marriage.
The newest genre is 'tween interest. After the mammoth gross of the Hannah Montana concert movie, expect this category to grow over the years: Kitt Kittredge, American Girl (July 2) is Patricia (I Have Heard the Mermaids Singing) Rozema directing Abigail Breslin; Wild Child (Aug. 22) has Nancy Drew's Emma Roberts as a crazy 16-year-old who gets shipped off to a British boarding school. And American Teen (Aug. 1) is a much-praised vérité documentary about a year in the life of an Indiana high school.
In San Francisco, the annual Silent Film Festival arrives in July, with a guest appearance by silent-film slave Guy Maddin. (His My Winnipeg comes out in August.)
The Stanford Theatre's summer program will be unveiled soon. And at the PFA in Berkeley: 10 films starring salty Depression-era comedian Joan Blondell, whose particular qualities as a hot, tough blonde have no 2008 equivalent, even with all the CG in the world.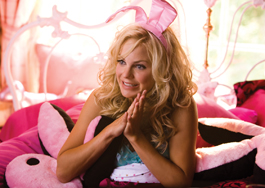 The House Bunny
Summer Sprawl
May
May 16: The Chronicles of Narnia: Prince Caspian; Flight of the Red Balloon
May 22: Indiana Jones and the Kingdom of the Crystal Skull
May 23: Mister Lonely
May 30: Alexandra; The Children of Huang Shi; The Fall; Sex and the City: The Movie; The Strangers
June
June 6:
Kung-Fu Panda; You Don't Mess With the Zohan
June 13: The Happening; The Incredible Hulk; The Promotion; Up the Yangtze; And When Did You Last See Your Father?
June 20: Get Smart; The Love Guru; Mongol; Mother of Tears; Savage Grace
June 27: Brick Lane; Tell No One; WALL-E; Wanted
July
July 2: Hancock; Kit Kittredge, American Girl
July 3: The Wackness
July 11: The Edge of Heaven; Elsa y Fred; Hellboy II: The Golden Army; Journey to the Center of the Earth 3D; Meet Dave
July 18: The Dark Knight; Mamma Mia!; Space Chimps
July 25: Brideshead Revisited; The X-Files: I Want to Believe; Step Brothers
August
Aug. 1: American Teen; Baghead; Choke; Midnight Meat Train; The Mummy: Tomb of the Dragon Emperor; The Rocker; Swing Vote
Aug. 8: Frozen River; Pineapple Express; The Sisterhood of the Traveling Pants 2
Aug. 15: The International; Mirrors; Star Wars: The Clone Wars; Towelhead; Tropic Thunder
Aug. 22: The Accidental Husband; Bangkok Dangerous; Crossing Over; Fly Me to the Moon; Hamlet 2; The House Bunny; Wild Child
Aug. 29: Babylon A.D.; College
(all dates are subject to change; art-house and indie movies often open in limited release a week before moving to the valley.)

Send a letter to the editor about this story.