05.14.08
home | metro silicon valley index | the arts | stage | preview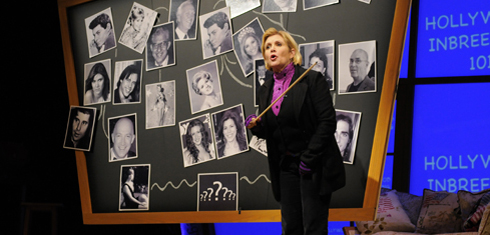 Carrie Fisher brings her one-woman show 'Wishful Drinking' to San Jose Rep July 23-Aug. 2.
Summer 2008 Stage Shows
The play's the thing all summer long
American Musical Theatre of San Jose
San Jose Center for the Performing Arts, 255 Almaden Blvd, San Jose. 1.888.455.SHOW.
Disney's Beauty and the Beast—May 13–25; High School Musical—Jun 10–15.
Arclight Repertory Theatre
Theatre on San Pedro Square, 29 N. San Pedro St, San Jose; $10/$15. 800.838.3006.
Shakespeare on the Square Festival—A presentation of Twelfth Night, with the setting translated to the Indian island of Illyria. The Sat–Sun shows will be preceded by a one-hour free performance of classical music and dance by Abhinaya Dance Company of San Jose. Jun 6–28 (Fri–Sat at 8pm, Sun at 7pm).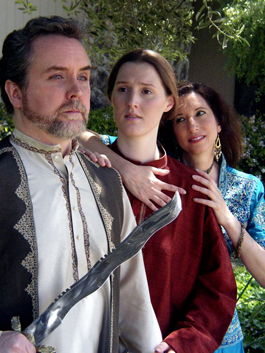 The Shakespeare on the Square Festival includes performances of 'Twelfth Night' June 6-28 at Theatre on San Pedro Square in downtown San Jose.
Broadway by the Bay
San Mateo Performing Arts Center, 600 N. Delaware St, San Mateo; $25–$45. 650.579.5565.
Thoroughly Modern Millie—The flapper era revived, with some new music and lyrics by Jeanine Tesori and Dick Scanlan. Jul 10–27.
Broadway West Theatre Company
4000B Bay St, Fremont; $15–$22. 510.683.9218.
Twelve Angry Men—A classic drama about a jury heatedly deliberating a man's fate. May 16–Jun 14.
Bus Barn Stage Company
Bus Barn Theatre, 97 Hillview Ave, Los Altos; $22–$32. 650.941.0551.
The Importance of Being Earnest—Into the Wilde. May 22–Jun 21. Dr. Noize & Andy Z.—An interactive adventure for kids and their parents. May 24 at 10am and noon; $10.
Cabrillo Stage
6500 Soquel Dr, Aptos; $15–$31. 831.479.6154.
Forever Plaid—Jun 27–Jul 27; Jesus Christ Superstar—Jul 11–Aug 17.
California Theatre Center
Sunnyvale Community Center, 550 E. Remington Dr, Sunnyvale; $18–$25; plays run in repertory. 408.720.0873.
Mary's Wedding and The Dock Brief—The former is a love story set in World War I era; the latter is a legal thriller. Jun 5–Jul 25.
Liberty Inn—An Italian comedy about the American Revolution. Jun 12–Jul 26.
The Matchmaker—Remember Hello Dolly!? Thornton Wilder got there first in this Gilded Era comedy. Jun 26–Jul 27.
Children's Musical Theater San Jose
Montgomery Theater, 271 S. Market St, San Jose; call for ticket info. 408.288.5437.
Into the Woods—May 9–18 (Mainstage).
West Side Story—Jul 25–Aug 3 (Mainstage).
Babes in Arms—Jul–11–20 (Rising Stars).
Pinocchio—Aug 7–10 (Rising Stars).
City Lights Theater Company
529 S. Second St, San Jose; $15–$40. 408.295.4200.
A Few Good Men—You can't handle the truth. May 15–Jun 15.
Shakespod—The Bard gets a complete modern face-lift in Jeffery Bracco's comedy, produced with Willing Suspension Theatre. Jun 18–22.
Hair—The ultimate '60s musical. Jul 17–Aug 24.
Dragon Theatre
535 Alma St, Palo Alto; $13–$25. 800.838.3006.
Rough Crossing—Tom Stoppard adds extra verbal flourishes to an Art Deco farce. Jul 11–Aug 3.
El Teatro Campesino
705 Fourth St, San Juan Bautista; $10/$12. 831.623.2444.
ACTOS—One-act plays, both historical and current, about farmworkers. Runs through Jun 1.
Foothill Music Theater
Smithwick Theater, Foothill College, 12345 El Monte Road, Los Altos Hills; $10–$26. 650.949.7414.
The Pajama Game—Jul 25–Aug 17.
Hillbarn Theatre
1285 E. Hillsdale Blvd, Foster City; $17–$34. 650.349.6411.
Aida—The Elton John and Tim Rice version; walk and sing like an Egyptian. May 8–Jun 8.
Jam Theatricals
Flint Center, 21250 Stevens Creek Blvd, Cupertino; $40–$60. 408.998.8497.
Rent—The national touring company for the Broadway hit makes a one-night stop in the valley; $40–$60; May 18 at 7pm.
Los Gatos Shakespeare Festival
Oak Meadow Park, Los Gatos; $14–$20. 800.838.3006.
As You Like It—Jul 20, 25 and Aug 2, 7.
The Tempest—Jul 18, 26, 31 and Aug 3, 9.
Beauty and the Beast—Jul 19 and 27 and Aug 1, 8.
Lyric Theatre of San Jose
Montgomery Theatre, Market and San Carlos streets, San Jose; $12–$34. 408.986.1455.
The Pirates of Penzance—Jun 21–29.
Erminie—A Discovery Series semistaged production. Jul 26 at 8pm and 27 at 2pm at Tateuchi Hall, Community School of Music and Arts, Mountain View.
Northside Theatre Company
Olinder Theatre, 848 E. William St, San Jose; call for prices. 408.288.7820.
Picasso at the Lapin Agile—Albert Einstein and Pablo Picasso get together in a comedy by Steve Martin. Jun 19–Jul 13.
Palo Alto Players Lucie Stern Theater, 1305 Middlefield Road, Palo Alto; $20–$31. 650.329.0891. Perfect Wedding—A marital farce. Jun 14–29.
The Pear Avenue Theatre
1220 Pear Ave, Unit K, Mountain View; $12–$30. 650.254.1148.
Abbey—Diane Tasca of Pear remakes the Jane Austen classic. May 16–Jun 8.
Homeland Prayer—A world premiere of a drama by Jeff Carter about a soldier's troubled return home. Jun 27–Jul 13.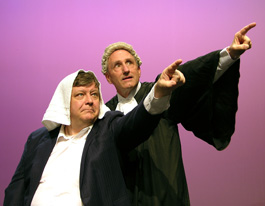 California Theatre Center presents 'The Dock Brief' June 5-July 25 in Sunnyvale.
San Jose Repertory Theatre
The Rep, 101 Paseo de San Antonio, San Jose; $15–$59. 408.367.7255.
The Strange Case of Dr. Jekyll and Mr. Hyde—A new version of the Robert Louis Stevenson chiller, done in collaboration with Arizona Theatre Company. May 10–Jun 8.
Wishful Drinking—The Rep presents Carrie Fisher in her one-woman show about life in Hollywood and beyond. Jul 23–Aug 2 ($40–$60).
The Foreigner—The fall season gets started early with Larry Shue's comedy. Aug 30–Sep 28.
San Jose Stage Company
The Stage, 490 S. First St, San Jose; $25–$50. 408.283.7142.
Altar Boyz—The popular musical about a boy band with a Christian message makes its South Bay premiere. Previews begin Jul 30 with a gala opening Aug 2.
Monday Night Live—At last, San Jose politicians get what's coming to them in an evening of hands-on satire. Jun 30, reception at 6pm, show at 8pm
Santa Clara Players
Triton Museum Hall Pavilion, Warburton and Don, Santa Clara; call for ticket prices. 408.248.7993.
Proof—David Auburn's drama about a daughter coping with the death of her mathematician father. Aug 8–17.
Santa Clara University Drama
Fess Parker Studio Theatre, Santa Clara University; $5–$16. 408.554.4015.
Lost in Yonkers—A Neil Simon comedy. Ends May 17.
Hair—The '60s live; indeed, the decade will never die apparently. May 30–Jun 7 (at the Mayer Theatre).
Saratoga Drama Group
Saratoga Civic Theater, 13777 Fruitvale Ave, Saratoga; $12.50–$28. 408.266.4734.
Man of La Mancha—A Quixotic musical. May 17–Jun 7.
Shakespeare in the Park
A traveling production by the San Francisco Shakespeare Festival. www.sfshakes.org/park. Pericles—Jul 19–Aug 3 at Memorial Park Amphitheater, Cupertino, and Aug 9–Aug 24 at Central Park, Fifth Avenue and El Camino Real in San Mateo.
Shakespeare Santa Cruz
UC–Santa Cruz Campus; three plays in repertory, Jul 15–Aug 31. See www.shakespearesantacruz.org for ticket and schedule details.
Romeo & Juliet; All's Well That Ends Well; Bach at Leipzig; Burn This
South Valley Civic Theatre
Community Playhouse, Fifth and Monterey streets, Morgan Hill; $14–$18. 408.842.SHOW.
Nunsense—The sisters put on a variety show. May 16–Jun 14.
Tabia African American Theatre Ensemble/San Jose Multicultural Artists Guild
Theatre on San Pedro Square, 29 N. San Pedro St, San Jose; $20/$25. 408.272.9924.
Ali, the Man, the Myth, the People's Champion—A one-man presentation about the Muhammed Ali by Vincet Cook. May 22–24 at 8pm, May 25 at 3pm
theatre Q
At Dragon Theatre, 535 Alma St, Palo Alto; $15/$20. 415.433.1235.
Gross Indecency: The Three Trials of Oscar Wilde—Mosès Kaufman's play about the downfall of the famous playwright, using transcripts from the real trial of 1895. May 29–Jun 22.
TheatreWorks
Mountain View Center for the Performing Arts and the Lucie Stern Theater, Palo Alto; $24–$64. 650.903.6000.
Snapshots—A comic revue with dramatic overtones about the memories conjured up in a photo album. Jun 18–Jul 13 in Mountain View.
Doubt, a Parable—The local debut of John Patrick Shanley's play about a priest under suspicion for molestation. Jul 16–Aug 10 at Lucie Stern.
Grey Gardens—The first time away from Broadway for Tony-winning musical about Jackie Kennedy's eccentric relatives. Aug 20–Sep 14 in Mountain View.
West Valley Light Opera
Saratoga Civic Theater, 13777 Fruitvale Ave, Saratoga; $24–$28. 408.268.3777.
Grease—A musical full of nostalgia for the '50s. Jun 21–Jul 19.
Western Stage
Hartnell Performing Arts Center (Studio Theater and Main Stage), 165 Homestead Ave, Salinas; call for ticket prices. 831.375.2111.
The Laramie Project—Jun 6–29.
The Sound of Music—Aug 1–23.
Sherlock Homes: The Final Adventure—Aug 15–Sep 14.
DANCE
Azahar Dance Foundation
Mountain View Center for the Performing Arts, 500 Castro St, Mountain View; $18–$29. 650.903.6000.
A Través de Sus Ojos—Flamenco drama created by Fanny Ara, with dancer Melissa Cruz and singers Vincente Griego and Jesus Montoya. Jul 26 at 8pm.
Ballet San Jose
California Theatre, 345 S. First St, San Jose; $22/$42. 408.288.2800.
Snow White and the Seven Dwarfs—Annual showcase for students at Ballet San Jose school; choreographed by Lise la Cour. May 23–24.
Dancing Sun
Montgomery Theater, 271 S. Market St, San Jose; $25.408.666.6823.
Horizon—Choreography by Bih Tau Sun and Jin-Wen Yu and Carol Abohatab, mixing traditional Chinese and Taiwanese steps with American modern dance styles. May 25 at 8pm.
Flamenco Society of San Jose
Historic Hoover Theatre, 1635 Park Ave, San Jose. 510.792.8355.
Juerga—A jam session with guest artist Koko de la Isla. May 31 at 7pm.
Harmony Dance Center
Mountain View Center for the Performing Arts, 500 Castro St, Mountain View; $18.50–$20.50. 650.903.6000.
Rendez-Vous—Student showcase. Jun 4–5 at 7pm.
Pacific Ballet Academy
Mountain View Center for the Performing Arts, 500 Castro St, Mountain View; $15. 650.903.6000.
Spring Showcase—Annual show includes a sample of Swan Lake. Jun 7 at 1 and 6pm, Jun 8 at 1pm.
San Francisco Ethnic Dance Festival
Palace of Fine Arts, San Francisco; $22–$44. 415.392.4400.
This years festival runs Jun 7–8, 14–15, 21–22 and 28–29 and includes performance by several South Bay groups, including Hiyas Philippine Folk Dance Company, Sindhu Ravuri of San Jose, Ballet Folklorico Mexicano Fuego Nuevo, YaoYong Dance and the Chinese Performing Artists of America.
Smuin Ballet
Mountain View Center for the Performing Arts, 500 Castro St, Mountain View; $38/$53. 650.903.6000.
Dancin' With Gershwin—Ballet meets Broadway. May 28–30 at 8pm, May 31 at 2 and 8pm, Jun 1 at 2pm.
Stanford Department of Drama and Dance
Roble Gym, 351 Santa Teresa St, and vicinity, Stanford campus; free. 650.725.ARTS.
Red Rover—A five-part site-specific dance presentation featuring new pieces by local choreographers. May 28, 7–9pm.
Western Ballet
Mountain View Center for the Performing Arts, 500 Castro St, Mountain View; $21/$22. 650.903.6000.
Spring Gala—With new dances by Alexi Zubiria and Yanis Pikieris. Jun 2 at 7pm.
Send a letter to the editor about this story.