05.14.08
home | metro silicon valley index | music & nightlife | band review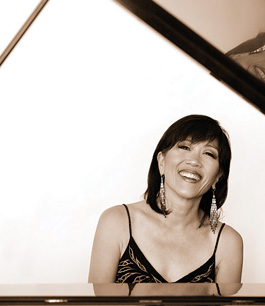 RHAPSODIC: Pianist Gwendolyn Mok joined Symphony Silicon Valley for a an evening of Gershwin.
Rhythm Queen
An all-Gershwin program was just enough of a good thing at Symphony Silicon Valley
By Scott MacClelland
ANYONE'S prior belief that an all-Gershwin concert by Symphony Silicon Valley is too much of one thing was crushed under a roar of audience approval Sunday at the California Theatre. One of the many reasons to love Gershwin is his spontaneity. Like great artists across the centuries, he outruns our ability to digest and organize the fleeting experience, lifting our consciousness to pure amazement, on the fly. Hearing Rhapsody in Blue for the thousandth time was to be left stunned and speechless all over again. Gershwin, like Mozart, Schubert, Chopin and Mendelssohn, burned out far before his time, as if a shortened life was the price he and they had to pay for their Promethean gifts.
For the program, the orchestra's string section was much reduced while its winds and percussion were enhanced, including a jazz combo, banjo and plentiful saxophones. Paul Polivnick returned to the podium to survey an embarrassment of Gershwinian riches, starting with the glitzy, cosmopolitan Strike Up the Band overture. A "Gershwin Fantasy" and Porgy & Bess medley inspired humming among some audience members who simply couldn't resist. A few of the original orchestra members felt the jazzy swing, but most didn't. Fortunately, Polivnick supplied it in sufficient quantity to pull even his squarest charges along, as sensationally demo'd in I Got Rhythm and Fascinating Rhythm.
The event was sold as "Gershwin's 1920s Radio Hour," with KDFC announcer Hoyt Smith introducing the numbers and solo artists and reciting Feenamint laxative chewing-gum commercials to an audience somewhere in radioland. (A display case in the lobby contained other such memorabilia of the era, on loan from San Jose State University.) Popular pianist Gwendolyn Mok looked gorgeous in a sheer Asian-style gown as she took the stage for the Concerto in F of 1925, a huge work that, as the story goes, sent the composer scrambling to figure out how to write one.
Mok tackled the concerto with unbridled enthusiasm and authority, savoring its jazz and pop-song allusions in both intimate and boisterous terms. Her performance bristled and danced shamelessly, while she made the solo cadenza of the sultry middle movement deeply personal. A brief memory lapse in the final movement led her (and Polivnick) twice to attempt a restart in place. Finally, she opted to start the movement over, which, given its complexity and that she was playing from memory, was the only realistic fix. This time she tore through it with brilliance and got a well-deserved standing O.
Mok returned in a sheer black pantsuit for the Rhapsody to end the program and electrified the hall yet again. For it, the original Ferde Grofé reduced orchestration of 1924 was used, though it must be said there was nothing "chamber orchestra" about the powerful sounds bursting from the stage. Glamorous vocalist Sara Uriarte Berry was an ideal choice for belting and/or crooning "Nice Work If You Can Get It," "Someone to Watch Over Me" and "S'Wonderful." She returned to the stage with Mok at the keyboard for the encore, the fully orchestrated, "Somebody Loves Me."
Send a letter to the editor about this story.