May 16-22, 2007
home | metro silicon valley index | music & nightlife | preview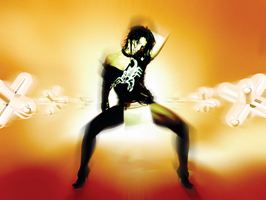 Over what hill? Alejandra Guzman doesn't look the least bit fazed by her impending 40th birthday.
Wild Child
Alejandra Guzman is still the queen of Mexican rock
By Jesse 'Chuy' Varela
WITH A RASPY expressive voice and rebellious stage antics, Alejandra Guzman has carved out a career that now makes her the undisputed Queen of Mexican Rock. Present-day pop divas like Gloria Trevi and Paulina Rubio are mere wannabes next to this counterculture icon, who laughs at criticism about her life on and off the stage.
The tabloids exploit a string of controversies ranging from drug abuse, bad relationships and the flashing of flesh at her concerts. Sexy and glamorous, Guzman consistently reinvents herself physically by adding a tattoo to her perfectly toned body, spiking her hair with blonde streaks or bragging about her breast augmentation on Spanish-language TV.
The daughter of veteran Mexican actress Silvia Pinal and the Venezuelan-born "rocanrol" star, Enrique Guzman, Alejandra got her musical genes from her dad. A onetime member of Los Teen Tops, a pioneer Mexican rock band that covered '50s and '60s American pop hits including a refried version en español of Elvis Presley's "Jailhouse Rock," called "El Rock de la Carcel," that today is seen as a keystone to what is now known as roc-en-español.
Alejandra's mother, Silvia Pinal, is a high-caliber actress who garnered fame in the 1950s co–starring with Mexican icon Pedro Infante in the film Un Rincón Cerca del Cielo. In the late '60s, she acted in telenovela soap operas and in one or two films a year. She co-hosted a show with hubby Enrique in 1973, but they divorced shortly after and Pinal continued as a familiar face in Mexican films and TV until around 1980.
  Pinal impressed upon her daughter the importance of an education, and wouldn't allow her to pursue an artistic career until she finished school. Pinal did enroll Alejandra in dance school where she learned ballet, tap and jazz dance and let her do small roles in TV commercials or as an extra on a soap opera. Alejandra joined her mother's theater group at 17 and played a supporting role in a Spanish-language version of Mame.
    Alejandra found her voice there. She knew how to play guitar and had sang backup vocals with bands like Kenny y Los Electricos and La Union and now wanted to spread her wings. But the recording industry saw her as the privileged daughter of stars with a silver spoon in her mouth.
Bye Mama
   Then Alejandra met producer Miguel Blasco, who appreciated her talent and took her into the recording studio. At age 20, she released her first album, Bye Mama, and saturated the Mexican radio airwaves with hits like "La Plaga," a cover of Los Teen Tops' Spanish-version of "Good Golly Miss Molly." The LP was a resounding success that won her best new artist awards and reached gold status.
    Her 1989 release, Dame Tu Amor (Give Me Your Love), showed that she had staying power as she streaked across Mexico and Latin America selling out stadiums and establishing herself as the bad girl of Mexican pop. Her daring antics on Spanish-language TV were comparable to Elvis Presley shaking his hips in the 1950s. She became the darling of teenagers who identified with her rebelliousness, and the nemesis of parents who saw her as a bad role model.
    But she couldn't be stopped. Her 1990 album, Eternamente Bella, knighted her as pop royalty. She was hot and on track, starring in the film Verano Peligroso (Dangerous Summer) that set box office records and furthered her popularity internationally. Then, in 1991, she created more controversy when she gave birth to her daughter, Frida Sofia (named after her idol Frida Kahlo), with partner Pablo Moctezuma as unwed parents.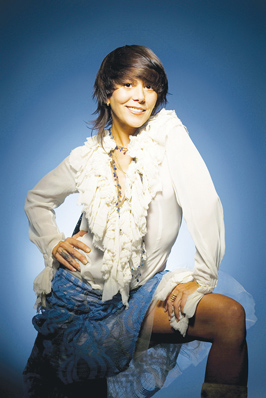 Even bad girls get the blues: But Alejandra Guzman is back on top.
     Alejandra kept right on rocking. She signed with BMG Entertainment in 1993 and skyrocketed to world diva status by conquering Spain and the United States with her album, Libre (Free). One of the hits was "Mala Hierba" ("Bad Herb")—a portent of things to come. While she continued making great records like Enorme (1994), Cambio De Piel (1996) and La Guzman, her bouts with drugs and alcohol made her a target of the tabloids and paparazzi.
     Alejandra's marriage to American Farrell Goodman was a disaster. He was arrested for drug trafficking, and after delivering her ninth album in 1999, Alejandra landed in rehab. She went to stay with her mom, and co-starred with her in a musical production of Gypsy.
After Rehab
La Guzman came out of the experience more mature and aware in 2001 and put out what is considered her best album ever, Soy (I Am). Working with producer Desmond Child (Cher, Bon Jovi, Aerosmith, Alice Cooper, Kiss), she presented songs about her internal struggles like "Diablo" ("Devil") that connected with her legions of fans. The album won a 2002 Latin Grammy for Best Female Rock Performance.
   After a miscarriage in 2003, she took time off and rethought her life. She announced the following year, after the release of her 11th album, Lipstick, which included her singing in English, that she would marry Gerardo Gomez de la Borbolla, with whom she still lives in Mexico City.
   Last year, she released Indeleble, which included the single, "Volverte a Amar," a song that became one her biggest hits ever. It peaked at No. 6 on the Billboard Hot Latin Tracks chart and No. 1 in the Hot Latin Airplay Pop chart. The album is introspective and highlights a more acoustic–flavored sound that embraces her gravely tenor voice reminiscent of Janis Joplin singing  "Me and Bobby McGee."
   This Saturday, Alejandra Guzman performs at the Center for the Performing Arts in San Jose, and while she will turn 40 years old next year, she still takes no guff, making news recently by punching out a newspaper photographer at a show in Tabasco, Mexico, who concentrated on photographing her legs when she bent down. Maybe she'll wear pants in San Jose.
Alejandra Guzman performs on Saturday (May 19) at 8pm at the Center for the Performing Arts, 255 Almaden Blvd., San Jose. (408.341.0175)
Send a letter to the editor about this story.