May 16-22, 2007
home | metro silicon valley index | columns | silicon alleys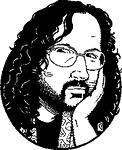 Silicon Alleys
Anti-Man About Town
By Gary Singh
OK, a little less lugubrious one this time around. Sure, the "anti-man about town" might not seem like a joyous nom de plume for some, but that sliver of my twisted psyche manifested itself yet again last week. A wide selection of random behavior went down. According to Deleuze and Guattari, "We always come back to this 'moment': the becoming-expressive of rhythm, the emergence of expressive proper qualities, the formation of matters of expression that develop into motifs and counterpoints. We therefore need a notion, even an apparently negative one, that can grasp this fictional or raw moment."
That was plan of attack during my animated rampages in, around and through certain events last week, beginning with a new media video screening at Anno Domini by students from Rachel Egenhoefer's advanced digital video class at SJSU. The subversive cabal of budding artists compiled a DVD of all their projects from the entire semester and held a party at a local gallery. This is important because with all the ballyhoo about how San Jose State is finally beginning to collaborate with the city again, no one ever mentions the creative disciplines. With all the million–dollar donations to pretty much every academic discipline at SJSU except the arts, it was downright splendid to see a celebratory event like this. Students and faculty alike mixed and mingled amid the two concurrent shows already in the gallery: Lowrider Arcade, an exhibit of custom–made lowrider bikes by Matthew Rodriguez and Samuel Rodriguez; and Mysterium Tremendum, the U.S. debut solo exhibit by Brazilian artist Bruno 9li.
The next day saw the funeral for Cornelius Van der Vies, a homeless man who was a fixture in downtown San Jose. A growing number of flowers now sits near the intersection of Market and Santa Clara streets, where he usually set up shop. When the story broke, my brain didn't compute and I didn't realize who it was until I saw a photo. He and his dog Boo-Boo were legends and Cornelius will be missed by many. His funeral packed the house at St. Joseph's Cathedral. I showed up 90 minutes late and missed the whole thing, but apparently a lot of people attended. I'm pissed off and sad to admit that I never actually knew the guy, but I at least know that he was a centerpiece in downtown San Jose.
My route later that day included a local restaurant, which shall go unnamed, and as I waltzed in, I looked both ways, slid up to the bar, rifled through the stack of newspapers and heisted the Mercury News A&E section so I could do the crossword puzzle at a place down the street. On many Thursdays, the puzzle is written by a pseudofamous gentleman named Alan P. Olschwang, who many times includes these irritating multiline Evan Esar quotes. I can't tell you how many times I've hurled the paper across the table in sheer frustration over not being able to figure out the goddamned Evan Esar quote. I barely even know who Evan Esar is, for crying out loud. Crossword puzzles are always better when the clues are based on words, not just facts. I mean, who the hell knows who the best supporting actress in 1942 was? The crossword puzzle in the San Francisco Chronicle's pink section is far superior anyway. Alan P. Olschwang can just go—well, you know the rest.
So is this my daily routine? The answer is a resounding no. These raw moments do not constitute a routine of any sort. I avoid routines. Always have. Routines are for the military. I'm just channeling Indra, the Hindu warrior god of thunder and rain. Here's how Deleuze and Guattari described Indra: "He can be no more reduced to one or the other than he can constitute a third of their kind. Rather, he is like a pure and immeasurable multiplicity, the pack, an irruption of the ephemeral and the power of metamorphosis." Anti–man about town over and out.
Contact Gary Singh or send a letter to the editor about this story.