may 16-22, 2007
home | metro silicon valley index | the arts | visual arts | review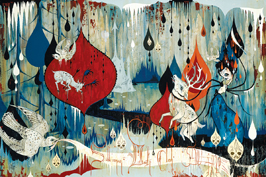 Underworld: Camille Rose Garcia's 'Subterranean Death Clash' probes an alternative universe.
Submerged Surrealism
Camille Rose Garcia's underground visions depict cartoon catastrophes at the San Jose Museum of Art
By Michael S. Gant
IN "Tragic Kingdom," her new show at the San Jose Museum of Art, L.A. underground artist Camille Rose Garcia notes that she grew up in the 1970s near Disneyland; it was "The Saddest Place on Earth" and "full of drug addiction, broken families and the general relentless boredom of living in suburbia." In Burden, one image from a series acidly dubbed "Happiest Place on Earth," vacant-eyed Pinocchio figures stumble through a polluted landscape of dead trees, cutting off their own noses with scissors and saws. Take that, Walt.
I grew up almost in the shadow of the fake Matterhorn, and don't remember Disneyland being all that bad—except on grad night, which was really the fault of cheap rum and too many turns on the Mad Hatter Tea Cup ride. But maybe things went sour after I fled to Northern California.
Garcia stayed south, and her work is a bizarre mashup of cutsy cartoon characters, a Boschean eye for hell on earth and an idealist's fury at American culture and politics. With a superb technique, working in acrylic on wood panels, Garcia conjures up apocalyptic worlds populated with a cast of mythical creatures. Here and there, dashes of glitter make these dark worlds sparkle with a mischievous inner light.
The paintings veer from nuclear pinks and oranges to the luminous dark greens and blues of a neglected aquarium. In Creepcake Annihilation Plan, pastries with toxic frosting heads and Mickey Mouse stick legs cavort across rock formations jutting from what looks like a lake of fire ringed by droopy candy canes. Mindlessly gorging themselves, the cupcakes are soon to be a roadkill feast for a hunching vulture. In its anthropomorphic surrealism, this looks more like the Fleischer Brothers than Disney.
The action in Doomswan Song takes place in an ice cave. A swan with its neck curved so that its head is upside down weeps great swelling tears while a princess who resembles Bette Davis wraps herself in a flowing ribbon streaming from the bird's beak. Pink bubbles bump up against stalactites of ice in a chilly blue haze.
Keeping track of Garcia's complex interlocking mythology isn't easy. In the broadest outline, conspiratorial forces numb the brains of a duped populace; the "Orphaned Nihilist Society," a loose collection of rebels, must flee from General Disorder and his minions, who wield bottles of apathy-inducing elixirs. With her notion of people living lives of denial in the face of capitalist catastrophe, Garcia quotes Philip K. Dick, William Burroughs and A Clockwork Orange. Some of her malevolent spiderish creatures remind me of the robotic energy harvesters in The Matrix.
Various characters show up again and again: a kitschy lamb figurine; an octopus/giant-squid hybrid; various evil queens with amorphous bodies; a sinking house that is as tossed about as Dorothy's Kansas home; and my favorites, some dancing polar bears that offer a slender thread of respite. In Empathy Overload, one of these benign bears holds out a butterfly as a token to a purple sea creature.
The story culminates in a wall-covering installation called Archeteuthis Land Marooned, in which giant swans float in a sea above a jagged floor of black crystals. In the upper corner, the painting creeps off its wood panels and onto the museum's ceiling. Lower right, the artist has propped up a 3–D fabric squid, with cryptic messages inked on its tentacles.
Garcia's visions pack the punch of real fairy tales, the Grimm Brothers kind—all the more so because many of her figures look like escapees from the banal graphic world of Hello Kitty. Taken in excess doses, however, the effect can be hectoring. The artist sometimes lets her rage run away with her. She is "horrified by the fake promises of capitalism"; she thinks that "widespread depression is healthy because it alerts us collectively that there is something horribly wrong with our culture." At this point, the subversive magic of her images sinks beneath a tide of didactic gloom.
Tragic Kingdom: The Art of Camille Rose Garcia runs through Sept. 23 at the San Jose Museum of Art, 110 S. First St., San Jose. (408.294.2787)
Send a letter to the editor about this story.