May 16-22, 2007
home | metro silicon valley index | silicon valley restaurants | review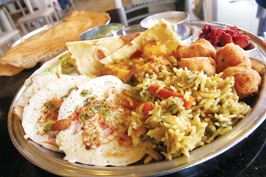 Photograph by Felipe Buitrago
Southern comfort: Mini-uthappams at Udupi Palace.
Dosa Reality
Udupi Palace specializes in classic southern Indian cuisine
By Stett Holbrook
CURRIES and tandoori meats are great, but for me half the pleasure of eating Indian food is the bread. The reason I end up taking so much food home is because it's impossible not to fill up on all that great naan, paratha and poori. Even the free papadums—those thin, crispy wafers served with tamarind chutney and mint sauce that are the Indian equivalent of chips and salsa—are hard to resist.
Udupi Palace, a South Indian vegetarian restaurant in Sunnyvale, cuts to the chase and specializes in two bready dishes—dosas and uthappams. Dosas are long, thin crepes made with rice flour. Uthappams are pancakes made with rice and lentil flour griddled up with various vegetables mixed into the batter or served on top like a pizza. Both are classic south Indian dishes served with south Indian standards sambar and coconut chutney. Sambar is a moderately spicy sour soup made with tamarind broth, lentils and various spices.
Places like Udupi Palace are evidence of the growing sophistication of Silicon Valley's culinary landscape. We've entered the age of specialization and subgenre. Gone are the days when Indian food was restricted to classics like tandoori lamb, tikka masala and chicken vindaloo. Instead of pan-Indian restaurants that serve a little bit of everything, there are lamb–heavy northern Indian and Pakistani restaurants, Indian sweet shops, chaat (snack) houses, dhaba (fast food and take-out) restaurants and various vegetarian-only restaurants like Udupi Palace.
I was surprised to learn that Udupi is part of a chain of 10 restaurants. There are locations in L.A., Berkeley, Livermore and as far away as Toronto, Atlanta and New York. It doesn't feel cookie cutter corporate at all. It's a no-frills but clean place with various Hindu statues recessed into the walls and windows looking out onto El Camino Real. At lunch it's filled with a variety of Indian and non-Indian dinners, while at dinner there are mainly Indian families and a few gringo diners.
Service is friendly but can lag when it gets busy. And even when it's not. But the staff has a good sense of humor. When I asked for a beer, my waiter laughed.
"This is a vegetarian restaurant," he said.
"And?" I replied.
Since beer isn't made with animal products I reasoned the absence of alcohol is more of a Hindu thing than a vegetarian thing. When I ordered a glass of badam ($2.50) instead, the waiter didn't miss a beat and asked if I wanted vodka with it.
Even without vodka, the badam is delicious. It's sweet drink made with ground almonds and cardamom. Think of it as a South Asian version of horchata.
The dosas and uthappams are top rate. The dosas are huge and hang over the ends of the oval plastic plate. There are more than a dozen versions to choose from. My favorite was the spicy vegetable masala dosa ($6.95). The variety of vegetables (cauliflower, peas, onions, potatoes) is hearty and filling and the moderate chile pepper heat enlivens what would be a rather bland mass of crepes and vegetables. The tamer Udupi special spring dosa ($6.95) was a little flat compared to its spicier cousin. Whatever you order, prepare for a lot of food. The paper-thin crepes are deceptively filling.
My advice for the uthappams is the same: go for the more assertive ones. The pancake itself is delicious—spongy in the middle and crisp on the outside with a slight sourdough tang to it. The spicy Chettinad uthappam ($5.75) was great and made with a piquant jumble of cauliflower and other vegetables incorporated into the batter. It's good on its own or dipped into the ramekin of sambar or with a dab of the cooling coconut chutney. Like the dosas, the uthappams are served in huge portions, so guard against the expando effect that comes from eating one too many bites.
My only complaint is I wish there were more nonfried, nonbready, nonrice dishes to go along with the dosa and uthappam. I searched in vain from the list of appetizers. Most are either starchy, like the idly (steamed rice and lentil patties; $3.75), or starchy and fried, like the various vadas—lentil donuts that go for $3.75 as well.
I think Udupi Palace is better for lunch than dinner. You can hit up the first class buffet Monday–Friday for $7.95. On my visit, it featured uthappams and dosas as well as some great curries like the chana masala and one made with chayote, a South American squash.
Indian desserts will never win any beauty contests, but they are often quite good. While it was served in a big green glop, the hot badam halwa ($2.95) is sweet and dense with flavors of rosewater, cardamom and almond.
To ensure you have room left for dessert, make sure, whatever you do, you don't order any bread on the side.
---
Udupi Palace
Address: 976 E. El Camino Real, Sunnyvale.
Phone: 408.830.9600.
Hours: 11:30am-10pm Mon-Thu, 11:30am-11pm Fri-Sat, 11:30am-10:30pm Sun.
Cuisine: South Indian vegetarian.
Price Range: $5.25-$8.95.
Send a letter to the editor about this story.