May 16-22, 2007
home | metro silicon valley index | movies | current reviews | film review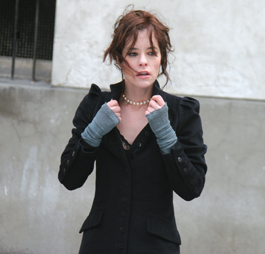 Courtesy Magnolia Pictures
Strike a Posey: The spy genre gets a fashion upgrade as Parker Posey plays 'Fay Grim' for Hal Hartley's follow-up to 'Henry Fool.'
One-Trick Posey
'Fay Grim' is a chic boutique espionage film
By Richard von Busack
HAL HARTLEY'S sequel to Henry Fool boasts one major asset: pedigreed clothes horse Parker Posey clopping through the streets of Paris in a maxicoat cut away to show her garters. "Are you an American? I can tell by the way you walk." Someone says that to her, as if the orthodontist's work didn't tell all; the chilly overbite and the numb, down-turned mouth make her look like some descendent of the dangerous innocent Jean Seberg played in Breathless. Another Godard idea is the intertitles and slide show Hartley uses instead of choreographing the necessary gun and other fights. I say necessary because Fay Grim is also descended from the Oleg Cassini-draped spy movies that poured out of Europe in the wake of the James Bond era.
Posey plays Fay Grim, who was once a promiscuous girl from Queens. Now she is raising the child of her liaison with the mad, bad and dangerous-to-know Henry Fool (Thomas Jay Ryan). Seven years previously, Fool slipped the law, leaving Fay's brother, the Nobel Prize-winning poet Simon (James Urbaniak, R. Crumb in American Splendor) holding the bag and languishing in jail. Fay and Henry's son, Ned (Liam Aiken), is now 14 and starting to manifest his father's own anarchic libido. Ned gets kicked out of school for a tryst with a pair of girls. At this point, two CIA agents, Fulbright (Jeff Goldblum) and Fogg (Leo Fitzpatrick), enter the picture with a line of double-timed double-talk. They inform Fay that Henry's composition books turn out to be full of national security breaches ("Who cares what with; besides, it's classified"). Fay must retrieve Henry's diaries from a series of European intelligence agencies. Off to Paris she goes with only one clue: a lewd kineograph holding the secret of Henry's origins. In Paris, she meets Henry's discarded lover (Elina Löwensohn). The key to Henry's riddle lies in a bazaar in Istanbul. Somewhere east of Turkey, it turns out that Henry's usual rough street methods of shaking potential into nervous weaklings led to the creation of a terrorist.
Posey's cool deadpan is rarely exploited for its erotic potential. Directors think of her as a comedienne or a ballbreaker, and so Hartley's use of her is unique. His "cell phone set on vibrate" gag is suitably risqué. I was completely rooting for Saffron Burrows to make Posey weak in the knees, but I wish they had been in the same room when it happened. (Burrows plays a secret agent, one of the many figures Hartley sends into the room, armed with a pistol, whenever the action flags.) This perfect example of after-dinner-mint cinema ends up in a dungeon. Hartley is too shrewd not to address 9/11, and not shrewd enough to figure a new angle. There is some trace of substance under the frosting; Henry's tales are starting to chase themselves, in the same way that legends of Niger uranium can start wars. Even so, Hartley's strange adventure/comedy proved taxing, ornamented by jokes that were more like reveries on the way to a joke. Also irritating were all the Dutch angles—the titled camera seen in The Third Man. Rather than indicating a society so warped even the floors weren't in plumb, here it is a reference to a reference, and you end up watching the movie with head cocked to one side like a sparrow. It's just that presumptuous a picture, and it's nearly impenetrable if you haven't seen Henry Fool.

Fay Grim (R; 118 min.), directed and written by Hal Hartley, photographed by Sarah Cawley and starring Parker Posey, opens May 18 at Camera 12 in San Jose and the Aquarius in Palo Alto.
Send a letter to the editor about this story.