May 17-23, 2006
home | metro silicon valley index | columns | technology news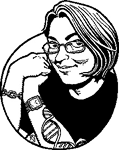 Technology News
Porn 2.0
By Annalee Newitz
IN DOWNTOWN San Francisco, nestled among the sky-high monuments to money, there is a freshly installed steel door that you'll only reach if you wander rather far from Second Street along a small, twisting alley. Glowing numbers that bear little relationship to any of the other numbers on the street mark that door's address.
If you're lucky enough to get past the security cameras and locks, you'll discover yourself at the edge of a huge warehouse space full of stages and sets. Climb up the stairs that lead away from the "medieval castle" set, and you're in a huge office space full of computers. People are on the phones or swapping stories as they return from a trip to Starbucks around the corner, or they are gathered in tight huddles around large, flat-screen monitors full of partial layouts.
Only the bathrooms give a hint about what's really going on here. No ordinary office would stock its toilets with an enormous rack of baby wipes, paper towels and every feminine hygiene product known to woman. This is Kink.com, home to a half-dozen of the web's hottest porn sites.
Everyone always asks what porn has done for the web, but they never ask what the web has done for porn. A place like this, full of queer hipsters, geeks and models, would never have existed before 1995. It certainly wouldn't have looked quite so Ikea.
I've come here to visit the set of Fuckingmachines.com, a website devoted to images and movies of women having sex with machines. Usually, the machine involves some sort of piston and at least one moving part to which a dildo can be attached. The sensibility is perfectly San Francisco: a cross between high-tech fetishism and sexual fetishism.
Tomcat, the site's understated web master, wears a tie and jeans to the set. With a degree in film and digital media from a large public university, the self-consciously androgynous Tomcat is precisely the sort of hip young professional who is attracted to second-generation web porn operations like Kink.com.
Tomcat makes sure the first machine (called "the chopper") is ready to go and picks out a pale blue dildo from a huge, tidy cart that contains—laid out with surgical precision—an array of silicone cocks in various sizes, a fanned display of condoms, towels, baby wipes and several lube bottles. Next to it is a pine cabinet full of carefully labeled drawers containing "large dildos" and "small dildos." A tiny table holds some soft drinks packed in ice, as well as a handful of lemon Luna bars.
"Last week we did an alien abduction scene," Tomcat says. "It was great. I got to be the alien." Today's model, a tall brunette with a lascivious smile named Sateen Phoenix, arrives in a little dress and fuck-me shoes. Like Tomcat, she's the sort of person who has the education and resources to choose from many careers and has chosen this one because she's likes it. "I'm moving to L.A. to get more work," she says, sipping water. "But I just got into this about six months ago. I like having sex in public, so I thought why not do it here?"
Settling onto "the chopper," Sateen poses and reposes, replaying her naughty grin as many times as Tomcat asks. The scene behind the scenes here is all business. PAs discuss the merits of various lubes and dildos, everyone tries to figure out the ideal position for Sateen's pussy so that everything fits together when the machine starts pumping. Tomcat manages to issue directions in a tone that sounds like a nice but task-masterish boss.
"I know it's awkward with your knees and the handle bars, but go ahead and insert it so that it's comfortable," directs the webmaster. "Now just wank a little until you get off."
"I don't know if I can get off like this," Sateen suggests. "I'm too lubey."
"Get some baby wipes for her to take care of that lube," Tomcat directs the PA.
Eventually, using another machine called "the predator," Sateen starts screaming in a way that marks this whole scene, again, as something that could only happen in the world of Porn 2.0. She's had a genuine orgasm, the kind of thing you'd almost never see a woman do in porn before the web took over.
Ten minutes later, still shaking and sweaty, Sateen pulls on a robe and stumbles over to the snack table. She falls into a chair and lets out her breath in a whoosh.
"Hard work, eh?" she sighs, grinning at me. "Having orgasms all day."
Annalee Newitz ([email protected]) is a surly media nerd who never met a machine she didn't like.
Send a letter to the editor about this story.