05.20.09
home | metro silicon valley index | the arts | stage | review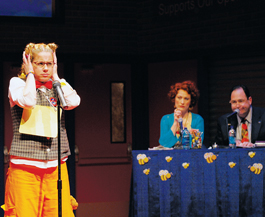 Photograph by Kevin Berne
I BEFORE E: Molly Bell tries to keep her letters in order in San Jose Rep's 'Putnam County Spelling Bee.'
Let It Bee
San Jose Rep's 'Putnam County Spelling Bee' is the musical at its most escapist
By Steve Palopoli
THE MOST COMMON knock on musicals is that they're generally lightweight and safe, the cheesy date movies of the theater world. Now, there are plenty of exceptions to this stereotype, but The 25th Annual Putnam County Spelling Bee is not one of them. In fact, San Jose Rep's latest production is musical comedy at its most superficially zany. Did the people who gave it a Tony find it even a little ironic that a musical about one of America's premier intellectual competitions for kids could be so unapologetically shallow?
That's not to say it is poorly produced. Set in an auditorium where six kids are vying for the Holy Grail of word nerds—a spelling-bee victory—Putnam flies by at a manic pace. That this is the directorial swan song of outgoing artistic director Timothy Near should surprise no one; the staging evinces a veteran's touch in its perfectly crafted showmanship and its impeccable timing. Considering the times we're in, Putnam is exactly the kind of escapist entertainment many people are looking for, and it's likely to be as a big a hit here as it was on Broadway.
It's not that Putnam, which has a long list of writing credits that winds up with music and lyrics by William Finn, doesn't have its heart in the right place. As one might reasonably expect, there are various message moments about the pitfalls of competition, parents who love too much and too little, and the triumph of individuality over rote memorization. But the lead roles are more a succession of shticks than a collection of complex characters, as the campy names like "Logainne Schwartzandgrubenierre" and "Leaf Coneybear" suggest. That said, it should be noted that stand-in Clifton Guterman is a stand-out as Coneybear. At first his spastic, over-the-top performance as the slightly overwhelmed and slightly touched weird kid, who got into the contest on a fluke and competes in a cape, seems like a case of trying too hard. But as he turns it up even more over the course of the show, he is impossible to resist.
All of the cast members have their moments, but ultimately it's Steve Irish as assistant principal and spelling-bee announcer Douglas Panch who has the most laugh-out-loud lines. Irish has a voice like A&E's Bill Curtis and uses it to read example sentences like "Guacamole, the Mexican pudding" and the Queen-quoting "Scaramouche, Scaramouche, will you do the fandango?" Ultimately, whatever its limitations, The 25th Annual Putnam County Spelling Bee is practically critic-proof. It knows what it is, and, its audiences will know as well—and most likely, love it for that.
THE 25TH ANNUAL PUTNAM COUNTY SPELLING BEE, a San Jose Repertory Theatre production, plays Tuesday at 7:30pm, Wednesday at 11am (May 20) and 8pm, Thursday–Friday at 8pm, Saturday at 3 and 8pm and Sunday at 2pm runs through June 7 at the San Jose Rep, 101 Paseo de San Antonio, San Jose. Tickets are $33–$62. (408.367.7255)
Send a letter to the editor about this story.