05.21.08
home | metro silicon valley index | music & nightlife | band review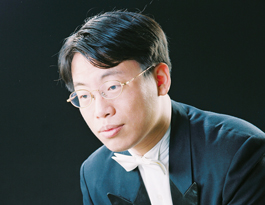 PIANO POWER: Chih-Long Hu will solo on Tchaikovsky with the Novea Vista Symphony this Friday.
Classical Moves
By Michael S. Gant
Winchester Orchestra Guest conductor Tony Quartuccio takes charge of the Winchester Orchestra for the weekend. Two local composers—Anica Galindo and Nancy Bloomer Deussen—will be spotlighted. The roster also includes Mozart (Concerto no. 3 for Violin and Orchestra, with soloist Dale King) and Elgar (Concerto for Cello and Orchestra with soloist Kjell Stenberg). Saturday (May 24) at 7;30pm; West Valley College Theater, 14000 Fruitvale Ave., Saratoga; also Sunday (May 25) at 7pm; Trinity Cathedral, Second and St. John streets, San Jose; $7–$18; 408.866.5302.
Nova Vista Symphony Pianist Chih-Long Hu, who came in second a couple of years ago in the International Russian Music Piano Competition, appears with the Nova Vista Symphony in a concert appropriately titled "Rhythm of Russia." He will perform Tchaikovsky's barn burner the Piano Concerto no. 1. The rest of the program features In the Steppes of Central Asia by Borodin and Symphonic Dances by Rachmaninoff. Friday (May 23) at 8pm at the Mountain View Center for the Performing Arts, 500 Castro St., Mountain View; $11–$18; 408.624.1492.
Sunset Concerts The final event of the season at St. Luke's welcomes the Baroque folk music quartet Musica Pacifica. The group will present traditional tunes by Vivaldi, Rameau and others. The focus will shift from court music to less-formal rustic airs of the period. St. Luke's Episcopal Church, 20 University Ave., Los Gatos; $10–$20; 408.354.4560.
Send a letter to the editor about this story.