05.21.08
home | metro silicon valley index | silicon valley restaurants | review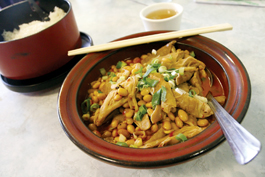 Photograph by Felipe Buitrago
PEPPER POT: Braised intestines at Chili Garden.
Fire Escape
The complex flavors of Chili Garden prove there's more to Szechuan cuisine than just spiciness
By Stett Holbrook
I'VE NEVER been to China, let alone Szechuan province. Virtually everything I know about Szechuan food I've learned by eating in Milpitas restaurants that specialize in the cuisine, and reading Fuchsia Dunlop's books.
Dunlop fell in love with Szechuan food as a young student studying in China. She talked her way into the Sichuan Institute of Higher Cuisine, becoming the first Westerner to do so. She became fluent in Mandarin and has been visiting and researching Szechuan food for more than a decade. She wrote Land of Plenty, the definitive cookbook on Szechuan food in English. Shark's Fin and Sichuan Pepper, a funny and bittersweet memoir about her culinary experiences in China, has just been released.
After reading her memoir, I developed an affection for the people and places she describes. The book traces her sometimes rocky love affair with Szechuan food and Chinese cuisine at large. A lot of the book takes place in the early 1990s when China was beginning to flex its new economic might and raze old cities in the name of modernization. Dunlop watched firsthand as Chengdu, once a quaint, backwater city and Szechuan's culinary capital, morphed into a homogenized place that lost much of its street life and architecture to the wrecking balls of progress.
So when the devastating earthquake flattened swaths of Szechuan province last week, it didn't feel like just another disaster in a far away place filled with faceless people. Dunlop's gastronomic reportage made the people of China much more real to me.
Eating Szechuan food has enhanced this connection for me, too. Just as I started reading Dunlop's book, I discovered Chili Garden, a delicious new restaurant in Milpitas. Dunlop writes evocatively and it was great to read about, say, "fish fragrant flavor" eggplant or gong bao chicken, and then go out and order the dishes myself. It was like an extreme version of a scratch and sniff book.
Chili Garden serves other Chinese dishes besides its Szechuan specialties, but I didn't bother with those. I came for the "fu he wei" (complex flavors) of Szechuan food. It's often described as China's fieriest cuisine, but that's an oversimplification.
"What really distinguishes Sichuanese cookery is its mastery of the arts of flavors," writes Dunlop. As for the Szechuan people, she describes them as having "mouths that love eating." How can you not love a cuisine—and a people—like that?
Virtually everything I tried at Chili Garden was memorable. Fish fragrant eggplant, described on the menu as braised eggplant ($5.95), gets its name not because it tastes like fish but because the spicy, sweet and sour flavors are based on those used in cooking fish. At Chili Garden, the dish is a beautiful mix of garnet-colored, glistening eggplant tossed with jade-green scallions and a healthy sprinkling of chile pepper paste. It's spicy, yes, but also redolent of ginger, pickled vegetables and rich, buttery, braised eggplant.
Mapo tofu ($5.95) is a classic of Szechuan cuisine that rules here. If you've never experienced the numbing, tingling power of Szechuan peppercorns (actually the husk, not the peppercorn itself), this is the dish to get. The Szechuan peppers first hit your tongue with moderate heat and then the numbing, cooling power kicks in. That's followed by the high, bright flavor of citrus. It's definitely food for a mouth that loves eating.
For sheer fireworks, go for the Chongqing spicy chicken ($6.25). Chongqing is Szechuan province's gritty industrial capital, which also happens to be the hometown of Chili Garden's chef. The fearsome-looking dish combines bite-size morsels of chicken studded with two thin bones. The chicken is lightly battered and crisp and wonderfully tangy, but it's the fistful of dried red chile peppers and sprinkling of Szechuan pepper that set this dish off. It's actually less spicy than it looks. The chile peppers are used to flavor the oil the chicken is cooked with and the resulting heat is manageable. Paired with the electric tickle of the Szechuan peppers, it's one of the most memorable dishes I've had in a long time.
The only dishes that were less than great were the dry-fried green beans ($5.95) and the ground pork noodles ($6.25). The beans appeared to have sat too long on in the kitchen. The noodles, more popularly known as dan dan noodles, lacked the contrasting tang of the pickled vegetables and the fiery warmth of the chile peppers and Szechuan pepper.
Service is brisk and brusque so don't expect a lot of pleasantries.
There's no dessert to speak of, but by chance I ordered the green bean jelly in spicy sauce ($4.95), a dish of battered and fried bean jelly bathed in a chile pepper and Szechuan pepper spiked sauce. The crunchy bits of bean jelly had a slight sweetness that grew on me the more I picked at them. I came to think of them as Szechuan donuts.
As I got up to leave, I dislodged a stray Szechuan pepper from a back tooth and I bit down. The pod released it magic power and it sent me buzzing all the way back to my car.
If you're interested in donating to disaster relief in China, go to redcross.org, directrelief.org, americares.org or msf.org (Doctors Without Borders).
---
Chili Garden
Address: 210 Barber Ln., Milpitas
Phone: 408.526.9888
Hours: 10:30am–2:30pm and 4:30–10pm Mon–Thu, 10:30am–2:30pm and 4:30–10:30pm Fri–Sun
Cuisine: Chinese
Price Range: $5.95–$15.95
Send a letter to the editor about this story.