05.21.08
home | metro silicon valley index | columns | live feed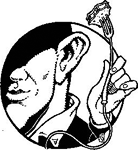 Live Feed
Flesh-Free Fast Food
By Stett Holbrook
ONCE I had what I thought was a brilliant idea: a chain of vegetarian fast-food restaurants that serve veggie burgers, tofu dogs, falafels, roasted potatoes, salads and other quick and relatively healthful meatless food for people on the go. My empire of restaurants would compete with McDonald's and Burger King. They would be fast, cheap and convenient, offering vegetarian versions of typical fast-food fare served in a lively, hip atmosphere. I'd call my flesh-free franchise Darma's. Or Vegemighty. Or maybe Soul Kitchen. I never actually settled on a name. The linchpin of the marketing strategy would be to hook pre-teen and teenagers with slick but substantive messages about how cool it is to be a vegetarian that catered to their rebellious, I-want-to-do-the-opposite-of-what-my-parents-do proclivities. The kids would then convince their parents to take them to my restaurants and in so doing make them loyal customers, too.
Alas, my idea never went further than my own head. I still think it's a winner. Anyone want to fund it? In the meantime, I found a restaurant that probably does it better than I could have: Bhavika's Chatpat. It's decidedly more Indian than what I had in mind, but you could do worse than try to emulate Indian cuisine for examples of fast and delicious vegetarian food.
Bhavika's Chatpat is owned by the Kumar family. While they come from Gujarat, a coastal state in western India, much of the menu was created by various members of the Kumar clan. I wrote about Bhavika's Chatpat before in an article about chaat, those little pop-in-your-mouth, crunchy, spicy, sweet, sour snack sensations like bhel puri and pani puri. But recently I've been going for their array of desi burgers, meatless patties made of various legumes and vegetables served between sesame-topped buns. Chatpat refers not to chaat but to a vegetarian burger made from potatoes. While most of the veggie patties are loaded with recognizable Indian spices, much of the menu is the culinary creation of Sonal Kumar.
The spare but clean dining room is short on ambience, but with burgers and other dishes going for about $2.25, who cares?
The vada burger is a piquant potato patty that's battered but not quite crispy. It's served on a flimsy but satisfying bun with red onions and the assertive, earthy flavor of cumin. My favorite is the crispy mixed veggie burger made with spinach, cauliflower, potatoes, onions, sesame and spices. Instead of ketchup and mustard, it comes with great tamarind and mint chutney. Also good is the chili pav, battered and fried jalapeņos served with onions, achar (salty-sour-spicy pickled vegetables), tomatoes and chutney. It's kind of like a chile pakora.
McDonald's probably doesn't need to watch its back yet, but I bet there are plenty of people who would take a vada burger over a Big Mac any day. I know I would. Now if they only had a drive-through.
Bhavika's Chatpat
1053 El Camino Real, Sunnyvale.
Open 11am–9pm Tue–Sun. 408.551.0917.
Send a letter to the editor about this story.