05.21.08
home | metro silicon valley index | music & nightlife | band review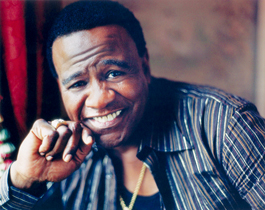 Green is Blues: Al Green headlines the Santa Cruz Blues Festival.
Old and New
Santa Cruz Blues Festival features biggest names in old-school and contemporary blues
By Garrett Wheeler
ON THE fence about attending the 16th Annual Santa Cruz Blues Festival this Memorial Day Weekend? Two words (names, actually): "Al Green" and "Bonnie Raitt." Yep, the reigning king of R&B performs alongside California's champion blues diva—and that's only the beginning.
Since the SC Blues Fest's inception in 1993, a staggering number of top-drawer acts have graced the stage, including Albert Collins, B.B. King, Ray Charles, John Lee Hooker, Greg Allman, Boz Scaggs and John Mayall. How event organizer Bill Welch manages to pull in these larger-than-life performers year after year is something of a mystery. Welch says it's a challenge. "It took me eight years to get B.B. King," he says. All that history aside, there's no denying the unprecedented stature of this year's event. "Each year we try to do something different to get people excited about coming out," says Welch.
In addition to the Big Two, this year's installment features three first-generation bluesmen whose connection to the genre's rich historical tradition provides concert goers with a unique glimpse into the origin of the blues. Pinetop Perkins, Hubert Sumlin and Willie "Big Eyes" Smith make up the contingent billed appropriately as the "Legends of the Blues." Perkins, who made his name playing piano with Muddy Waters in the '50s and '60s, is the eldest of the group, but at 94 he still hasn't passed his prime. In fact, Perkins won his first Grammy Award last year alongside guitarist David "Honeyboy" Edwards. Perkins will be joined by longtime Howlin' Wolf guitarist Hubert Sumlin. Willie "Big Eyes" Smith is best known for playing drums with Muddy Waters for several decades, beginning in 1961. He's also earned a reputation as a premier harmonica player, having played harp with blues mainstays Bo Diddley, Johnny Shines and Clifton James.
The rest of Saturday's acts represent the latest crop of blues talent, beginning with Florida up-and-comer JJ Grey and his band Mofro. Grey's soul-filled vocals and rich horn section make him a strong candidate to become the next Southern-rock star, complete with swamp-boogie romps and back-porch country tunes. Also performing Saturday is blues-rocker Jimmy Thackery, who rose to critical acclaim in the late '70s with his band, the Nighthawks. West Coast blues legend Coco Montoya follows suit with his searing guitar licks before Saturday's headliner Bonnie Raitt treats her fans to a few hours of Grammy-certified rock & roll.
If Saturday is the bread, Sunday is surely the butter of the 16th Annual Santa Cruz Blues Festival. The mighty Al Green heads the bill, bringing his iconic soul music to the Central Coast with all the sexy flair and finesse that bolstered his fame nearly 40 years ago. Three decidedly younger artists, all of whom seem to draw heavily from Green's influence, will get things started on Sunday. Twenty-two-year-old Trombone Shorty (Troy Andrews) leads off with his funky New Orleans–style sound. The Boneshakers will follow, led by guitarist Randy Jacobs and his eclectic mash of blues and funk. Next up is Louisiana rock outfit the Subdudes, followed by the night's main event, Al Green.
THE SANTA CRUZ BLUES FESTIVAL happens Saturday–Sunday (May 24–25) at Aptos Village Park. Tickets are $60 day general admission/$110 both days. For tickets and information, visit www.santacruzbluesfestival.com.
Send a letter to the editor about this story.