05.21.08
home | metro silicon valley index | the arts | stage | review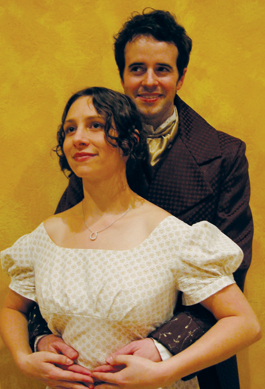 Photograph by Jeanie Forte
YOUNG LOVE : Annamarie MacLeod and Michael Barrett Austin get close in 'Northanger Abbey.'
Dear Abbey
Pear Avenue mounts a new take on Austen's 'Northanger Abbey'
By Marianne Messina
TOP HATS, tails, empire-waist dresses, quaint language, society balls, horse-and-carriage voyages, these are part of the charm of a Jane Austen novel, along with a vibrant, wholesome—yet flawed—heroine and a dashing love interest kept at agonizing lengths. The Pear Avenue Theatre maintains these charms and adds a few more in its adaptation, by Diane Tasca, of Northanger Abbey, Austen's early (but posthumously published) book. The Pear's gleeful creativity, under director Rebecca J. Ennals, brings out the youthful humor of the book in which 22-year-old Austen poked fun at Gothic novels like Ann Radcliffe's Mysteries of Udolpho. As Austen's young heroine, Catherine Morland (Annamarie MacLeod), grows ever fonder of Henry Tilney, she also imagines a Udolpho fantasy around every creaking doorway.
As Catherine describes her imaginings with all the Radcliffe trimmings ("some awful memorial of an ill-fated nun"), the stage darkens and actors bring her tales to life, holding eerie, colored flashlights to their faces, to humorous effect. Ennals turns the production's sparse set and multipurpose cast into a source for comedy. Two actors standing side by side portray double doors, turning sideways to depict the door opening. Martin Gagen (Mr. Morland, Mr. Allen, Gen. Tilney) plays a horse, with a chomp, a snort and a toss of the mane. William J. Brown III (John Thorpe) and Michael Champlin (James Morland) drop to their knees sporting oversize bonnets to portray Isabella's shorter sisters. Most humorously, Gagen and Champlin, interlocked one behind the other, act as a tall chest of drawers. Catherine suspects some dusty clue to ancient horrors hidden within the drawers (the actors' outstretched arms), and as she searches, MacLeod paws the actors' arms.
The line between narration and dialogue blurs often, especially since actors narrate partly to the audience and partly to other characters. MacLeod is especially gifted in split-purposing narration to imply dialogue. At its most seamless, the device disappears, as when Catherine and Henry Tilney (Michael Barrett Austin) are riding together in a carriage and their third-personing each other comes off as intimate pet-talk. At its weakest, the narrative device gives the sense of repeated interruption that makes it difficult to fall into the world of the story. This, plus the lack of any dire drama in Austen's story, recommends some trimming.
But Austen is meant to be sipped on a lazy afternoon, and this cast has the charm to make a pleasant sipping tea. Last seen in the famous peanut-butter sketch of And Baby Makes Seven, Annamarie MacLeod makes a captivating ingénue, whether she's making dog-eyes at Henry Tilney, or tossing hints and nudges at the audience. Champlin and Gagen are incredibly nimble men-Friday, occasionally laughing with the audience, as when Gagen slips out one exit as Gen. Tilney and comes in through another, in changed suit coat, as Mr. Morland. Wisely, the simple set has coat racks for the changes, for people come and go constantly. Austin plays an amused, cherubic Henry—though he could be a precursor to Ibsen's Torvald, and one can't help cynically wondering if Catherine doesn't wake up one day, having outgrown her amusing naiveté, to find herself trapped in A Doll's House.
NORTHANGER ABBEY, presented by Pear Avenue Theatre, plays Thursday–Saturday at 8pm and Sunday at 2pm through June 8 at the Pear, 1220 Pear Ave., Unit K, Mountain View. Tickets are $15–$30. (650.254.1148)
Send a letter to the editor about this story.