May 23-29, 2007
home | metro silicon valley index | music & nightlife | preview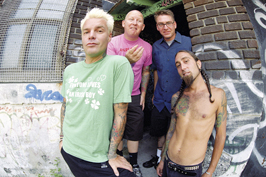 Photograph by Cathy Bauer
Two for the road: Good Riddance gives it up peacefully.
Goodspeed
Good Riddance calls it quits
By Ryan Osterbeck
THIS WEEKEND, Good Riddance are walking away from their career—one that helped return a political edge to punk rock. Now they're calling it quits, but this foursome from Santa Cruz is not being forced out of the game, nor is it just fading away. They're going out by choice, but it's not a decision they made lightly.
"We wanted to walk away from this with a degree of grace and dignity," explains Good Riddance singer/songwriter Russ Rankin. "We have no desire to limp along until some outside force has the good sense to put us out of our misery."
Good Riddance's songs still play like revolutionary manifestos, and their social and political ideals are perhaps more pertinent now than ever. But ultimately, they felt as though exiting the scene now is, according to Rankin, the "next logical progression for Good Riddance." They will play their last show on May 27 at the Catalyst in Santa Cruz where their journey began.
"When I was younger, I just thought [Santa Cruzans] were all a bunch of hippies," says Rankin of his hometown. "Santa Cruz is a pretty liberal town, a pretty green town—it definitely had a part in shaping me as an individual and Good Riddance as a band."
It's fitting, then, that they leave their legacy behind in front of the hometown fans. It's an event that Rankin succinctly anticipates as "weird." But with the onset of obligations outside of music, coupled with the ever–changing musical landscape, Rankin, guitarist Luke Pabich, bassist Chuck Platt and drummer Sean Sellers have seen the writing on the wall. Good Riddance made a respectable career playing melodic hardcore without ever losing their social and political bite in a genre that had, according to Rankin, lost both.
"Punk's been watered down to marketability, and we don't fit into the new musical landscape." Rankin explained that, in order for Good Riddance to continue, they'd have to completely overhaul their image.
"We've always found the common trappings of rock distasteful," continues Rankin, "and now what was once punk has been co-opted by the mainstream." The mainstream has never been where these seminal Santa Cruz punkers resided, and as the tides turn, Good Riddance has seen its popularity wane.
"We've definitely seen [our] diminishing popularity," explains Rankin. "Good Riddance was losing its footing fast, and we had to ask: is this worth it?"
After touring the world as headliners and supporters for well over a decade, Good Riddance became known as a band that would make a run through town almost annually—something that fans came to expect, which weighed heavily on the band as they contemplated their breakup.
"It wasn't like we showed up to practice one day it was all 'Fuck you'," says Rankin. "We're more family oriented, and the availability for touring was not going to happen." The band spent a year gauging the personal and professional implications of ending their career. After the announcement of Good Riddance's dissolution—something that's been well talked about in local punk rock circles—Rankin was amazed at the number of letters and emails they've received, saying that it was "humbling."
In the Beginning
Rankin got his start in the fertile punk scene of the late '80s and early '90s in Santa Cruz, playing in the short-lived band BOSP. He also co-founded the longer-lasting and much-loved Fury 66 with Kennedy, Joe Clements, Rye Crowen and Aaron Sonnenshine. Good Riddance was born of Rankin's fiery ideals, which he was able to fully express when Platt and Sellers joined the group.
After the release of their 1990 7-inch, Gidget, Good Riddance began to cultivate their niche as a throwback band to the protest punk era. When they signed to Fat Wreck Chords to release '94's Decoy, followed by the persistently powerful and scathingly aggressive For God and Country in '95, their rampant left-leaning status was readily cemented in the punk scene. Four guys from Santa Cruz built their bully pulpit to deliver an idealistic musical credo of antiwar sentiment, veganism, animal rights and the unfair balance of political power.
The vocal protestations continued on what's easily one of the band's best records, A Comprehensive Guide to Moderne Rebellion, which was followed by constant touring and sponsorship from activist groups like Food Not Bombs and PETA. Good Riddance wasn't just up onstage preaching liberal ideals, a la some of today's megastars who collect causes and Grammys with equal zeal. At a Good Riddance show, you could actually get material and literature from their sponsorship organizations; the shows with Food Not Bombs were canned-food drives for local food banks with drastically reduced ticket prices for those choosing to participate. A Good Riddance show was activism in action.
"[We've] been involved in punk for so long [that the politics and attitudes] are central to who we are," says Rankin. "I've been vegan since '93, the other guys are vegan or vegetarian, we're members of the Green Party, we've gotten way more into politics."
"Growing up in Santa Cruz helped shape me as a political being," continues Rankin. "Activism, protests—it was all around me. Different people and cultures: activists, surfers, bikers, hippies, lesbians—my music, vision and attitude can all be traced back to Santa Cruz."
Good Riddance's latest offering, My Republic, will ultimately be their last, full of undeniable hooks and mature, melodic riffs. My Republic blazes with Rankin's ripping soliloquies on the current state of the world, from the directed bashing of the Bush family on "Texas" ("Got no respect and we've lost our trust/ and Texas, what has become of your favorite sons?") to the personal introspection of "Save the Children" ("... payback for my selfish ways/ feels like I've lost before I even start"). On the rousing track "Shame," Rankin sings, "What am I supposed to do ... and everything keeps changing, but I won't be around," as if he's foreshadowing the band's imminent dissolution. After a career spent swimming upstream, My Republic stands as the final protest. "We're extremely proud of that album," says Rankin. "It's more indicative of our earlier stuff. But, we don't feel that [as Good Riddance] we have a connection anymore."
It goes to show that these die–hard punks get caught up in the significant changes that come with age, but Good Riddance are retiring with grace, and even some excitement.
"We're looking forward to it," Rankin says of their last show. "It's definitely going to be weird and we have mixed emotions, but it [being our last show] probably won't even register. We've got people coming in from all over to see it."
And even though Good Riddance won't be preaching their ideals onstage collectively as a band anymore, they're all still heavily involved in the promotion of liberal politics and policies, and still firmly committed to the effort of "waking people up" to the realities that surround them.
"Thank you to everyone who supported us," concludes Rankin. "Hopefully [you've] taken what we've had to say to heart."
Good Riddance plays on Sunday (May 27) at 8:30pm at the Catalyst Nightclub, 1011 Pacific Ave, Santa Cruz. Tickets are $12-$15. (831.423.1338)
Send a letter to the editor about this story.