May 23-29, 2007
home | metro silicon valley index | movies | current reviews | film review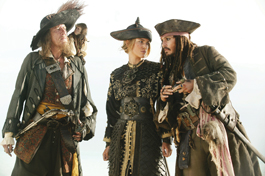 Peter Mountain © Disney Enterprises, Inc. All Rights Reserved.
Brigands: Geoffrey Rush (left), Keira Knightley and Johnny Depp head out on the bounding main again.
Retrofit
The latest 'Pirates of the Caribbean' is the work of scriptwriters at wit's end
By Richard von Busack
THE FAMOUS TRICK of the hack writer is to send a man with a gun into a room whenever the plot bogs down; in Pirates of the Caribbean: At World's End, it's a three-masted schooner with cannons blazing. There is more than one moment in Gore Verbinski's second Pirates sequel where you can't tell who is shooting at whom, as if someone suddenly changed the channel into a different movie. And there are many moments where effect follows cause in avant-garde fashion. For instance, the fantasmagorical sequence where animated stone crabs—rather, stones that turn into crabs—carry the Black Pearl out of Davy Jones' locker, a metaphysical dry dock where Capt. Jack Sparrow (Johnny Depp) languishes. After the ship is carried away, when we see the outrageously accented swamp sorceress Tia Dalma (Naomie Harris) petting one of the crustaceans, we realize that it was her witchcraft that did the trick. Or else we don't realize it. Earlier—perhaps later—the heart of old squid-face, Davy Jones (Bill Nighy), is brought aboard the Flying Dutchman, and Davy professes disgust and horror at seeing it; hadn't it been established he would want that organ in his safe keeping? There will be more parking-lot discussions on this one than in any summer movie in memory. Only the monkey seems to know what it's doing.
Before the film embarks on a few quests at once, this new Pirates is weird, too, with a pirate holocaust—chained pirates marched to the gallows, including a child who has to be propped up on a barrel to be executed. It's hard to pick up the spirits from that beginning; the quests of Will Turner (Orlando Bloom), Elizabeth Swann (Keira Knightley), Capt. Barbossa (Geoffrey Rush) and Sparrow himself all at cross purposes, without the addition of a new pirate captain (Chow Yun-Fat, Yul Brynnering away for dear life). Meanwhile, the British forces are forcing the pirates to a conference at Shipwreck Island—in Shipwreck Bay near the city of Shipwreck, and so goes one Bob Hope moment during this highly talkative movie.
The payoff is worth the delay—a pair of ships fighting it out around the rim of a maelstrom. The most genuinely maritime of any of the characters, Rush gets to whirl the Black Pearl's wheel and try to out-shout the tempest. His old-time movie heroism is more attractive under such circumstances than Depp's sashaying reluctant-protagonist turn. Surprising to see how a star turn starts to turn (like sour milk) when it's repeated too many times, and in moments of inaction Depp becomes more like a stray plot point who keeps wandering into the picture. During the maelstrom fight, the lack of natural light isn't a handicap, thanks to the pelting rain. But the film is set-bound a lot. It is possible to make a diverting entertainment out of a script that's pure cobwebs. But franchise writing is a whole different skill. Ground rules and foreshadowing ought to be laid down in earlier episodes so they don't have to be wedged in later. What happens throughout this Pirates is a series of retrofits: the emerging of supernatural maritime law discussions continues until it's almost like a World Court session.

Pirates of the Caribbean: At World's End (PG-13; 167 min.), directed by Gore Verbinski, written by Ted Elliott, Terry Rossio et al., photographed by Dariusz Wolski and starring Johnny Depp, opens May 25 valleywide.
Send a letter to the editor about this story.