May 23-29, 2007
home | metro silicon valley index | the arts | books | review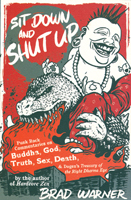 Sit Down and Shut Up
(By Brad Warner; New World Library, Novato; $14.95 paper)

Brad Warner's first book, Hardcore Zen: Punk Rock, Monster Movies, and the Truth about Reality, purportedly "blew the top off the Buddhist world"—or so says the jacket of his new book, Sit Down and Shut Up, which sports an even more ambitious subtitle: Punk Rock Commentaries on Buddha, God, Truth, Sex, Death, & Dogen's Treasury of the Right Dharma Eye. It's a sort of punk-rock idiot's guide to the Shobogenzo, a Zen Buddhist text written by the Japanese Zen master Dogen. At times Warner comes off as pandering, with his cutesy pop-culture tangents and I-know-what-you're-thinking-right-now comments, like "Why in the hell is this damned Shooby-dooby-whachacallit book by some crazy dead Japanese guy so freakin' important?" But if his tactics to engage the reader feel somewhat manipulative, they are also successful, breathing new life into 13th-century Buddhist wisdom and throwing in some compelling lessons from his own colorful life as a hardcore punk rock bassist. Warner appears June 14 at 7pm at Gateways in Santa Cruz.
Review by Michael S. Gant
Send a letter to the editor about this story.