May 24-30, 2006
home | metro silicon valley index | columns | silicon alleys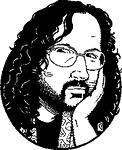 Another Singha
A one-page play by Silicon Alleys
CHARACTERS: Carter Jennings, age 52, owner and CEO of Syncrap Circuits in San Jose, Calif. (the capital of Silicon Valley); Ethan Beaumont, age 25, recent MBA graduate from SJSU School of Business; Gilles de Rais, age unknown, Ph.D. in French, practitioner of black magic, author, former 15th-century serial murderer.
The Scene: Banh Thai, a now defunct Thai restaurant in San Jose. Gilles de Rais is dining solo and wolfing down a plate of Choo Chee Talay. He is on his second Singha, a popular Thai beer.
It is 1999, the height of the dotcom boom in Silicon Valley.
Carter and Ethan enter the restaurant. They have just finished a textbook case of a successful job interview: lots of eye contact, good body language and that ever-necessary mutual concern for the future of the company. Carter is about to hire Ethan at Syncrap Circuits for the position of Systems Appropriation Assistant to the Profit Zone Coordinator, job #1743ghjsnjk453dsdfg-vvfh-e46-wer6. They are seated at a table next to Gilles, who, in-between bites, is contemplating his next ritual slaughter. It's 2 in the afternoon, Allhallows Eve.
Carter: So, you've got a really interesting résumé.
Ethan, beaming: Really? Thanks!
Carter: What is your career goal at this point? What's your perfect job? Data maintenance?
Ethan: No, sales.
[High magnitude of ceremoniously mediocre and violently irritating business-oriented conversation featuring phrases like "data maintenance," "recovery strategy," "connectivity compatibility," "per capita" and "diversification issues."]
Ethan: The other issue is a personal one. My girlfriend and I are starting to decide where we want to settle. San Francisco and Boston are the top two. Perfect places to do startups.
Carter: I made the same decision myself 24 years ago. Came out here when I was 28. Wanted to do startups. Why not make a few million?
They both laugh uproariously.
Carter, straightening out the hairs that cover his bald spot: The trick is to do your first startup by the time you're 30.
They continue laughing and only then notice that Gilles de Rais is sharpening an antique grappling hook that King Charles VII gave him in 1428.
Carter, his gaze going directly to the grappling hook, speaks in a condescending tone to Gilles: Do you always carry that thing with you when you eat?
Gilles, after an exaggerated grin and a theatrical crack of his knuckles: I have explored the ways and means of the society of others, and, without a doubt, I am doing what I wilt. Trials and tribulations have befallen me and they were all run by fools. Fools because their gods were all fools as well.
Gilles stands up with the antique grappling hook in his left hand. Both Carter and Ethan are motionless, mesmerized and struck with awe.
Gilles: Now ye shall know that the chosen priest and apostle of infinite space is the prince-priest the Beast; and in his bride called the Scarlet Woman is all power given. They shall gather my children into their fold: they shall bring the glory of the stars into the hearts of men. I am above you. I am in you. My ecstasy is in yours.
Gilles then mangles the faces and torsos of Ethan and Carter with the antique grappling hook. He sits back down and orders another Singha.
Contact Gary Singh or send a letter to the editor about this story.